Sanya Richards-Ross Glorifies God for Olympic Victories Ahead of Her Last Games in Rio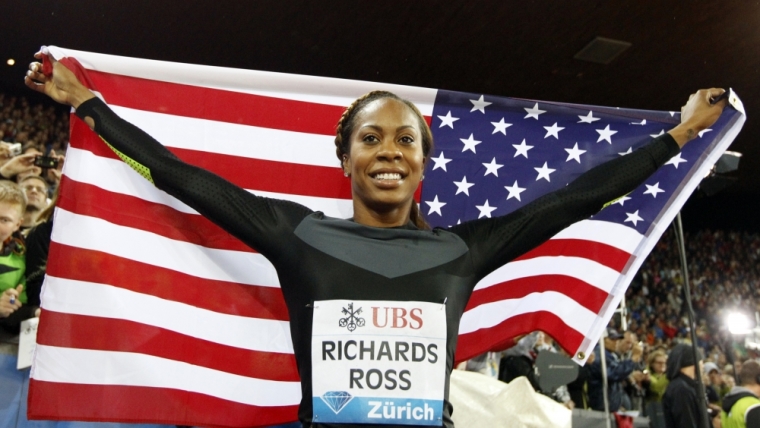 For Sanya Richards-Ross, her gift of running is about so much more than just her three Olympic gold medals.
The 31-year-old track and field star who recently announced her retirement sees that God had a hand in her career.
"Only God could use my gift of running to encourage and inspire others! I live for these moments. Thanks to everyone that came up and shared a kind word with me today," Richards-Ross wrote on Instagram Sunday. "LOVE YOU ALL!!!"
Richards-Ross, the wife of NFL free agent Aaron Ross, has competed at three Olympic games: Athens in 2004, Beijing in 2008 and London in 2012. Just before her fourth Olympic games in Rio this summer, she announced that her career is coming to an end.
"After over a decade of indescribable successes and challenges, the 2016 Olympic Games in Rio will mark the end of my 12th and final professional season," she announced last week on Instagram. "After my third foot surgery last November, I worked tirelessly to recoup and recover. I put my blood, sweat and tears into the career of my dreams and experienced profound growth and immeasurable rewards along the way."
After undergoing multiple surgeries due to a foot injury, the four-time Olympic Gold medalist holds onto the belief that her faith is getting stronger with each obstacle.
"When I trust in God, He comes through," Richards Ross previously told The Christian Post in 2013. "I just think as I've grown in my faith and grown in my trust in God every obstacle doesn't seem insurmountable."
Although her team, skill and vigorous training played a major part in her earning two gold medals during the 2012 London Olympics in the 400 meter and 4x100 meters relay, it was God who helped her succeed in the sport.
"I would say my faith plays the biggest role in my success," Richards-Ross told CP. "If I weren't an avid Christian and believed that God was always working in my life, I don't think I would have had that moment in 2012."
These days, Richards Ross told People back in March that she has a different feeling going into the Olympic games.
"I have a different perspective this year," she said. "I'm leaning on the experience I had in the past, and this year just feels right."