Sarah Bessey Explores How Her 'Feminism Was Really Shaped by What I Love about Jesus'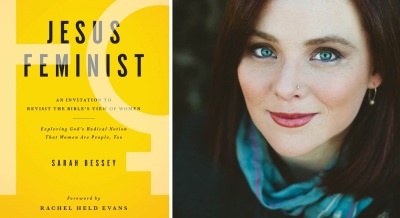 Sarah Bessey knows that inserting "Feminist" into the title of a Christian book discussing gender roles is bound to generate a charged response. Indeed, the author of the recently released, Jesus Feminist: An Invitation to Revisit the Bible's View of Women, laughs when asked about her motivations behind choosing a "cheeky" title for her book.
"The title itself, right, can be divisive for a lot of people and that certainly wasn't my heart moving into actually writing the book. It wasn't the original title. I had something very flowery and romantic no doubt," Bessey has said.
Bessey's a stay-at-home Canadian mother of three and Christian blogger who grew up in Regina, Saskatchewan and Calgary, Alberta and currently resides in British Columbia. She met her husband, Brian or as she calls him, "the American who says 'eh,'" in the U.S.
Raised by parents who found their faith as adults, many of Bessey's convictions about gender are rooted deeply in her positive childhood experiences in the church.
"I didn't really have a lot of baggage even with the church. I had a lot of great experiences with the men in my churches. I grew up in churches that affirmed women in ministry and welcomed our voices on the average quite well," said Bessey.
"I've always been really fortunate because I feel like I have a lot of hope, because I have seen what it looks like when men have really embraced God's heart for humanity," she added.
Bessey's book, a departure from an analytical arguments advocating a particular reading of gender roles, can read as a selection of essays on the author's uneven faith journey, her conclusions on Paul's instructions to women and men, and the importance of reaching the lives of marginalized, abused and oppressed people.
Why did she opt not to publish a cogent and hermeneutical examination of gender?
"The perfectly frank answer is that I'm not an academic," Bessey laughs. "I definitely see myself more as an artist and a writer rather than a preacher or theologian--just an everyday armchair theologian who just overthinks everything."
"For me, a lot of what I write I call it this made up thing called 'narrative theology.' Which is basically that I'm using stories to trace the way that I see God moving in my life and how I experience him."
Bessey's writing style also allows her to write frankly about her relationship with Christ.
"My really deep love of Jesus is what shapes the rest of my life, really everything from my marriage to how I move through my mothering, my work, my vocation... So of course my feminism is really deeply shaped by what I know and believe and come have to really love about Jesus."
In the weeks since the book has been released, Bessey acknowledges that she's been surprised by the amount of positive reactions especially by those who she assumed might come to different conclusions about gender than her.
"I can't say I really wrote [my book] to win an argument or that I wrote it lay down the definitive answers to secular feminism or Christian complementarians by any stretch. I'm really gratified to see that people across all types of traditions and spectrums are reading it and finding something of themselves in it."
As a white, Canadian, middle class woman, Bessey knows her life and writing cannot speak on behalf of all women, though she also has confidence that there are parts of it which transcend her.
"I can't deny my place in the world in that a lot of the stories and experiences that color and inform the book are unique to me even as a Canadian woman....For me, I want to tell some stories and see how I wrestled through the place where I am, but my understanding of the Gospel can't be limited to my own experience," said Bessey.
"So the threads [in the book] that I think are universal, and that are hopefully and prayerfully gospel threads that run through the story, are the ones I feel can be picked up and wrapped around anyone in any context, in any socioeconomic group, in any country, and I would hope would find some healing and some wholeness in some of God's heart for us, even if some aspects of my illustrations and stories are unique to me in my experiences."
Jesus Feminist: An Invitation to Revisit the Bible's View of Women can be purchased on Amazon by clicking here.