Sarah Huckabee Sanders signs executive order prohibiting critical race theory in schools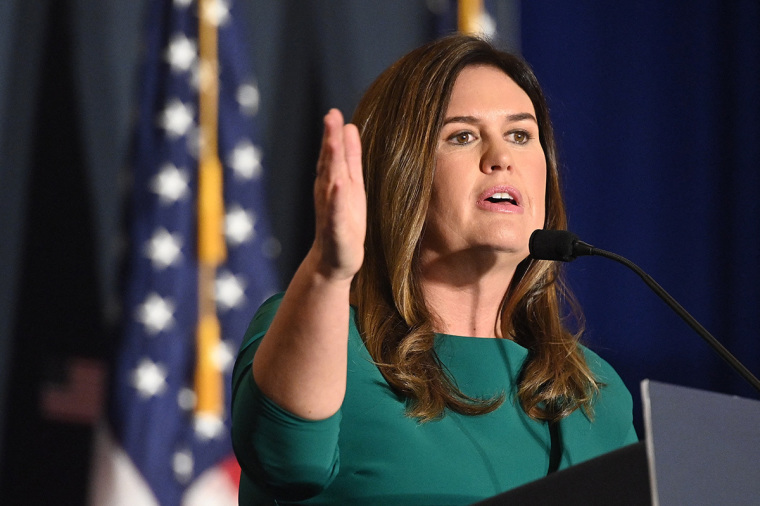 On her first day in office, Arkansas Gov. Sarah Huckabee Sanders signed an executive order declaring that critical race theory "indoctrination" should not be allowed in schools.
Shortly after being sworn in on Tuesday as Arkansas' first female governor, Sanders, the daughter of former Gov. Mike Huckabee and former White House press secretary, signed an "Executive Order to Prohibit Indoctrination and Critical Race Theory in Schools."
The order, one of several signed by Sanders Tuesday, declares that "CRT, discrimination, and indoctrination have no place in Arkansas classrooms." 
"Critical Race Theory (CRT) is antithetical to the traditional American values of neutrality, equality, and fairness. It emphasizes skin color as a person's primary characteristic, thereby resurrecting segregationist values, which America has fought so hard to reject," reads the order.
"Government policies must empower parents to make decisions for their children and foster curriculum transparency in classrooms across the state."
The order directs the secretary of the state's Department of Education to review all materials "to identify any items that may, purposely or otherwise, promote teaching that would indoctrinate students with ideologies, such as CRT, that conflict with the principle of equal protection under the law or encourage students to discriminate against someone."
"The Secretary is further instructed that if any items are found to conflict with the principle of equal protection under the law, then the Secretary is instructed to amend, annul, or alter those rules, regulations, policies, materials, or communications to remove the prohibited indoctrination," continued the order.
Sanders' order clarifies that it does not prohibit "the discussion of ideas and history of the concepts" like CRT or "prohibit the discussion of public policy issues of the day and related ideas that individuals may find unwelcome, disagreeable or offensive."
"No communication by a public-school employee, public school representative, or guest speaker shall compel a person to adopt, affirm or profess an idea in violation of Title IV and Title VI of the Civil Rights Act of 1964 (P.L. 88-352, 78 Stat. 241), including that:

People of one color, creed, race, ethnicity, sex, age, marital status, familial status, disability, religion, national origin, or any other characteristic protected by federal or state law are inherently superior or inferior to people of another color, creed, race, ethnicity, sex, age, marital status, familial status, disability, religion, national origin, or any other characteristic protected by federal or state law."
In a statement, the Arkansas Democratic Party commended Sanders' plans to increase teacher salaries and expand preschool but expressed concern over Sanders' CRT order.
"The beginning of Governor Sanders's term will also be remembered for attacking Arkansas schools for 'indoctrination,' a charge she has repeatedly levied against Arkansas teachers," stated the party.
"Arkansas Democrats stand with our teachers and know they are first and foremost much too busy grading papers, buying their own supplies, and making lesson plans to indoctrinate anyone."
Sanders also signed other executive orders on a host of issues, including a moratorium on hiring new state employees, a measure aimed at reducing government regulations, and a curbing of the official use of the term "Latinx" in favor of "Latino," "Latina" and "Hispanic."
Critical race theory emerged in the 1970s as activists and law students at the time responded to what they believed was the reversal of the civil rights movement gains from the 1960s.
Richard Delgado and Jean Stefancic wrote in the 2001 book Critical Race Theory: An Introduction that CRT is a "movement" of "activists and scholars interested in studying and transforming the relationship among race, racism, and power."
"Unlike traditional civil rights, which embraces incrementalism and step-by-step progress, critical race theory questions the very foundations of the liberal order, including equality theory, legal reasoning, Enlightenment rationalism, and neutral principles of constitutional law," Delgado and Stefancic wrote.
While proponents have argued that CRT is necessary to better understand systemic racism and promote diversity, conservatives say it wrongfully vilifies the U.S. and is divisive.
In 2020, President Donald Trump, who Sanders once served as White House press secretary, signed an executive order banning the usage of CRT materials in federal government programs. President Joe Biden repealed the order upon taking office.