Sarah Jakes Roberts and Husband-Pastor Touré Roberts Expecting First Child Together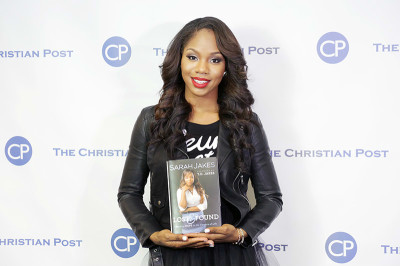 Sarah Jakes Roberts, author, motivational speaker and daughter of Bishop T.D. Jakes, is expecting her first child with husband Touré Roberts, the senior pastor of One Church International in Hollywood, California.
The Roberts shared the news about their upcoming bundle of joy in front of their One Church LA congregation last Sunday.
"For Touré and I, having a child together is the organic overflow of the love that we have been so blessed to share. When I initially found out that I was pregnant, I was overwhelmed with surprise, excitement, and joy," she told ESSENCE. "Each of our children offer a special flavor to the blend that is our family. While we are ecstatic to know that our baby will represent a piece of each of us, we look forward to the unique individuality and impact our new addition is sure to bring to our family."
Pastor Roberts took to Instagram to thank those who supported his family with well wishes.
"Thank each of you so much for the love and well-wishes that you have extended to our family! This is an exciting time for us and your encouraging expressions and prayers make it exciting 'ALL THE MORE,'" Roberts wrote. "May God fill your lives with His absolute best! -PT"
The Roberts married last November, in what has become a second marriage for each of them.
Sarah initially brought her two children into the union with Pastor Touré's three children from a previous relationship.
"God is a master-strategist. Who knew coming into 2014 that my destiny would require a #purposemate to hold me down in incomprehensible ways," Toure previously wrote in an Instagram message about Sarah, whom he knew he wanted to marry after he watched her care for his father before his death.
"In April she hopped on a plane with me last minute to Idaho when I learned my dad was ill. There was no negotiating, she packed a small bag and said 'let's roll.'"
The Hollywood pastor went on to describe how much Sarah's help with overcoming the death of his father meant to him.
"A wise man and mentor said to me recently that you marry the person you want to be by your side when you have to bury a parent. In this moment I know of no truer words," he wrote. "Thank you @sarahdjakes for loving me back to life, and making me 'stronger' than I have ever been."
The couple appeared at the ESSENCE Festival Empower U workshop in New Orleans, Louisiana, last July where Sarah revealed how her husband changed her.
"In my previous marriage I was nearly arrested," she said. "So being vulnerable and being treated like a lady wasn't something that I had really become accustomed to because I was so used to being tough and taking care of myself."
However, the first lady of One Church International went on to admit that she felt safe with Roberts after their first date.
"He picked me up at my hotel and I remember that from the moment that I saw him when I got off the elevator I felt vulnerable and naked. Not naked like he's looking at me, but naked like, I don't think I can hide anything from him," she revealed. "There is something within me that wanted to be the truest version of myself with him. There was something that made me feel safe."
The gender and due date of the Roberts' upcoming bundle of joy has yet to be announced.