Sarah Palin on Syria: 'Let Allah Sort It Out' (VIDEO)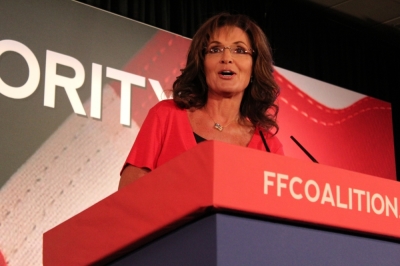 Sarah Palin's response to the dire situation in Syria and the Obama administration's decision to arm Syrian rebels was a simple one: "let Allah sort it out." The conservative commentator and former Alaska governor was speaking at the Faith and Freedom Coalition Conference in Washington, D.C. Saturday.
Sarah Palin addressed several of the issues and scandal involving politicians recently, paying special attention to President Obama's decision to support the Syrian rebels' fight against Bashar al-Assad. The Obama administration promised more "direct support" recently, adding to the pressure international sanctions and other measures have placed on the dictatorial regime.
"Where is our commander in chief?" Palin asked. "We're talking now more new interventions. … Until we have a commander in chief who knows what he's doing, well, let these radical Islamic countries who aren't even respecting basic human rights, where both sides are slaughtering each other as they scream over an arbitrary red line, 'Allah Akbar,' … I say let Allah sort it out."
The line is a take on the old saying "Kill 'em all and let God sort 'em out," and got laughs from the crowd, which was composed mainly of religious conservatives and other right-leaning political activists.
She also touched on some of the absurdity of some of the recent corruption being revealed in Washington in the style of a "Saturday Night Live" skit "Weekend Update."
"Our government spied on every single one of your phone calls but it couldn't find two pot-smoking, deadbeat Bostonians with a hotline to a Terrorist Central in Chechnya," she said to laughter from the audience. "The IRS says it can't figure out how it managed to spend $4 million on training conferences because it didn't keep its receipts. Really?"
Other big-name conservatives who spoke at the conference were Sen. Marco Rubio, Grover Norquist, Herman Cain, and Gov. Rick Perry of Texas. The theme of the conference was "Road to Majority" and focused on strategies to win back the White House and the Senate.
Palin is preparing to once again appear on "Fox & Friends" next week Monday.