Satanic Temple's 'Unveiling' of Goat-Headed Statue Includes VIP Tickets for Photos of Guests Seated on Pagan Idol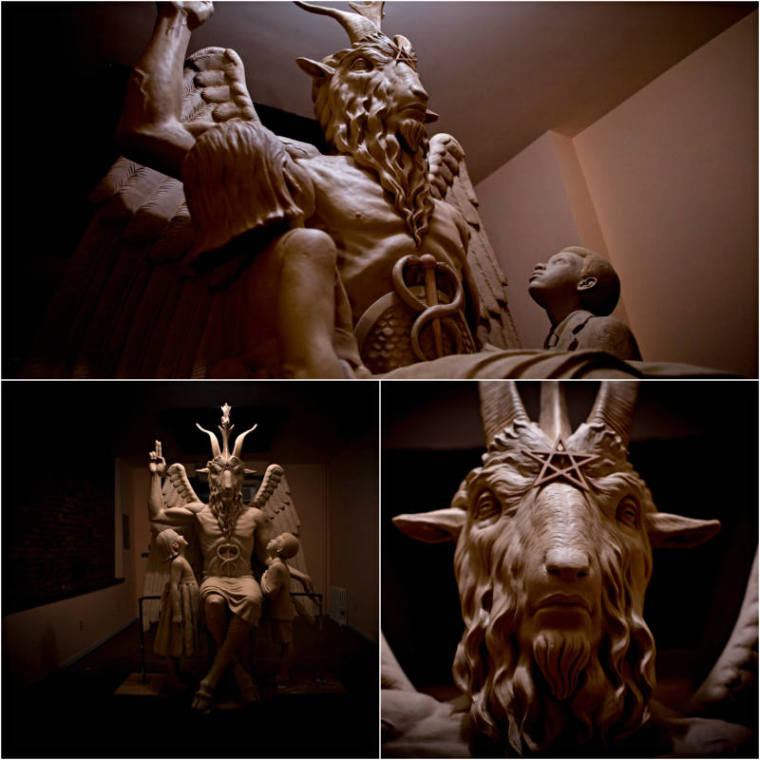 The Satanic Temple is selling tickets "for a night of chaos, noise, and debauchery" to mark the official unveiling of its Baphomet monument next month in Detroit, Michigan. Organizers are also offering guests an "exclusive opportunity" to have their photo taken while seated on the pagan idol.
"Come dance with the Devil and experience history in the making," reads the description from The Satanic Temple about it's "hedonistic celebration" dubbed "The Unveiling."
"Weighing 1 ton and towering at nearly 9 feet tall, the bronze statue is not only an unparalleled artistic triumph, but stands as a testament to plurality and the power of collective action," the description adds.
Organizers, whose group is religious but void of "superstition" and "do not promote a belief in a personal Satan," have two ticketing options, one for general admission guests and one for VIP buyers. Those who purchase the $75 VIP tickets are promised "an exclusive opportunity to be photographed seated on the Baphomet monument" and to "receive a limited edition event poster which they can have autographed by Lucien Greaves."
Greaves, spokesperson for the New York-based organization, originally intended to have the Baphomet monument erected on the Oklahoma City Capitol grounds, where a Ten Commandments monument is displayed.
"We believe that all monuments should be in good taste and consistent with community standards. Our proposed monument, as an homage to the historic/literary Satan, will certainly abide by these guidelines," Greaves wrote in a letter to state officials at the time.
Between 2013 and 2014, 1,041 people contributed $28,180 to The Satanic Temple's crowdfunding campaign for the creation of the Baphomet statue.
When the design for the satanic monument was finally unveiled, Greaves explained: "The monument has been designed to reflect the views of Satanists in Oklahoma City and beyond. The statue will serve as beacon [sic] calling for compassion and empathy among all living creatures. The statue will also have a functional purpose as a chair where people of all ages may sit on the lap of Satan for inspiration and contemplation."
However, The Satanic Temple's promotion for the Baphomet unveiling does not mention Oklahoma's statehouse grounds, where officials will soon likely remove the Ten Commandments display, as its presence there has been deemed unconstitutional by the state Supreme Court.
Those attending "The Unveiling" of the controversial the satanic monument in Detroit next month were instructed to come dressed "to impress the devil."
Sandra Cheryl Richardson, described as a "psychic, author, lecturer, and paranormal investigator" and Miami's best psychic of 2012 by the Miami New Times, offers her take of the "secret symbols" of the Baphomet idol in the video below: