SBC Executive Committee waives attorney-client privilege amid sex abuse investigation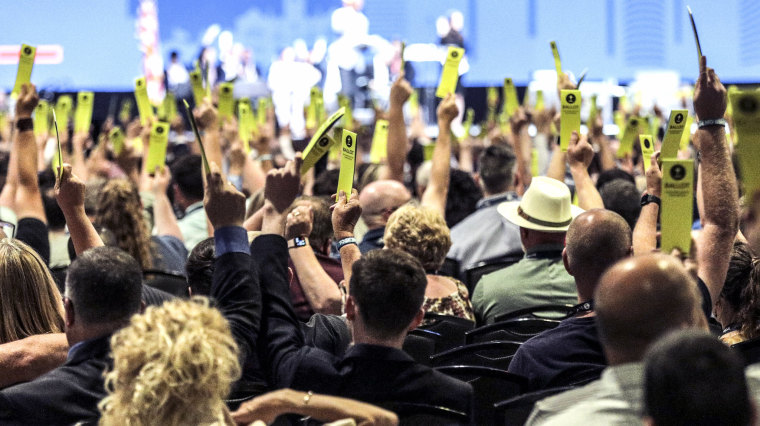 After hours of deliberating, the Southern Baptist Convention Executive Committee voted to waive attorney-client privilege during an investigation into the panel's handling of sexual abuse reports over the last two decades.
During a virtual session Tuesday afternoon, the Executive Committee voted 44-31 to allow ​​Guidepost Solutions, the firm investigating the committee's handling of sexual abuse claims within SBC churches, to review privileged communications between committee members or staff and their lawyers as requested by messengers and the Sexual Abuse Task Force.
Closing the meeting, SBC President Ed Litton prayed that the decision would not "divide and separate brothers and sisters."
"We have all faced a very difficult and challenging time," he prayed, asking for God's help in navigating "a very uncertain future."
"We know the cost that has been explained to us again and again. Lord, we pray for your will to be done, what needs to be exposed, and healing begin for many. But above all born, that the Gospel, the reputation of this great people called Southern Baptists would rise above it," Litton said.
Tuesday's gathering marked the third meeting on the matter since SBC messengers voted for the formation of the task force to oversee an investigation of the Executive Committee by a third party in June.
The investigation was prompted by a 2019 report from the Houston Chronicle that documented hundreds of abuse cases in Southern Baptist churches over decades.
At the Sept. 21 Executive Committee meeting in Nashville, the committee voted to allocate up to $1.6 million for Guidepost's investigation but asked for more time to find a solution to their disagreements.
In a follow-up meeting on Sept. 28, a motion to outright waive attorney-client privilege failed by a vote of 50-22. 
On Tuesday, some committee members expressed concern over waiving privilege, citing risks to the convention's insurance and warning it could jeopardize the financial stability of both the committee and the entire convention.
"What we're doing is about creating chaos," committee member Joe Knott of North Carolina said, adding that SBC messengers "voted to investigate sexual abuse" but not to "void our insurance."
Mike Keahbone of Oklahoma spoke in favor of the motion, citing the denomination's "spiritual fiduciary duty."
"Our messengers in our task force have given us a clear directive. We have victims who have been waiting a long time for a tangible step towards healing," he said. "And I believe this is that opportunity for that ... I ask us to walk by faith and not by sight."
Last week, more than 1,100 Southern Baptist pastors and other prominent leaders signed letters asking the executive committee to waive privilege to ensure a "transparent" investigation. Some of those letters threatened to "reallocate funds away from the executive committee."
In Tuesday's meeting, committee chairman Rolland Slade announced that six Executive Committee members have resigned amid the discord within the denomination. 
In an open letter to Southern Baptists just days before Tuesday's meeting, Executive Committee President Ronnie Floyd stressed that no one is trying to "defy the will of the messengers" but rather to "prayerfully and carefully fulfill the will of the messengers."
"As I have watched all of this unfold, it has been difficult and challenging to say the least," Floyd wrote. "My appeal to all Southern Baptists is to see the real dilemma before our Committee. They are trying to wrestle with accomplishing this process in the right way as they weigh their duty as trustees to conduct the business in a manner which does not bring harm to either the entity they serve or the SBC they serve."
"Yet, they do not do this in a vacuum," he added. "They each have a real passion to be sensitive to the survivors of sexual abuse and provide each of them the assurance, confidence, and care they deserve from us. Additionally, each of our members want to do all they can to guard against any further incidents of sexual abuse."