SBC Votes Today on Whether Millennial Reformed Theology Represents the Future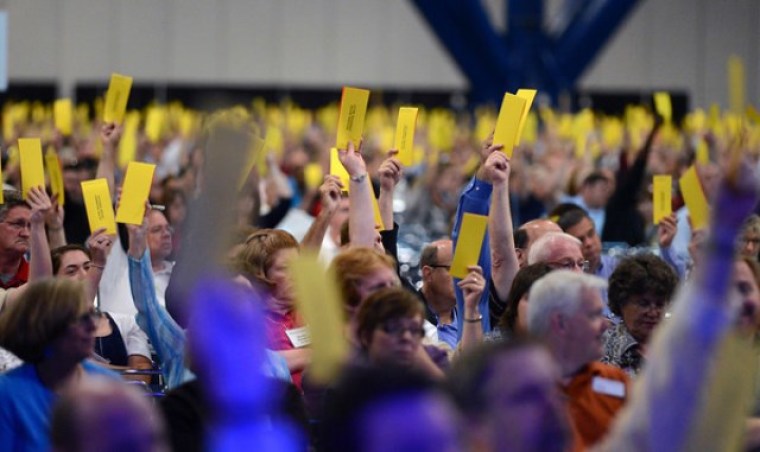 Southern Baptists will vote today in Saint Louis, Missouri, for a new convention president in an election experts say might determine the future of evangelism in the nation's largest Protestant denomination.
The election is also a test of whether Southern Baptist pastors are leaning toward the more Reformed theology tendencies of some of their younger millennial leaders or are staying with leaders who tend to be more critical of Reformed theology.
According to sources who could not be named for this article but who are very familiar with the inner workings of the denomination's structure and affiliated institutions, at issue is both the theological orientation of the Baptist faith and Message and its overall approach to ministry. What is arguably most at stake is the fervor for evangelism for which Southern Baptists have been known historically.
One indication of the size of the debate is a chart circulating in SBC circles that argues that baptisms have fallen off since 2000, when Calvinism began to reach a critical mass within the Convention. One source argues the chart shows that the number of baptisms steadily increases from 1880 on until 2000, and that in the last year Baptisms only mirrored the numbers posted in 1947 because of the influence of Reformed Theology on younger SBC leaders, even as the number of Southern Baptist churches continues to grow.
Slated for a vote to serve as president of the convention are J.D. Greear, pastor of the Summit Church in Durham, North Carolina, and Steve Gaines, who serves as senior pastor of Bellevue Baptist Church, Memphis, Tennessee, one of the more historic parishes for Southern Baptists. Neither Greear nor Gaines could be reached by presstime.
Greear, 43, who is a strong Calvinist, represents the resurgence in Reformed theology, especially among younger evangelicals. Gaines, 58, has a moderately Reformed bent and is seen largely as the continuation of current President Ronnie Floyd, and is held in high esteem by baby boomers. Generation X-ers are largely caught in the middle.
Also nominated for the position is Pastor David Crosby of New Orleans, Louisiana, but he is not considered to be a viable contender.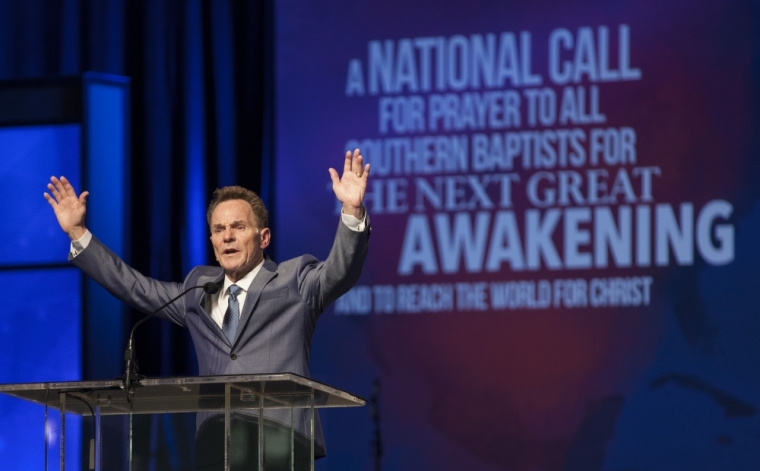 The new president of the SBC will serve for one year and is limited to two terms by constitutional dictates and the office is considered mostly an honorific position, with one major exception. The key function of this post is the ability to name people who select trustees in leadership positions on committees charged with ministry responsibilities. The trustees have direct control over how these institutions conduct ministry, including the theological approach to preaching and evangelism.
Regarding the theological rumble within the SBC, there has been significant debate over whether the denomination is Calvinist at all — characterized by insiders as "3.25 pointers versus 5-pointers" flowing out of certain seminaries and their proportional influence on the denomination as a whole.
The Southern Baptist Confession of Faith states that "God is fatherly in His attitude toward men" and that "election is consistent with free agency of man." Such Arminian sentiment stands at odds with strict forms of Calvinism.
Informed sources assert, however, that nowadays 30 percent of SBC seminary students are strict Calvinists when only 10 percent of the SBC population is, and that this disparity often divides parishes. After 20 years, these leaders are now rising to the top of SBC institutions and are now subject to up or down votes from the national Convention.
When it comes to Calvin's famous 5 points, often referred to as TULIP, Southern Baptists in general mostly believe in T (total depravity), U (unconditional election) and I (irresistible grace), reject L (limited atonement), and fully embrace P (perseverance of the saints). Southern Baptists actively urge nonbelievers to commit their lives to Christ and to believe in Jesus as Savior and Lord. Critics say Calvinists tend to evangelize less often since in their view only the elect can be saved and God will save whomever He chooses to save.
Insiders say that intermixed with the theological struggles are differences over styles of leadership and regard for the battles in the past several decades that prevented the Southern Baptist Convention from devolving into liberalism. Unlike most of the Mainline denominations, Southern Baptists were able to resist the liberal theological trend at seminaries using the ratification of the convention and SBC presidential influence over trustees to slowly turn the ship over decades.
Some argue that young SBC leaders, including some of those more inclined to a stricter Calvinism, do not sufficiently appreciate the sweat and sacrifices many leaders made to ensure that the denomination stays tied to a doctrinally sound, biblically faithful Gospel and accompanying social witness.
Now, older Southern Baptists view the proverbial furniture past leaders worked hard to set up being upended within vital rooms of the convention by newcomers.
Also of concern to some is that a few SBC ministry leaders, normally considered staff at the convention, are openly advocating for Greear in videos circulating the convention. They argue whoever is elected to serve as president is to serve all Southern Baptists regardless of theological viewpoints.
The Southern Baptist Convention's annual meeting runs through Thursday, June 16, when the newly elected president will be making a speech outlining what lies ahead.