Scott Walker Says 'Faith & Science Are Compatible, Go Hand in Hand' After Originally Avoiding Question on Evolution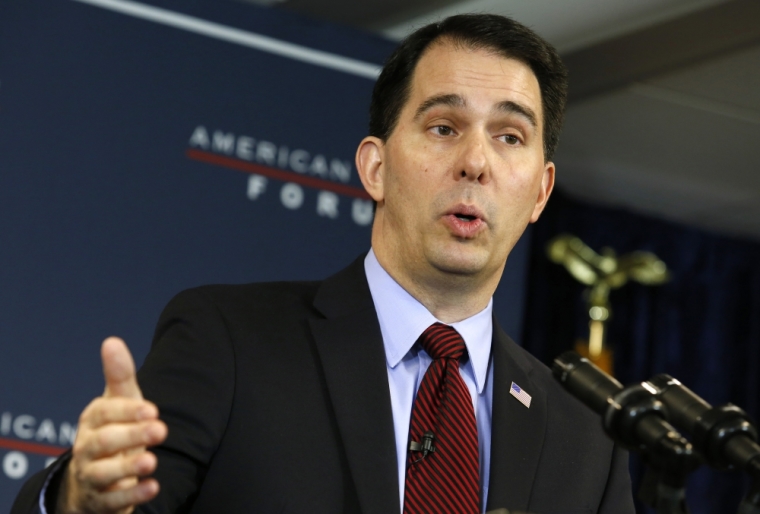 Wisconsin Republican Gov. Scott Walker responded to criticism after first dodging a question about whether he believes in evolution.
"For me, I am going to punt on that one as well," Walker told his interviewer at Chatham House London when asked if he believed in evolution. "That's a question politicians shouldn't be involved in one way or another. I am going to leave that up to you. I'm here to talk about trade, not to pontificate about evolution."
Walker has had a contentious term as governor, with his reputation for fighting public sector unions and surviing a recall election. He is a potential candidate for the GOP's 2016 presidential nomination and has won 11 total races in the state of Wisconsin.
While in London, Walker wanted to avoid some of the slip-ups that hurt New Jersey Republican Gov. Chris Christie.
"You only have to look at my colleague, my friend who came here a week or so ago and I'm not going to get into his statement [on vaccines] but that became the focus," Walker said. "That probably wasn't the most substantive thing he was talking about here yet for whatever reason that was the lede in the news."
However, Walker's non-answer on evolution may have become the thing he becomes most known for during his trip. Not long after, the governor took to Twitter to define his view and answer the question that seemingly stumped him.
"Both science & my faith dictate my belief that we are created by God. I believe faith & science are compatible, & go hand in hand," Walker tweeted to his followers.
He grew up in a religious household, with his father a preacher at the First Baptist Church in Plainfield, Iowa, and his mother teaching Sunday school. And his faith has been expressed throughout his governorship, even to the point of causing friction with various organizations.
The Freedom From Religion Foundation chastised Walker and asked him to remove a tweet citing Philippians 4:13, which states, 'I can do all things through Christ who strengthens me.'" Walker refused to follow their wish and left the tweet up for all to see.
"Governor Walker will not remove the post on his social media," press secretary Laurel Patrick told Fox News. "The verse was part of a devotional he read that morning, which inspired him, and he chose to share it. While he frequently uses while social media to engage with Wisconsinites on matters of public policy, he also uses it to give them a sense of who he is. This does just that — it was a reflection of his thoughts for the day."