Sean Lowe on 'Bachelor' Ben Higgins, Being Christian and 'The Virgin Bachelor'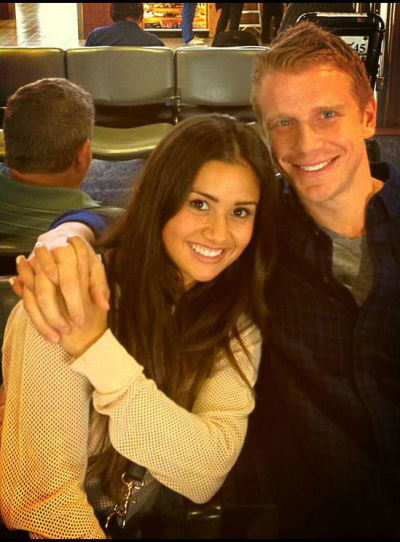 As the star of the 17th season of ABC's reality show "The Bachelor," 32-year-old Sean Lowe became saddled with a nickname that seemed to mock his convictions as a Christian.
"They [the media] labeled me as 'The Virgin Bachelor,'" recalls Lowe in a video interview for I Am Second, a movement that helps people discover their purpose in life by putting Christ first.
Lowe is pretty sure about how the nickname came to be.
Having ended his season of "The Bachelor" with a marriage proposal to Catherine Guidici, speculation about whether or not the new couple was intimate was forefront among the media.
"Probably because people did know that I was a Christian, someone thought to ask the question, 'How's the sex?' or 'Are you guys waiting for marriage?' recalls Lowe. " … I answered it honestly: 'Catherine and I are not having sex until marriage.'"
And "The Virgin Bachelor" was born.
Monday night Lowe watched and live tweeted as his friend and fellow Christian, Ben Higgins, whom Lowe says has "a heart for Jesus," kicked off the 20th season of "The Bachelor."
In a post for Patheos published Monday, Lowe expressed his excitement to see how Higgins will glorify God on the show.
"One thing I'm especially excited to watch is how Ben uses his platform to glorify God," Lowe wrote. "I think to this point, Ben has been painted as the 'good guy,' but I'm hoping America gets to see why he's the good person he is."
When you think about the premise of the show — 25 individuals vying for the affection of a single person — purity and virginity may not be the first thoughts that come to mind. They certaintly weren't for Lowe, who opened up to I Am Second about his experiences as a Christian on "The Bachelorette" and "The Bachelor."
"Guys go on there ['The Bachelorette'] and get drunk, and there's the fantasy suite and there's sex and nudity, and it just didn't seem like something that represented me," says Lowe. "Never in a million years did I think I would do a cheesy reality TV show about love." That is, until he was contacted by the show's casting department to interview for a spot among 24 other contestants on the show. Lowe was reluctant to accept the offer, and said he'd give it some thought.
Working as an insurance agent in his family's business — in an attempt to bring some financial security to his life after a few failed business ventures — Lowe wasn't happy. "I hated it from the very beginning. … I just knew it wasn't for me." Miserable, the self-proclaimed risk taker eventually decided to take the casting agent up on her offer, and the possibility of seeing the world and falling in love on "The Bachelorette."
To his surprise, after just six weeks on the show, Lowe says he actually began to fall in love with the Bachelorette — convinced that it was all a part of a divine plan. He remembers thinking, "Wow, God has used this reality TV show to introduce me to my wife." However, a week before the finale show, he was sent home before a television audience of 7 million viewers.
"I can't understand why God opened the door for me to be on this reality show, to fall in love, only for it to end like this," Lowe recalls. "I cannot understand why He's led me to this heartbreak."
But the story wasn't over. Back at home in Dallas, Texas, Lowe received a call from an executive producer of "The Bachelor" who offered him the title role on the show. Reluctant, he needed some convincing from his family to take the leap once again. "Both my mom and my dad said, 'God has opened this door for you and [we] think you owe it to yourself to walk through it.'"
Again, Lowe took the plunge, but not without reservations that lingered. "It's unnatural to date 25 women at one time. It felt wrong. A lot of the time it felt wrong, and I wrestled with it quite a bit, thinking, 'I'm pretty sure God opened this door … but what if He didn't? … What if I'm actually harming my testimony by going on a show and dating multiple people at one time and kissing multiple people? What if people look at me and they say, 'This is what's wrong with Christianity?'
The Christian reality star eventually finished the season with a proposal to Catherine Guidici, who is now his wife.
Regardless of the whims of celebrity or how the media refers to him, Lowe knows he is buoyed by his faith in Christ.
"I don't know who I would be without Jesus in my heart. Jesus shapes the way I think. He shapes the way I see the world. He shapes the way I interact with everyone I come in contact with. Doesn't matter what I go through — the ups and the downs, the failed businesses, the broken heart, whatever — I know that I've got a God who loves me. … I was labeled as an outsider [the Virgin Bachelor], but as annoying as it was, it's also been a great thing for me because that's now a part of my testimony."
In 17 seasons of "The Bachelor," Lowe became the first bachelor to marry the woman to whom he proposed.
"The Bachelor" airs at 8 p.m. ET Mondays on ABC.