Selena Gomez Shares Message From God With Jennifer Lopez After Attending Her Concert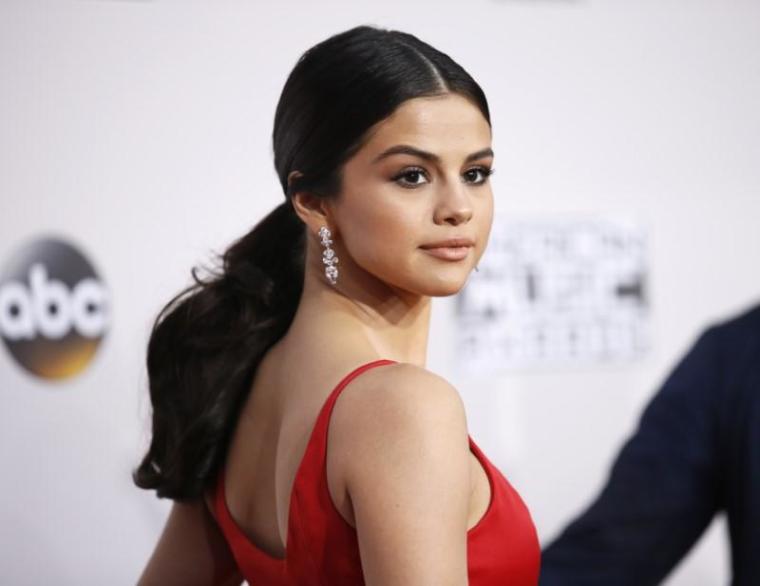 Jennifer Lopez shared a message with fans that she received privately from actress Selena Gomez who attended one of her Las Vegas shows where she said "God was speaking to her" throughout. 
"I wanted to tell you how much you inspired me tonight!!! I haven't felt that free in my entire life! Lol," Gomez said in a private message to Lopez on Instagram Saturday night after attending one of Lopez's final performances in the "All I Have" show. 
"I just wanted to tell you how amazing God thinks you are!!! He was speaking to me through your show tonight!!," Gomez continued.
The former Disney star revealed that God was communicating with her during the entire concert which made her feel "like a woman." Gomez topped her message off by telling the "triple threat" icon how much she "loves" her.
Lopez responded to the Instagram private message by sharing it publicaly on her Insta-story, adding the caption "I love you @SelenaGomez" with the prayer hands emoji.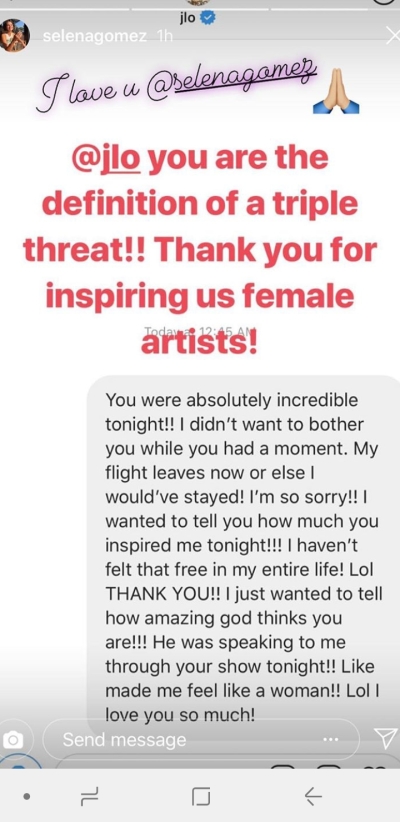 Lopez was raised Roman Catholic and despite being linked to many other faiths throughout the years, she reportedly remained Catholic. In 2010, she told Elle magazine that before she became pregnant with twins she had decided to forgo in vitro fertilization treatments and instead put her faith in God.
"I ... believe in God and I have a lot of faith in that," she said.
Gomez, on the other hand, is known to be very vocal about her Christian faith. She is among the A-list celebrities who regularly attends Hillsong Church. During a conference last year, the "Wolves" singer opened up about the pressures she's faced due to her fame. Gomez, who recently overcame a life-threatening battle with lupus, maintained that the stage and her platform were just tools to help her get to her purpose.
"You will learn that your truest identity is loved and chosen, as the chosen daughter of God," Gomez said of herself during her testimony at Hillsong.
The YouTube clip of Gomez sharing her story ended with a very powerful declaration that she spoke over herself in front of thousands who were in attendance.
"Selena, you are enough! Not because you've tried hard; not because you have loved hard or put on your best face; not because you have been given a large platform, and not because others tell you 'you are enough,'" she declared. "You are enough because you are a child of God who has been pursued from the very beginning. You are enough because His grace has saved you and covered you."