Never Lower Your Guard When It Comes to Sexual Temptation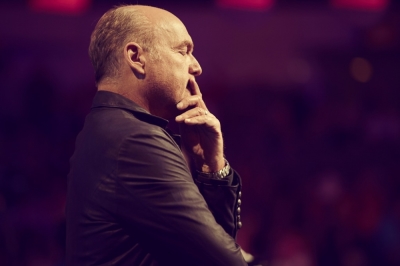 I think we all have a drive to believe in something, to worship something. But at the same time, we like to do our own thing. We don't like someone to dictate to us how we are to live. Thus, we go about trying to recast God in our own image.
We begin to change God around so that he becomes a sort of a user-friendly deity.
"Let's give God a makeover," we say. "Let's make God politically correct. Let's make God someone who won't demand anything of us, yet we can still have a religion that will satisfy the quest we have inside us. And it also will appease our guilt-ridden conscience."
What we end up with is not the God of the Bible, however. It's some other god that we have created in our own image. And it is this very idolatry that can ultimately lead to rationalizing our behavior and saying it's really OK. It can be like a wildfire that quickly spreads, something that starts out small and then gets out of control, leading to total devastation.
The Bible shows us how this played out in one man's life. King David's story has been recorded for us in the Scriptures as a warning of what not to do. Here was a man who, at one point in his life, was very close to God. In fact, it was said of him that he was a man after God's own heart. He also was known as the sweet psalmist of Israel.
We need not go any further than the book of Psalms to see how intimate David's relationship with God was.
He spoke of his love for the Lord, saying, "As the deer pants for the water brooks, So pants my soul for You, O God .… The Lord is my shepherd; I shall not want. He makes me to lie down in green pastures; He leads me beside the still waters .… Because Your lovingkindness is better than life, My lips shall praise You" (42:1; 23:1–2; 63:3 NKJV).
David loved God in a dear and tender way, yet he fell into sin.
If I were to go out on the streets and ask people, "What do you remember about David from the Bible?" they probably would mention David and Goliath. And they also might bring up David and Bathsheba.
These two people marked David's greatest victory … and his greatest defeat. In the Valley of Elah, David saw his greatest victory as he brought down Goliath with a single stone. And in Jerusalem, David saw his greatest defeat as he was brought down by Bathsheba.
Bathsheba is never presented as a villainess in their story. She is never presented as someone who set out to trap David. Really, David worked himself into this almost singlehandedly. Certainly Bathsheba cooperated, but David is primarily the responsible party. And for a few moments of pleasure, David had a lifetime of regrets.
It's unclear as to whether David may have known where and when Bathsheba bathed — and intentionally put himself in a place to see her. Whatever the case, it's what David did afterward.
Jesus said, "You have heard that it was said, 'You shall not commit adultery.' But I tell you that anyone who looks at a woman lustfully has already committed adultery with her in his heart" (Matthew 5:27–28 NIV).
In the Greek language, the word look used here doesn't mean a casual, involuntary glance. It refers to a continuous act of looking, intentional and repeated gazing.
We can't stop ourselves from seeing certain things in this world. It might be something on a billboard, on your television or computer screen, or someone who walks across your path. But there is a difference between seeing something and putting yourself in a place where you know you'll see things.
David looked. And then the sin began to stir in his heart.
It has been said, "Sow a thought, reap an action; sow an action, reap a habit; sow a habit, reap a character; sow a character, reap a destiny."
This is why Job said, "I made a covenant with my eyes not to look with lust at a young woman" (Job 31:1).
David saw Bathsheba, and he allowed lust to build in his heart. But he didn't stop there. He wanted to know who she was. And when the news came back that she was Uriah's wife, it should have stopped him. But David already was hooked by sin, and he continued on his path.
God doesn't make it easy for us to sin. When we start to cross a line, he puts obstacles in our way. He has things come up. They are warnings of danger ahead. But we blindly go forward, thinking, "This doesn't apply to me. I'm different. I'm OK. I can handle it."
James made this statement: "Temptation comes from our own desires, which entice us and drag us away. These desires give birth to sinful actions. And when sin is allowed to grow, it gives birth to death" (James 1:14–15 NLT).
Let's see how that pattern played out in David's life. First, David was drawn away by his own desires as he sat lazily on his rooftop, looking for trouble. Second, he was enticed by a beautiful woman. Third, when desire was conceived, it gave birth to sin. In David's case, it was that of premeditated adultery. Fourth, when sin was allowed to grow, it brought forth death — the death of Bathsheba's innocent husband, Uriah.
David sinned, and he was forgiven. But he reaped what he sowed. He saw the very sins that he had committed repeated in the lives of his own children.
As Proverbs 6 says, "The man who commits adultery is an utter fool, for he destroys himself" (verse 32 NLT).
It's very likely that a person's sin of adultery will go public. This is why God warns us of the deadly implications of this powerful sin.
An intense love for God and for your spouse will see you through the rough waters of sexual temptation. I don't have a magic formula for never being tempted again. It's a daily battle. It's a daily walk, as is everything in the Christian life. But I will say this: The moment you stop lowering your guard, you become an easy target
Originally posted at Greg Laurie's blog.
Used by permission from Harvest Ministries with Greg Laurie, PO Box 4000, Riverside, CA 92514.
Greg Laurie is the senior pastor of Harvest Christian Fellowship, with campuses in Riverside and Irvine, California.