No Human Condition Is Unworthy of God's Love, Pope Francis Says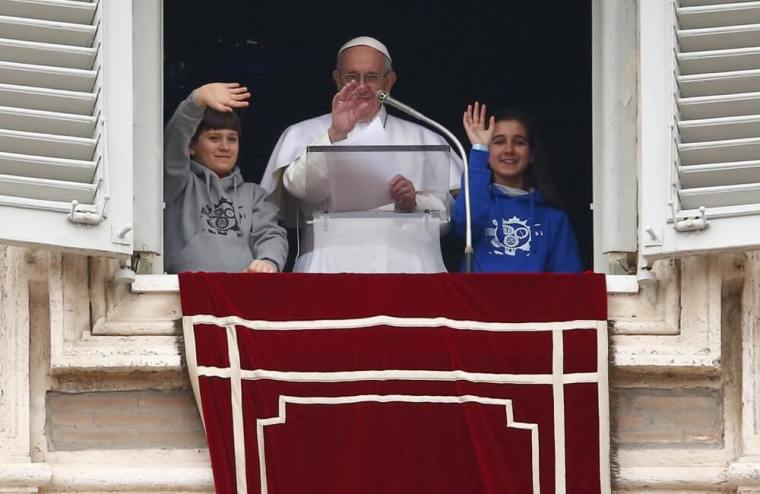 No human condition is unworthy of God's love, Pope Francis said Sunday while speaking from St. Peter's Square in the Vatican.
The pope made his comments on Sunday during the International Day of Leprosy, telling the crowd gathered at St. Peter's Square that "No human condition constitutes grounds for exclusion from the heart of the Father."
"The only privilege in the eyes of God is to not have privilege, to have no protectors and to surrender oneself into his hands," the pope added.
He also referenced the biblical story of Jesus' neighbors threatening to kill the Messiah because he did not immediately perform a miracle.
Francis told the audience that while it is tempting for Christians to expect things from God in exchange for their faith, the real purpose of religion is the existence and love of God.
"It is the temptation to treat religion like a human investment and, therefore, begin to 'bargain' with God, seeking one's own interests. Instead, true religion is a matter of welcoming the revelation of a God who is Father, and cares for all his creatures," the pope told the audience.
Adding to this, the pontiff said that while some Christians may feel as though God has abandoned them, the reality is that God "always comes looking for us."
"[God] holds out His hand to draw us back from the abyss into which we have been driven by our pride, and invites us to welcome the consoling truth of the Gospel and to walk on the right paths: He always comes looking for us," he said.
The pope has spoken on the topic of God's love before,
"God thinks of each of us and loves each of us. He 'dreams' about us. He dreams of how He will rejoice with us. That's why the Lord wants to 're-create' us, He wants to renew our hearts so that joy can triumph,"  he said while speaking from Casa Santa Marta in 2015.
"To have faith is to make space for God's love, to make space for his power, for God's power. Not for the power of a powerful person, but for the power of one who loves me, who is in love with me and who wants to rejoice with me. This is faith. This is believing: making space for the Lord so that he can come and change me," he added.