Shakira Baby Photo: Milan New 'Voice' Judge (PICTURE)
New "Voice" judge Shakira appears to have had a special visitor on Thursday. The "Hips Don't Lie" singer recently shared a picture of her and her son sitting on one of the judge's chairs.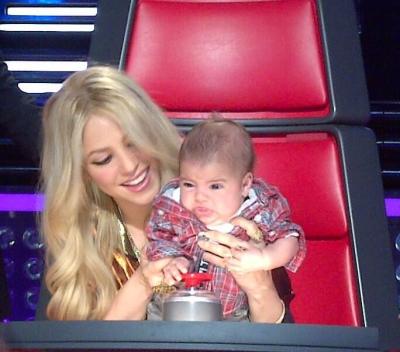 "Clearly Milan's intrigued by this performance," the singer wrote on Thursday after posting a picture of herself and her 3-month-old son on Twitter.
But apparently Milan is no pushover. While he may have "like" the first performance, he was not a fan of the second. In a different photo that Shakira posted, the baby can be seen making a much less pleasant face.
"Uh oh, I don't think he liked that performance!" the singer commented under the photo.
This is Shakira's first time as a judge on "The Voice" along with R&B singer Usher. Teams for all four judges were completed this week, next week the official competition will begin with sing-offs. But Shakira isn't the only one who likes to brag about her son. Her husband and father to Milan, Girard Pique, is also quite proud.
Pique posted a picture of his wife, Shakira, and the couple's 3-month-old son on WhoSay following his FC Barcelona win in March. The picture was taken at Barcelona's emptied home stadium.
"After the game, Camp Nou empty, enjoying the classification with my family," 26-year-old Pique said in the caption of the photo.
The photo with Shakira and the baby Milan was one of the first family photos to surface on the Internet. Earlier, Pique also posted a photo of Shakira holding Milan in a carrier on her chest. The carrier was marked with the number "3," the same number worn by his father, in support of the team.
"Just like his father, baby Milan became a member of FC Barcelona at birth," Shakira later wrote on Twitter.