Should Christians Use Sex Toys? Porn Pastor Answers in 'Best Sex Life Now' Series
Warning: Content may not be suitable for children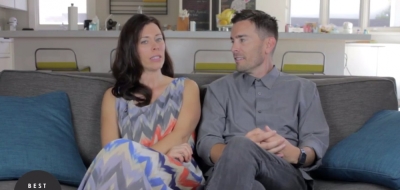 "Porn pastor" Craig Gross says sex toys can be used in the marriage bedroom but he draws a line at toys that cause harm, such as the ones used in the 50 Shades trilogy.
"We go to adult trade shows … every sex toy imaginable is there … I'd say some of the stuff is harmless but over the years it seems to be getting darker and darker," Gross, founder of xxxchurch.com, says in a new video series titled "Best Sex Life Now."
He lists whips, chains and handcuffs among the sex toys that he would avoid.
"When it gets dark or when it gets harmful, that's a whole nother level where if you're in love with this person, why you'd want to harm them or hurt them, I don't know," he states, as his wife, Jeanette, notes that the erotic romance trilogy 50 Shades has made such violent sexual acts popular.
But Jeanette reminds viewers that the novel is a fantasy and not reality.
The couple is addressing questions on sex in a newly released video series that is intended to encourage married couples, especially those of the Christian faith, to have great sex.
"So many Christians look at sex as a chore, but sex is supposed to be fun! It's God's way of keeping intimacy and romance in a marriage," Craig Gross, who is known for handing out Bibles at porn shows, said in a released statement. "A lot of couples feel stuck in a rut sexually, but by encouraging open communication about their love life, couples can have mind-blowing sex for their whole lives – like God intended."
Among the questions that the Grosses and another couple address include: Are sex toys, lingerie and sexting okay for Christians? How do we know what we can or can't do? What if my spouse does not want to have sex?
When deciding on sex toys or "extras" such as lubricants and lingerie for the marriage bedroom, Gross recommends that spouses play to each other's personality rather than blindly taking someone else's advice.
"When we talk about extras, get this thing (sex) great maybe without any of these things (toys) and then look to some things as extras to go 'oh wow, that can add to this,'" he says.
As for sexting and sending sexually explicit photos, Dave Willis, a pastor and founder of StrongerMarriages.org, gives one caution: use common sense.
"The moment you send something across airwaves that other people could have access to, then you're opening up the potential for more people to be involved than just your spouse," he states in the video series.
Both Willis and his wife, Ashley, are more cautious when it comes to photos ("sexy selfies") and videos but are open to sending flirtatious texts to each other.
"Build the suspense. I think there's things that we can do throughout the day through texting, through notes, phone calls, just to let them know you're on my mind, I want you, I desire you. I think there's nothing wrong with that and that's healthy," Ashley says.
The "Best Sex Life Now" series is available at http://www.bestsexlifenow.com/.