'The Sims 4' allows players to get 'top surgery' scars, breast binders and 'tucking' underwear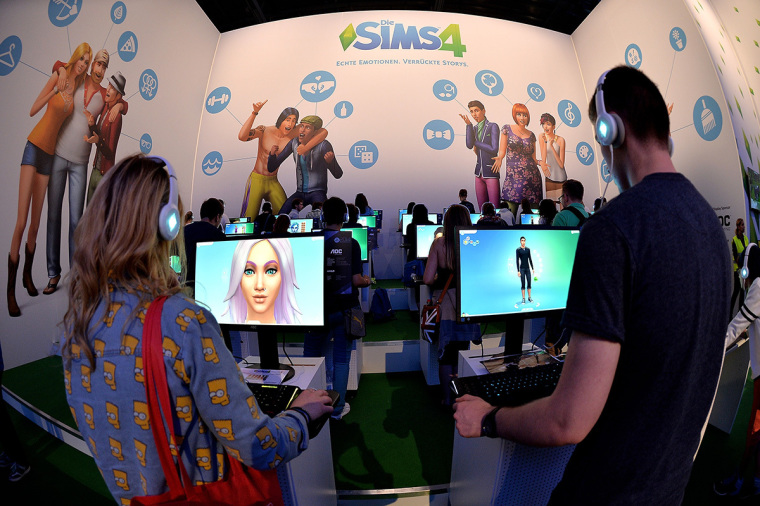 A popular video game now allows users to create characters that have skin scars from sex-change surgeries as concerns grow about the harm done to youth who undergo extreme body mutilating surgeries like double mastectomies and castration.
"The Sims 4," a life simulation game that enables users to "create a unique world" to express themselves and "customize every detail," announced new features on its Twitter account Tuesday. These features include the ability to add "medical wearables" such as "binders" that flatten girls' breasts and so-called shapewear that creates a bulge in underwear so female characters that identify as men can appear to be sporting male genitalia. 
Binders, which cause extreme discomfort, wrap tightly around women's breasts to flatten their chests in an attempt to look more masculine, while some shapewear includes "packing" underwear to create the illusion of having a penis and testicles. Other options include tucking underwear for men who want to identify as women. 
The Twitter account Libs of TikTok shared "The Sims 4" announcement and content from the company's website outlining additional features of the latest version of the video game.
Those playing "The Sims 4" have the option to give their "Sims," a "top surgery scar," a "Binder top asset" or a "shapewear asset" to their wardrobe.
Descriptions of the new game features don't go into much detail. The sanitized term "top surgery" refers to the jagged scar that remain when a girl undergoes an elective double mastectomy to remove her breast tissue.  
Listen to CP's podcast "Generation Indoctrination: Inside the Transgender Battle"
Chaya Raichik, who runs Libs of TikTok said on Twitter: "The Sims game announced a new update which has the option to make a teen character non-binary or transgender by giving them double mastectomy scars and chest binders. The Sims is advertised for ages 12+. They're teaching young healthy girls that it's ok to chop off their breasts."
The new features in "The Sims 4" reflect the push by many in the U.S. to affirm the sexual identities of people who suffer from gender dysphoria by encouraging them to take puberty blockers and high doses of opposite-sex hormones that cause sterility and are a form of chemical castration or undergo elective operations that leave people with deformed bodies.
As politicians, pharmaceutical companies and medical organizations in the U.S. continue to embrace full immersion into transgenderism, a movement of detransitioners are speaking out and filing lawsuits against the doctors and medical institutions that say have left them irreversibly damaged. 
Chloe Cole, an 18-year-old girl who experienced gender dysphoria during puberty and underwent a double mastectomy, has founded an advocacy group called Detrans United, designed to serve as a support group for adults who were experimented on. Cole has also announced her intention to sue the doctors who removed her breasts and gave her prescriptions for puberty blockers and cross-sex hormones.
In a letter indicating her intent to sue, Cole publicly outlined the trauma the experience has caused her. Doctors advised Cole that "the distress she experienced because of her gender dysphoria would resolve as she transitioned," but the teenager discovered that her "distress always came back worse" following the "initial relief" that occurred after "each phase of transition."
Cole's double mastectomy caused her to experience suicidal thoughts and a deteriorating state of mental health. She also lamented the consequences of her double mastectomy in a phone call to a California school board that distributed a book to students as young as 8 that taught them they might be born in the wrong body: "I will not be able to breastfeed any children I have in the future and my sexuality has permanently been affected because I was allowed to make adult decisions starting at 13, and then again at 15." 
She added, "This is what happens when children are sexualized and exposed to developmentally inappropriate and confusing content and ideas from a young age. This is what happens when we treat children like adults and expect them to have the mental faculties for proper long-term decision making." 
The American College of Pediatricians, a medical organization that opposes subjecting minors to gender transition procedures, identified "osteoporosis, mood disorders, seizures, cognitive impairment" and sterility as side effects of puberty blockers while warning that cross-sex hormones can cause an "increased risk of heart attacks, stroke, diabetes, blood clots and cancers across their lifespan."
Concerns about the long-term impact of puberty blockers, cross-sex hormones and sex-change surgeries prompted Alabama, Arizona and Arkansas to pass laws banning the performance of such procedures on minors. Similarly, the Florida Boards of Medicine and Osteopathic Medicine voted to prohibit gender transition procedures on minors, while Texas Commissioner of Family Services Jaime Masters and Texas Attorney General Ken Paxton have issued opinions characterizing them as a form of child abuse.