Singer Lauren Daigle Honors God on 'Good Morning America' in Time Square (Watch)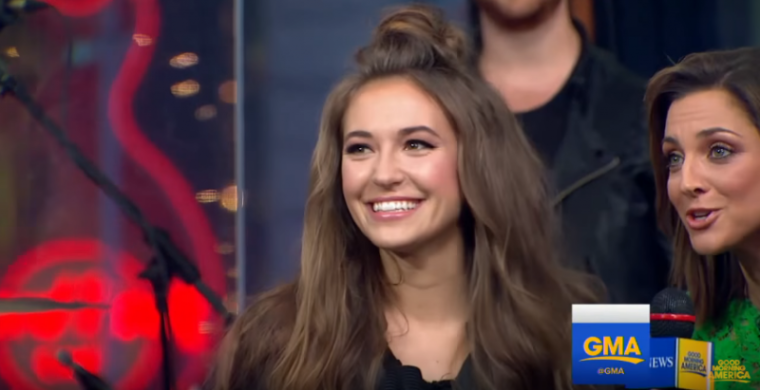 Christian singer Lauren Daigle made a special guest appearance in the middle of Time Square on ABC's "Good Morning America" this week to honor God by performing her single, "Trust in You."
Fresh off her Christmas tour with for King and Country, a very excited Daigle led the "Good Morning America" co-hosts in worship Thursday morning with her hit single.
"I gotta say, Lauren, I love your voice; I listen to your songs all the time," GMA anchor Paula Faris gushed before introducing the 25-year-old singer.
Daigle then began her song, in a softer tone than usual.
"Letting go of every single dream/I lay each one down at your feet/Every moment of my wandering/Never changes what you see/I try to win this war/I confess, my hands are weary, I need your rest/Mighty warrior, king of the fight/No matter what I face you're by my side...When you don't move the mountains/I'm needing you to move/When you don't part the waters/I wish I could walk through/When you don't give the answers/As I cry out to you/I will trust, I will trust, I will trust in you," she sang.
The YouTube video of the performance has already been viewed over 30,000 times and fans quickly posted comments of their admiration for Daigle and GMA for allowing her to perform a Christian song on mainstream TV.
"Wonderful job, Lauren! Still wonderful that they're letting Christian artists perform on national tv," one fan posted.
Another said, "Glory to God. May hearts and lives continue to be changed by the work of the Lord through Lauren and her music team!"
The Award-winning Centricity Music artist also participated in a Facebook Live chat for GMA's page leading up to her performance in which she was seen getting hair and makeup done.
Watch the performance below:
"Trust In You," comes from Daigle's album How Can it Be, which charted at No. 1 more than five weeks on Billboard's Top Christian Albums chart, and premiered in the Top 30 on the Billboard 200. The No. 1 iTunes Christian Gospel Album sold over 360,000 copies and 880,000 track sales, positioning her as the fastest-selling new artist in Contemporary Christian music in the past decade.
The Louisiana native took a brief departure from her contemporary music to release Behold, her first Christmas album. The album includes a new take of her original song "Light Of The World" along with Christmas favorites, "Have Yourself a Merry Little Christmas," "What Child Is This," and "Silent Night."
For additional information on Daigle visit her website.