So. Baptist agency seeks rehearing of termination case in light of Supreme Court ruling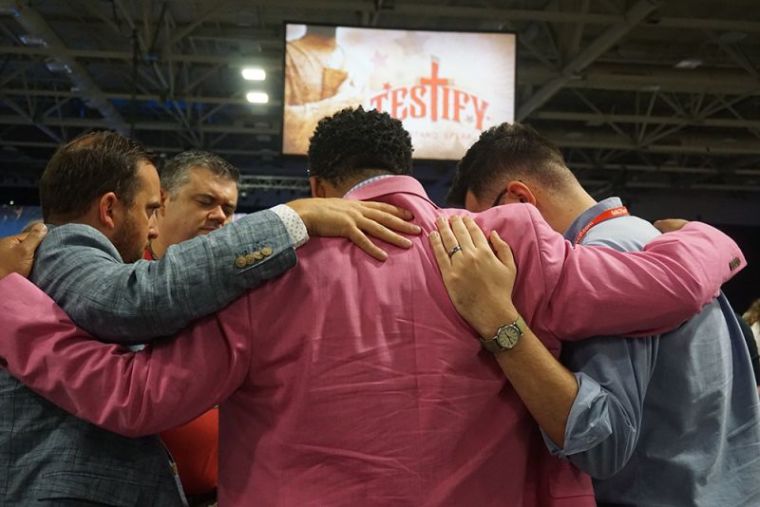 The Southern Baptist Convention's North American Mission Board is asking for a rehearing of an employment termination lawsuit by a federal appeals court and claims that a recent U.S. Supreme Court decision contradicts an earlier ruling against the agency. 
Attorneys representing NAMB, SBC's domestic missions agency, filed a petition Thursday for a rehearing en banc at the 5th Circuit U.S. Court of Appeals after a three-judge panel earlier this year overturned a lower court's dismissal of a complaint filed by the former executive director of Baptist Convention of Maryland/Delaware.
The former executive director, Will McRaney, filed a lawsuit in 2017 alleging that NAMB, which works with state SBC conventions and other partners to plant new churches, defamed him through false statements and influenced the convention's decision in 2015 to terminate him after a dispute about a partnership agreement.
McRaney's lawsuit further claimed that NAMB sought to prevent McRaney from speaking at conferences and that his photo was displayed in the reception area of the NAMB offices in Georgia. 
In April 2019, a federal judge in Mississippi dismissed McRaney's lawsuit against NAMB and argued that McRaney's claims could not be considered before the court because it would have involved a secular court scrutinizing a religious organization's decision to terminate a leader. The judge reasoned that courts are prevented from weighing in on ecclesiastical matters of religious organizations.
However, McRaney appealed the lower court's dismissal to the appellate court. In July, the 5th Circuit remanded the case back to the lower court. 
But NAMB and its lawyers argue that the appeals court's decision goes against the U.S. Supreme Court's ruling in July that favored a Catholic school that was sued for not renewing the contract of a religion teacher. 
In the ruling of Our Lady of Guadalupe v. Morrissey-Berru, the court ruled 7-2 in defense of a legal principle preventing civil courts from adjudicating employment discrimination claims brought by ministerial employees against religious institutions. 
"Last month, the U.S. Supreme Court made it clear that the Constitution protects religious organizations' independence and their right to choose their own leaders and ministers," said Hiram Sasser, executive general counsel at the First Liberty Institute, one of the legal organizations assisting NAMB in the lawsuit.
"There should be no doubt that religious denominations have the freedom to choose who is best suited to lead their organizations and fulfill their religious missions. The Fifth Circuit should dismiss this case immediately."
The appeals court panel did not rule on the merits of whether the ecclesiastical abstention doctrine applied in McRaney's case. But it expressed concern with uncertainty regarding the facts of the case. 
"Therefore, the relevant question is whether it appears certain that resolution of McRaney's claims will require the court to address purely ecclesiastical questions. At this stage, the answer is no," the July ruling stated. 
"At this time, it is not certain that resolution of McRaney's claims will require the court to interfere with matters of church government, matters of faith, or matters of doctrine. If NAMB presents evidence of these reasons and the district court concludes that it cannot resolve McRaney's claims without addressing these reasons, then there may be cause to dismiss."
Advocates for NAMB contend that the case carries religious liberty implications when it comes to whether or not religious groups have autonomy in making governance and leadership decisions. 
"The panel's holding is enormously consequential, injecting courts into disputes between ministers and religious organizations concerning internal religious governance and leadership and denying religious groups the special solicitude afforded to them by the First Amendment," said Sasser.
"Indeed, the panel's opinion goes so far as to permit the district court to adjudicate not only the reasons for a religious minister's termination, but also the reasons for speaker selection at a mission symposium."
If granted, an en banc hearing would be held before all judges on the 5th Circuit, instead of the three-judge panel. 
The petition argues that reconsideration by the full court is "necessary because this appeal involves questions of exceptional importance on which the panel's decision conflicts with the authoritative decisions of other United States Courts of Appeals."
In a post on a GoFundMe page established to support his legal costs, McRaney said that the remanding of the case back to lower courts allows his legal team to have the "opportunity to depose witnesses," such as NAMB President Kevin Ezell as well as past and present NAMB trustees and employees. 
"The wheels of justice grind slowly, but finally truth will be coming into the light," McRaney claimed, accusing Ezell of having "blackballed" him. "We are 'all in' to see this matter through to the end …"