New SocialCross Website Offers Christians an Alternative to Facebook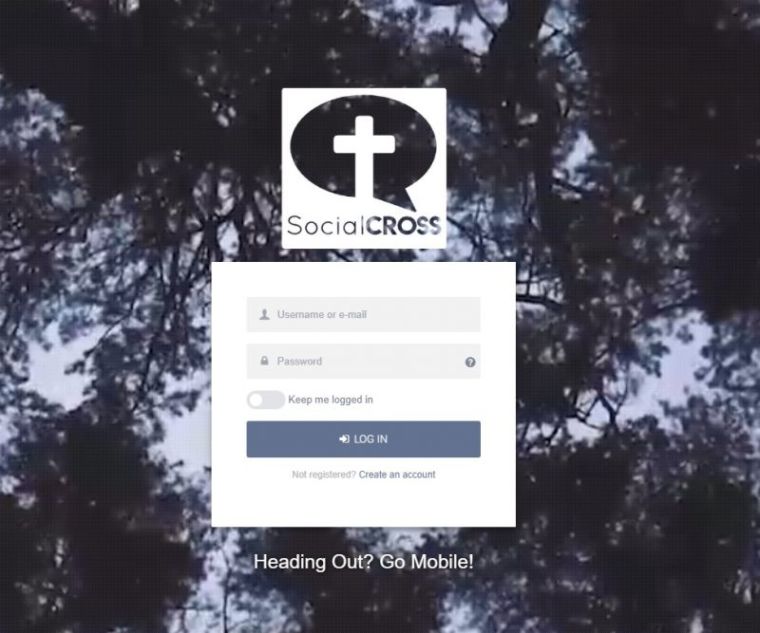 Conservative Christians who've been barred from Facebook for posting their beliefs about homosexuality and LGBT issues now have a new social media platform they can join that won't block users for defending biblical principals.
After being suspended from Facebook numerous times for posting their thoughts on LGBT issues, a group of Christian preachers have launched a social networking alternative to Facebook called SocialCross.
SocialCross, which works in a very similar manner to Facebook, aims to give Christians a place to engage and have conversations about events going on in the world without fear that their accounts will be suspended or blocked.
In just three weeks since it has been launched, over 2,300 users have signed up for SocialCross.
"This is a place where we can all come together as people who believe in Christ who want to share with one another and learn from each other, and do so without an environment of fear of having people report our post or Facebook blocking us for 30 days," the website's co-founder, Rich Penkoski, a West Virginia-based preacher and co-founder of the online pre-denominational ministry Warriors for Christ, told The Christian Post in an interview this week.
Penkoski explained that he and his colleagues were inspired to create their own social media platform that allows Christians to speak freely and openly after his personal Facebook page was banned for 30 days on separate occasions in July because of comments he made in online threads that were reported to Facebook administrators by LGBT Facebook users.
Penkoski and the Warriors for Christ Facebook page made headlines in June when the ministry vowed to block anyone who posted the LGBT rainbow flag emoji on its Facebook page.
"People were asking me for years to [build this kind of site] and I always said no. But when the whole thing happened with us in July, [my colleagues] were like, 'You know Rich, maybe we should.' I kept getting banned. I just got off another 30-day ban," Penkoski said. "Another one of our guys got banned for saying, 'Jesus Christ can cure homosexuals from homosexuality.' He got banned for that. It was my ministry team that was like, 'This is the time to really start it.' I prayed about it a lot. I said, 'You know what? Let's do it.'"
Along with Penkoski, the site was founded by his wife, Amanda, and their colleagues Anita Kallinicos and Nellchy Kentley. But with little Web development experience between the four of them, they hired the Indian-based company Pas Softech to build the new website.
Penkoski said the Christian social media site was developed by PAS Softech Pvt. Ltd., which is run by a Hindu man named Ankur Agarwal, and was created in less than two months.
"The whole idea is that it's a Christian site, run by Christians, designed by Christians and based on biblical principles," Penkoski said. "But anybody and their brother can join so long as they understand that we're a Christian site run by Christians."
The site allows users to interact with each other by posting Christian-themed emojis such as a cross, praying hands, praise hands, an ichthys, a christian flag, a Bible and others.
One unique aspect of the site is that it allows users to search for relevant Bible verses without having to leave the site. Users can easily use the "Bible Search" located in the upper right-hand corner of the SocialCross homepage to look up Scripture.
"This is a social networking site with the features that all of us Christians want," Penkoski asserted.
The site's code of conduct prohibits any use of profanity, racial epithets and sexually explicit adult material. The code of conduct also prohibits users from harassing others and authoring personal attacks.
"You may express your disagreement with someone's point of view, but personal attacks, or attacks based on another person's race, national origin, ethnicity, gender, disablement or other such affiliation, are prohibited," the SocialCross code of conduct states. "A violation in this area may result in a warning or immediate termination from service. If you receive such a warning, you agree to read the SocialCross.org Terms and Conditions again."
Penkoski added that although members of the LGBT community are allowed to join SocialCross, they are not allowed to harass users because of their belief in biblical definitions of marriage and sexuliaty.
"LGBT members are welcome so long as they are not going to try to cram that garbage down our throats," Penkoski asserted. "If you want to come and ask honest questions and have honest dialogue, you are more than welcome. But if the goal is to comment and force their lifestyle on others, that is not going to be allowed."
Penkoski said that since the website launched in its beta mode three weeks ago, "LGBT trolls" have found the page and harassed users.
"This is the same group of people that says to leave them alone," Penkoski said. "We started a Christian social network site and they have to hop right over there, too, telling us to go die and leave them alone. It makes no sense."
Penkoski added that people who promote hate groups and hateful ideologies like white supremacy and neo-Nazism are not welcome on the social media site. Penkoski and his team have already had to ban one Nazi supporter from the website.
"Over 2,000 people are using the site. We had to upgrade servers twice because of it," Penkoski said. "For the most part, it's just a Christian audience right now. We haven't had any real issues and we are surprised because we are in the crosshairs of certain groups of people who know that we are doing it."
Considering that over 2,300 people have signed up for the platform in just under three weeks with relatively little promotion or advertising of SocialCross, except on the Warriors for Christ Facebook page, Penkoski and his team are expecting that they will need to increase the SocialCross staff in the future.
Although the founders initially intended for SocialCross to be a nonprofit and advertisement free, Penkoski said that they quickly realized that the costs of running a site like this would be too great not to allow for paid advertisers.
"When I set this up, [our server company] said that based upon the growth that they see so far, they can honestly see us using 100 servers in a year or two year's time. You are talking $10,000-a-month to keep this thing running," Penkoski explained. "There is no way we can do it as a nonprofit. There is just no way."
Penkoski said he's hopeful that within the next two months, SocialCross users will be able to do livestreaming. Although SocialCross has been launched, Penkoski emphasized that the site is still in its "development mode" and they're in the process of working out some of the issues.
"It's hard to launch something like this without fully launching it, because without actual people using it there's no way we are going to find all the bugs in a real-world situation," he said. "It's like when an app launches for the first time or when a new phone launches, they say it's a launch but it is still technically in beta. Because we have a lot of people using it, we fixed a lot of things and are adding features. We are launched but we are still in that development mode."