Social Media Campaign Calls for People to 'Burn White Jesus'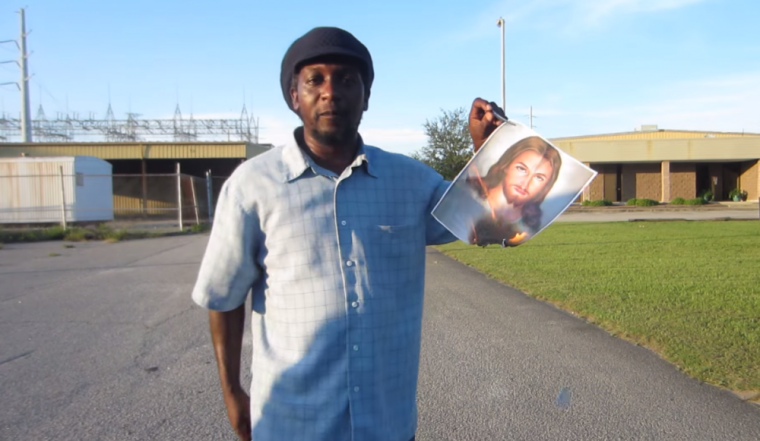 A man has posted a video to YouTube calling for people to set fire to pictures of Jesus Christ that depict him as a white man.
The video was posted on YouTube last month by a man calling himself "Mr. Savannah Black" announcing the creation of the "White Jesus Picture Challenge."
Since the video was uploaded, others have responded by accepting the challenge and burning pictures of white Jesus.
Black has argued that white Jesus is an image synonymous with white supremacy, and thus, should not be honored.
"When are some of you gonna take up the challenge brothers and sisters and let the system of white supremacy see that it truly is a new day and way of thinking for the black man and woman in this dimension of reality," he wrote on his Facebook page earlier this week.
As of Wednesday morning, Black has uploaded eight videos on YouTube, with "The White Jesus Picture Challenge" video being the most watched, with over 18,000 views.
Other videos include Black lamenting the "out of control" influence of homosexuality in black culture and criticizing the ministries of preachers like New Birth Missionary Baptist head Eddie Long.
In addition to those uploading videos burning pictures of Jesus, others have commented on the social media trend.
Michael Stone of Patheos, writing for the Progressive Secular Humanist blog, approved of the fiery video trend.
"As for African-Americans, they have good reason to reject any symbol of Christianity for the simple fact that Christianity was used to justify the subjugation, slavery and abuse of Africans and other non-whites for centuries," wrote Stone.
"Indeed, it is a curious puzzle of history that so many African-Americans have so willingly embraced the faith of the white slave master."
However V. Saxena of downtrend.com commented earlier this week that the #burnwhitejesus trend is "both annoying and petulant."
"I just find it hilarious how the liberal media will say absolutely nothing about people burning 'white Jesus,' but will turn around and call others racist for slamming the likes of Beyoncé," wrote Saxena.
"What do you think is more racist — burning a picture of Jesus just because it depicts him as white, or criticizing Beyoncé for proudly promoting adult sexuality to little children?"