Some Airlines Cap Ticket Prices as Florida Residents Flee Path of Hurricane Irma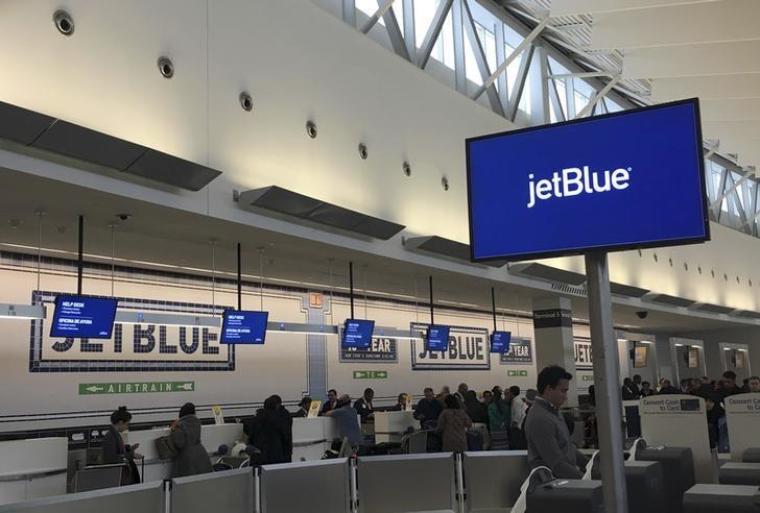 As residents of the Miami area and the Florida Keys scrambled to flee the path of Hurricane Irma Friday, JetBlue remained among a number of airlines that pledged to cap ticket prices to allow people to evacuate as quickly as possible.
A JetBlue official told Yahoo Finance Wednesday that the airline will charge no more than $99 for the last available seat for direct flights and no more than $159 for the last available seat for connecting flights.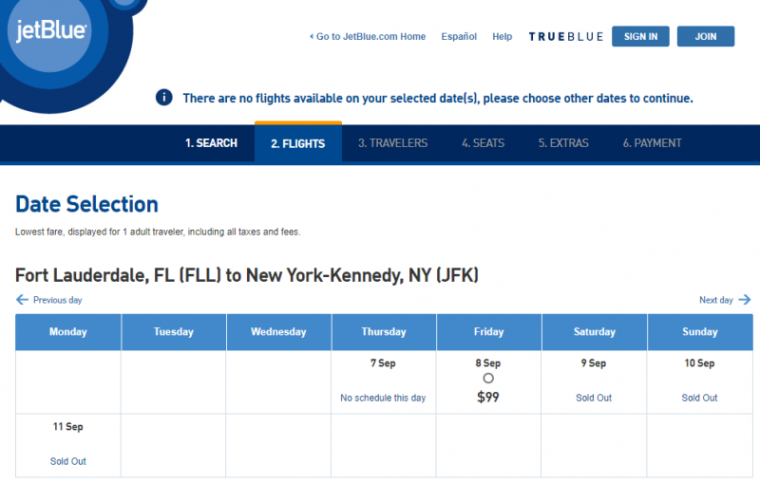 The official said the price caps include government taxes and noted that where possible, the company will add additional flights in select cities if aircraft are available.
Other airlines, such as American Airlines, have announced similar measures in reaction to Hurricane Irma.
"While there are limited seats remaining before the storm hits, we will cap our pre-tax fares at $99 for MainCabin seats on direct, single leg flights out of Florida for tickets sold through Sunday Sept. 10 for travel until Sept. 13," a spokeswoman for American Airlines told Yahoo Finance.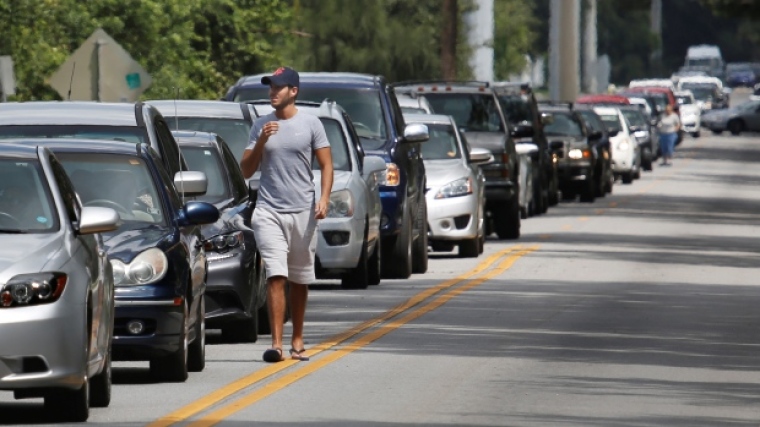 A Delta official said the company has also decided to reduce the price of its highest fares and waive change fees in response to Hurricane Irma.
"We are waiving change fees for customers who want to change their flight plans due to the forecast. We have full details on the waiver at delta.com," the Delta spokesman told Yahoo Finance. "We also are adding flights and increasing the size of the aircraft we're using on flights to and from San Juan and south Florida, providing more opportunities for customers to leave. New flights are being added to and from San Juan, Miami, Palm Beach, Fort Lauderdale and Key West, all to Atlanta (where people can connect to destinations across the U.S.)."
The announcements come as some airlines have been accused of price-gouging on one-way fares from areas set to be affected by Hurricane Irma which as of Friday was barreling toward Florida as a Category 4 storm after devastating several islands in the Caribbean.
A massive exodus is now underway in South Florida which CNN senior meteorologist Dave Hennen said could turn into one of the largest evacuations in American history.
"Lines at Miami International Airport are 400 - 500 people long. They are asking people to arrive 4-5 hours prior to departure time," medical writer Larry Lynam tweeted Thursday afternoon.
While one online source claimed Miami International Airport will close at 7 p.m. on Friday, Greg Chin, a spokesman for MIA, told Heavy on Thursday that the airport will only close if safety becomes an issue.
"The Miami International Airport terminal remains open, and will only close if severe damage or safety concerns from Hurricane Irma result in stranded passengers and non-essential airport employees being evacuated to nearby shelters after the storm," he said.
Recalling the recent devastation in Houston, Texas, by Tropical Storm Harvey, some Florida residents told WLBZ2 they were taking no chances by waiting to see what will happen.
"Because of what happened in Houston, everyone doesn't want to sit around anymore," Jenny Lunsted who recently moved into a new house in Key West, Florida, told the network.
"I just told my kids we're going on a little vacation," she said, noting that she plans to seek refuge in Georgia.
University of Miami student Connor Whittum returned home to Cumberland, Maine, this week after his school issued a campus-wide, mandatory evacuation. He said it took him three flights and 36 sleepless hours to get out of harm's way.
"I've never witnessed sheer panic like that," he told WLBZ2.
"I think people are a little bit paranoid because of Harvey, but if you look at the same of this storm, you don't want to mess with it," he added.
At least 10 deaths have been blamed on Hurricane Irma as the system pummeled the Caribbean this week, according to ABC News. Florida, Georgia and South Carolina are now facing states of emergency as they wait for the storm.
"Obviously Hurricane Irma continues to be a threat that is going to devastate the United States," Brock Long, administrator of the Federal Emergency Management Agency Administrator, said at a press conference Friday morning cited by ABC News. "We're going to have a couple rough days."
Irma was downgraded from a Category 5 to a Category 4 storm early Friday morning. It was moving 14 mph and located 405 miles southeast of Miami as of 11 a.m. Eastern Time.