Some Pastors Defend Eugene Peterson in Aftermath of Gay Marriage, Megachurch Remarks: Don't Oversimplify His Words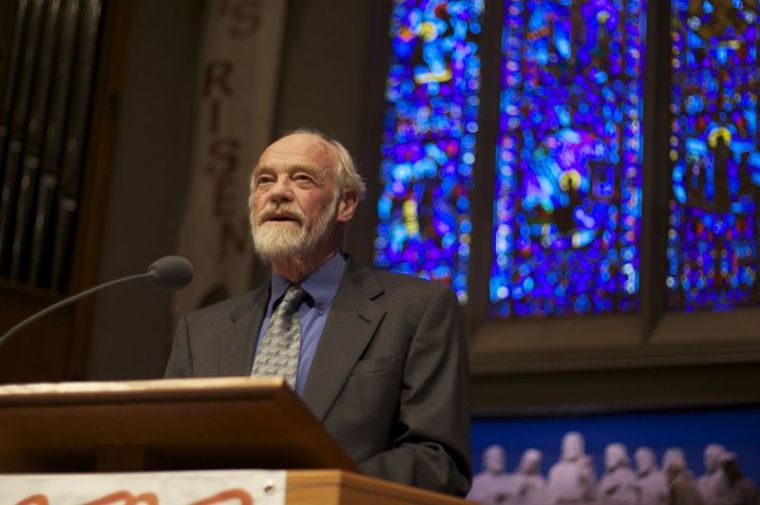 Following the brouhaha over Eugene Peterson's comments on same-sex marriage (and megachurches), some pastors have come to the evangelical author's defense, arguing that many have oversimplified his remarks into something tweetable.
"Eugene Peterson struggles to speak in tight, tweetable positions on these realities because real lives with real stories are involved. He is careful and caring with his words for pastoral use, but he is not calculated and cautious for public consumption. One is a language he has spent a lifetime cultivating, the other is foreign to him," said Jamin Goggin, a Southern California pastor who visited Peterson at his home in 2012.
Goggin, who wrote his thoughts on the Metamorpha Ministries blog, was commenting on an interview Peterson did with Jonathan Merritt at Religion News Service.
In that interview, Peterson said if he were pastoring today and was asked to officiate a same-sex wedding for a couple at his church, he would do so.
The 84-year-old's response sent shockwaves in the evangelical world, with many condemning Peterson's supposed approval of same-sex marriage. LifeWay Christian Stores was ready to pull his books off their shelves until he retracted his statement a day later and said he affirmed a biblical view of marriage — one man to one woman.
Peterson said he was "put on the spot" by the interviewer and "said yes in the moment."
When Goggin read the interview, he felt that "there was something missing."
"From short pithy answers, to an overly simple denial that megachurches are actually churches at all, there was something missing. We are not surprised to hear Eugene making bold statements. His prophetic sensibility is undeniable. Even for us personally, there were times in conversation when he would blow something up and then patiently walk with us picking up the pieces. But that was missing."
He also thought the author's answers "felt hurried."
"That's not his pace," Goggin noted.
Goggin, a pastor at Mission Hills Church, had visited Peterson at his Montana home years before. There they engaged in an unhurried conversation covering a range of topics.
As someone who has served as a long-time pastor of a Presbyterian church in Bel Air, Maryland, Peterson commits himself to longer conversations and offers more nuanced answers, Goggin suggested.
"Eugene, the pastor, has committed himself to the kind of life that allows for good conversations — attentive and prayerful listening, flexibility to try out words, playing with them before one sticks with them, and of course space to tell a good story or twelve," Goggin wrote.
"He is out of touch with platform building and social media leverage. He is unfamiliar with the game that too many of us know too well. When you attend to Eugene's words, not just about homosexuality, but about everything said in these interviews, you can see he does not want to be bullet-pointed into oversimplification … because there are people involved, and people should be invited into conversation. We talked with Eugene about the church's wrestling through the issue of same sex marriage, and while his heart in the matter was clear, he showed the concern of a pastor who knew real people were going to be caught up in the wake of our decisions.
"When asked about a difficult topic, unlike most of us, we don't think Eugene immediately thinks of the right answer, instead, he considers the souls to be shepherded. These are people with names."
As for Peterson's criticism of megachurches, it's not a simple blanket condemnation of all megachurches, Goggin — who previously served at Saddleback Church — argued.
Peterson told Merritt in the aforementioned interview that he is "upset by the fad-ism of the megachurch" and that he believes they're "entertainment places" moreso than churches.
The church, Peterson also stated, is relational and it's difficult for a pastor at a megachurch to have a relationship with thousands of people, let alone know their names.
Peterson has made similar comments in past interviews, expressing his lament about megachurches. But he has also acknowledged things megachurches do well — such as evangelism and mission projects.
Daniel Grothe is associate senior pastor at New Life Church in Colorado Springs — a megachurch. He has spoken with Peterson, whom he respects and considers an important figure in his life, over the last nine years.
When specifically discussing megachurches, Peterson did not criticize Grothe's work. Instead, he asked about the congregants, what work they do, and what challenges they face. And then he encouraged Grothe, saying it sounded like God clearly called him to that megachurch.
In that conversation, Peterson also said that there are no ideal churches — large or small.
"Eugene, more than anyone I know, has worked to dismantle any romantic notions of a utopian church. He told me that he was sure there are unique temptations in a church like mine, and that there were difficulties and temptations at a small church like the one he pastored, and that my work was to discern and stand against the particular idolatries that exist in my context," Grothe wrote.
Grothe isn't letting Peterson's criticism against megachurches bother him because the 84-year-old author likely doesn't know many megachurches and the contributions they're making in their communities. At the same time, Peterson "is not totally wrong" when it comes to his criticism.
"I know a bunch of large churches that seem to be faithfully carrying out their call. And I also know that there is plenty of sacrilegious gimmickry and cheap entertainment to be found out there, which means that there's at least a kernel of truth in what Eugene is saying," Grothe said. "We can and must do better.
"When Eugene pushes on the megachurch, I don't think he's saying we should shut them all down and divide people up into neat little groups of 200 based on their zip code. I think he is using prophetic exaggeration, hyperbole to shake us from settling for the current version of our churches when there may be some reforming to do."