Southern Baptist Convention Elects 36-Y-O 'Radical' David Platt as President of International Mission Board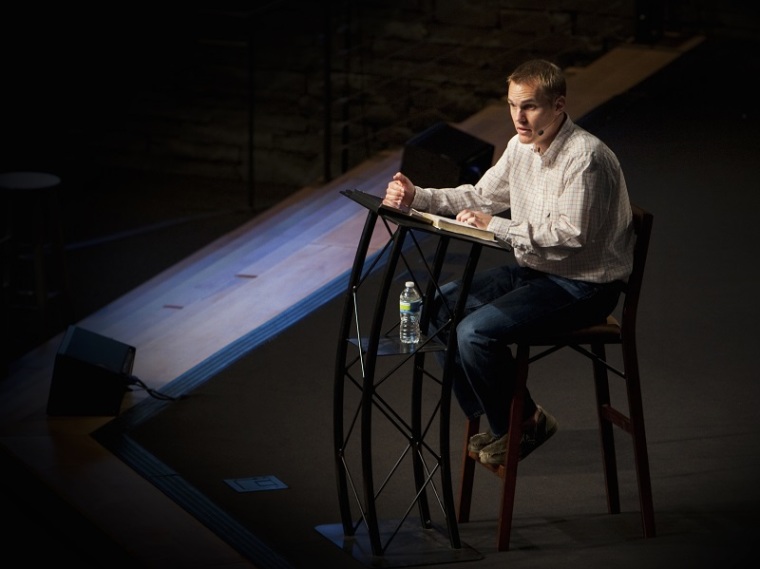 The Southern Baptist Convention, hoping for both a dramatic and unifying agent for change, announced Wednesday the election of 36-year-old pastor and Radical ministry founder David Platt as president of its International Mission Board.
"I believe Southern Baptists want to come together for the spread of the Gospel," said Platt, who leads a movement called Radical that is devoted to platforming and disseminating disciple-making resources, so that the Gospel "might be made known to the ends of the earth."
"I'm living and leading for the day when the IMB is needed no more because there are no more unreached people groups," Platt. senior pastor of The Church at Brook Hills in Birmingham, Alabama, said during a telephone conference for the press on Wednesday. "I want to trumpet the Great Commission, disciples made, God glorified here, and God glorified among unreached people around the world. I am exhilarated about the possibilities ahead."
WATCH DAVID PLATT EXPLAIN HOW THE LORD LED HIM TO IMB IN VIDEO BELOW
He succeeds IMB President Tom Eliff, who early this year said he would retire as soon as a new president was named. David Uth, senior pastor of First Baptist Church in Orlando, Florida, and chairman of a 15-member search committee that recommended Platt as president, told reporters that they were sure that he "is the man that God appointed and anointed" for the position after a meeting last month in Denver.
The International Mission Board is an entity of the Southern Baptist Convention, the nation's largest evangelical denomination, claiming more than 40,000 churches with nearly 16 million members. The IMB is the largest missions agency of its kind, according to officials.
Uth said he believes that the election of Platt is important because "the missionary force, the young people God is calling … represent one of the greatest forces in Christian history right now."
"While the world is becoming more hostile and anti-Christian in some places, it's as if [young missionaries'] passion is growing equally to go to those hard places," he explained. "That's where we hear young couples saying they want to go, that they want to be radically obedient to what God has called us to do for the nations. The passion is there. How do we equip them and resource them? How do we incorporate strategy that's effective? David is going to address that in a way that's going to bring maximum impact."
In his blog, "Why I'm Glad David Platt Is the New IMB President," Russell D. Moore, SBC's president of the Ethics & Religious Liberty Commission, writes that he is "radically happy" about Platt taking office.
"We need leaders radical enough to make changes, but radical in the right, biblical sense," Moore wrote. "We need a radical, not a revolutionary. Someone radical enough to build up, not radical in order to tear down. That's precisely what David is."
At one point during mid-day on Wednesday, "David Platt" was trending on Twitter with both Christian leaders and Christian celebrities chiming in on the announcement.
"I'm so thrilled & excited to finally announce @plattdavid will be the new president of our International Mission Board! Yeah!" tweeted Pastor Rick Warren, whose Saddleback Church is listed as non-denominational, but is a member of the SBC.
LifeWay Research president Ed Stetzer tweeted, "@PlattDavid is a leader whose private life matches his public face. This is incredibly important and too often lacking."
"Congratulations to @plattdavid keeping you in our prayers David," film producer and actress Roma Downey posted on Twitter.
Last year, Platt was featured in The Christian Post Series, "An Inside Look at a New Generation of Pastors." He was among those pastors interviewed under the age of 40, who were attracting Christians over a wide age spectrum, including Millennials and Generation X.
"Even in a generation where religious pluralism, moral relativism, and biblical skepticism are increasing, there is still power in the Word by His Spirit so He is still drawing people to Himself," Platt told CP during an earlier interview. "I can't think of anything particularly creative or innovative that I am or we are doing, apart from proclaiming His word and trying to authentically live it out. I believe that when we are faithful to do that then the Lord will draw people to Himself. I think God has designed this whole picture so that only He can get the glory for success in bringing people to Himself."