Southern Baptists Approve 'Great Commission Baptists' as Alternative Name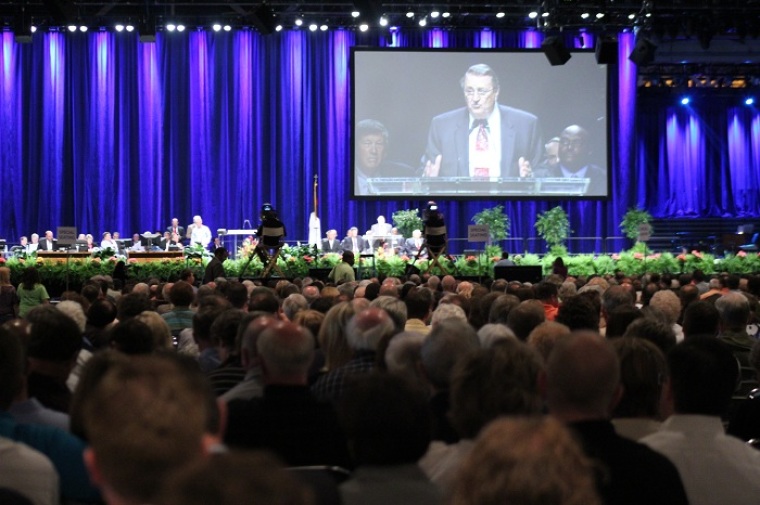 NEW ORLEANS -- Messengers of the Southern Baptist Convention, the nation's largest Protestant denomination, approved Wednesday the use of "Great Commission Baptists" as an alternative name by a vote of 53 percent to 46 percent.
The measure, effective immediately, allows churches affiliated with the SBC to call themselves by the new descriptor "Great Commission Baptists" to indicate their involvement with the denomination. Churches of the SBC have the option of using the informal, non-legal name as a stand-alone title, together with the SBC formal name, or not at all.
The official and legal name of the 167-year-old denomination will remain "Southern Baptist Convention."
The proposal was based on the recommendation of the SBC Executive Committee after a task force was appointed to study a possible name change. In February, task force chairman Jimmy Draper presented the task force's recommendation to the executive committee that the convention keeps its formal name but adopt an informal name.
Supporters of the new name said it would help the denomination expand its reach. The word "Southern" has been seen by church planters and missionaries as a hindrance to evangelistic efforts, especially by those doing missions in areas outside the American South and in ministry with people of different ethnic identities.
"Ninety percent of us here today are from the South. We don't even need to consider this. We're comfortable," Draper said Tuesday as the motion to adopt the descriptor was introduced.
"But we are now a Southern Baptist ministering in all 50 states. We want to encourage those in non-Southern states, who feel it would be beneficial to them, in terms of their evangelistic outreach, to give them an alternative."
About 10 percent of the SBC congregations are predominantly African American, according to Draper. Many of the African Americans he has spoken to say they have experienced criticism for identifying themselves as Southern Baptist.
Fred Luter, who made history Tuesday by becoming the SBC's first African-American president, said he agreed with Draper on the new name.
"I love it. I think it's a win-win situation," said Luter at a press conference announcing his election Tuesday. "Particularly a lot of the younger guys, they are planting churches that are not in the South. Some are in New York, some are in California and other places. They just feel like another name would help them to do outreach."
Luter added that he was really surprised that the name was debated so heavily among messengers.
A LifeWay Research survey released earlier this month found that only 2 percent of SBC pastors plan to use the new descriptor exclusively in their church identification. More than half of the SBC pastors surveyed, 54 percent, said they will not use the new descriptor name, but more than 35 percent have not discussed it.
Four percent indicated they will use both Southern Baptist Convention and Great Commission Baptists in their descriptors.
Carroll Vaughn, who was representing First Baptist Church in Bloomfield, N.M., on Tuesday attempted to table the proposal, but his motion did not pass. He characterized the measure as moot because approval of the measure does not compel the use of the name and even without the measure Southern Baptists are free to identify themselves as Great Commission churches.
"We don't need to sit around and argue about changing our name when we're not going to be changing our name anyway," said Vaughn. "Let's be about the Great Commission and let the world describe us as people who turn the world upside down, not as people who sit around and argue about what we call ourselves."