Spanish actress uses dead son's sperm to conceive baby, works around Spain's surrogacy ban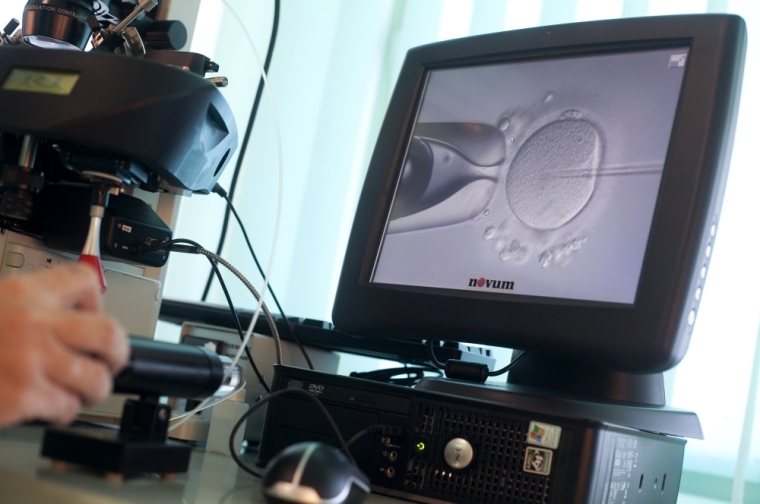 A Spanish actress used her dead son's sperm to conceive a child via surrogacy, sparking a legal and ethical controversy considering the practice is illegal in Spain. 
The 68-year-old actress, Ana Obregón, known for her role in the Spanish television series "A las once en casa," lost her son Alejandro Alfonso Lequio, or "Aless," to cancer in 2020. The mother decided to have a child the day her son died, stating that it was her son's "last wish" to have a kid of his own.
In an interview earlier this month with the magazine Hola!, the actress said that the baby, Ana Sandra Lequio Obregón, was born on March 20 in Miami, Florida. The child was born through a surrogate in the United States, and the television star said that the baby would be registered at the Spanish consulate in Miami before heading home to Spain. 
"This girl is not my daughter, but my granddaughter," she said, according to a translation from Today. "She is the daughter of Aless, and when she grows up, I will tell her that her father was a hero so that she knows who she is and how proud she has to be of him."
"What people don't know is that this was Aless' last wish: to bring a child into the world," she said, adding that her son told her and his father this "a week before he died."
The actress didn't rule out the possibility of having more grandchildren via surrogacy, as her son "wanted five kids." 
"I failed my son and I could not save him, but this, which I swore to him with my life, I have done, and no one can take that away from me," she said. "And I don't think there is anyone in the world when they see this beautiful girl — who was so desired by her father from Heaven and by me on earth and by all those who love me — will not think the same way. It is something that only fathers or mothers who have lost a child will perfectly understand."
Surrogacy is illegal in Spain. However, the actress appears to have taken advantage of a loophole because the country doesn't ban people from traveling abroad and hiring a surrogate in another country, according to Jennifer Lahl, president of the Center of Bioethics and Culture Network.
The actress hired a surrogate who lived in Florida. 
Lahl, who directed and produced the 2010 documentary film "Eggsploitation," directed The Christian Post to a blog post she wrote last week about the star's announcement titled "The Lifestyles of the Rich and Famous."
Obregón's said that her son froze his sperm before starting chemotherapy treatments. Lahl surmised that due to Obregón's age, an anonymous egg donor was likely used. 
"I do find it odd that payment for eggs is permitted in Spain but not for surrogacy," the documentary filmmaker wrote. "But clearly, Spain needs to address their imperfect law to protect women and children."
The bioethicist also cited an April 5 article from The Independent detailing the birth announcement from Olympic gold medalist Tom Daley and his husband Dustin Lance Black, who shared the news about their second child's birth through The Times announcement page earlier this month. The pair's son, Phoenix Rose, was born on March 28 through egg donation and a surrogate mother. 
Daley and his partner, who have been married since 2017, also conceived their first son, Robert Ray Black-Daley, via surrogacy. The couple announced on Valentine's Day 2018 that they were expecting their first child but did not know who the biological father would be after fertilizing "half the eggs each," according to the report.
"In these two new stories of the rich and famous getting the babies of their dreams, there is never a mention of the women who were used and perhaps even harmed, in order for them to buy their children," Lahl wrote. "And there seems to be no acknowledgment that children need, deserve, and have a right to a relationship with their biological and birth mother."
As CNN reported earlier this month, Obregón said she has documents proving she is the baby's legal mother in the United States. Adopting a child abroad is legal in Spain, as the report noted, and it's unlikely the celebrity will face legal challenges. 
The actress' book describing the surrogacy story is scheduled for publication on April 19. 
Spain's Equality Minister Irene Montero, a member of the left-wing populous Podemos party, told reporters that surrogacy is "legally recognised in our country as a form of violence against women."
"Is there a bias towards women in poverty? Definitely," she said, according to The Guardian. "We can't forget the reality of these women in precarious situations or who are at risk of, or in, poverty."
In an interview with CP last April about political pundit Dave Rubin's announcement that he and his partner fathered children through In Vitro Fertilization and surrogacy, Lahl warned that such practices can lead to exploitation. 
She highlighted the case of a surrogate carrying a pregnancy for two dads that had to deliver 11 weeks early via C-section due to health risks. Lahl stated that the unethical contract between the woman and the two dads endangered the woman's life. 
The other issue with surrogacy contracts, Lahl noted, is that the intended parents reserve the right to make decisions about the pregnancy, and this can lead to situations where the parents pressure the surrogate to have an abortion.