Spires and Crosses: Historic Churches Along the Single Lane Country Roads of England's Romney Marsh
Editor's note: The Christian Post welcomes its newest contributor, Dennis Lennox. He writes Spires and Crosses, a new weekly Christian Post column highlighting historic churches across Christendom with a particular focus on the Anglican Communion. Follow @dennislennox on Twitter.
Exploring the old churches scattered across small villages and hamlets in the 100-square-mile Romney Marsh in Kent, a history-rich county in southeastern England, was alluring enough to bring me across the pond.
Admittedly, church touring seems like an uncommon vacation, but it is a popular English pastime that seems to be right up there with gardening, at least judging by the scores of guidebooks written for those who chase steeples, stained glass windows and architectural details dating back more than a thousand years to the Normans and Saxons.
Of Romney Marsh's 14 churches  —  distinct even in a country with thousands of notable old churches  —  St. Thomas à Becket Church in Fairfield stands out, not least because getting there is an adventure in and of itself.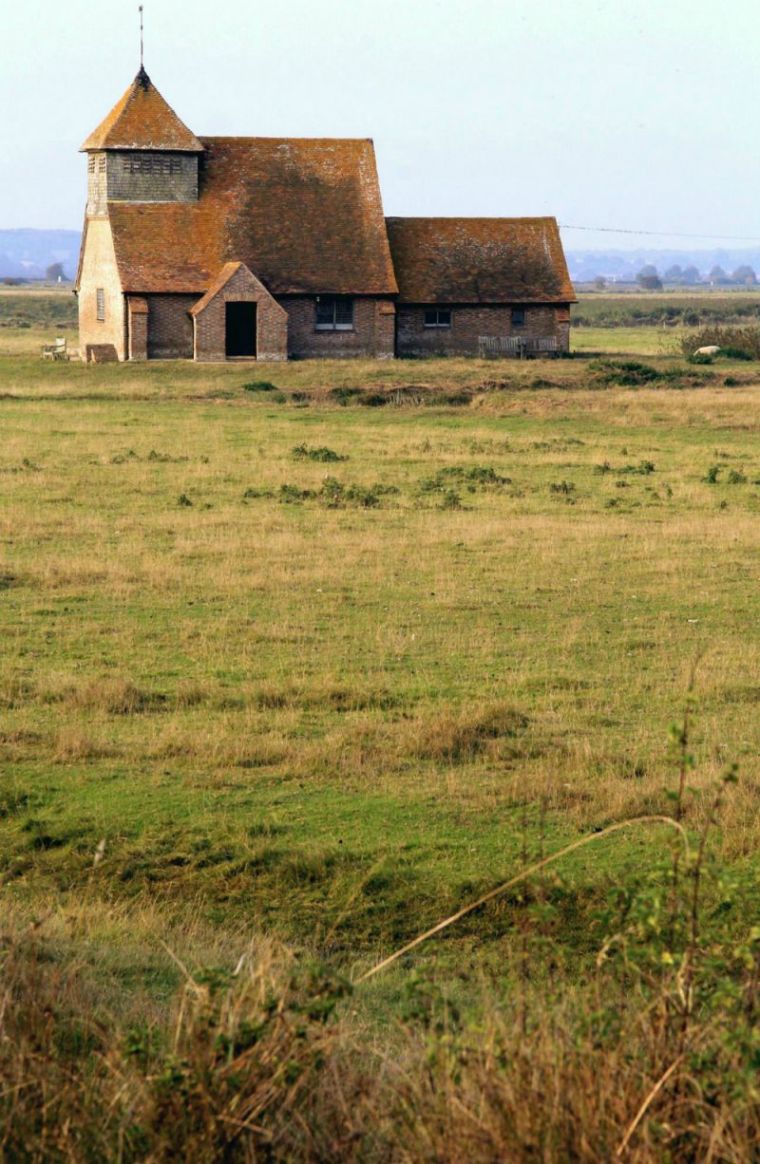 It required me driving down one-lane country roads, where semi-trucks or lorries, as the English say, seemingly came out of nowhere and forced me to pull over in hopes the oncoming truck wouldn't hit the mirrors of my rental car.
Back on the road, I spotted what appeared to be a house or two in the distance and then something that looked like a church off to the right in the middle of a field.
As I drove closer, St. Thomas à Becket, which dates to the 1200s, came into full focus.
It stood alone in a somewhat muddy field with hundreds of nearby sheep seemingly its only parishioners.
I quickly realized Fairfield is but a name on the map  —  the village long ago disappeared, likely a result of the Black Death, with the church being the only evidence of what once existed here.
St. Thomas à Becket consists of a Georgian-era brick building encasing an earlier wooden structure. While a restoration a little over a hundred years ago replaced some of the older wood, the simple interior with its timber arches and tie beams, box pews and triple-decker pulpit looks barely changed since the 18th century.
When my guide arrived, I asked him what he made of the fact that people seem more interested in visiting than worshipping.
He said it would be a mistake to consider the churches as strictly historical artifacts of a bygone time, when rural life dominated England and religion was much more prominent in daily life. I pressed him for more of an answer.
"I couldn't say why someone visits," said Dr. Nicholas Hudd, a past chairman of the Romney Marsh Historic Churches Trust, who was showing me St. Thomas à Becket, St. George in Ivychurch and St. Augustine in Brookland. "People come through the doors for all sorts of reasons."
Many of the churches remain houses of worship, Hudd said, albeit with a limited schedule of services due to centuries of depopulation and budgetary realities that force churches to share clergy.
Most astonishing is the fact that the churches of Romney Marsh have seen off just about everything  —  the Reformation, kings and queens, civil war, empire, the Industrial Revolution, great social changes and two world wars  —  as countless generations over the centuries have gathered together in these sacred places.
If you go
Some churches have limited opening hours. Others require visitors to get a key from the keyholder, who often resides in the house closest to the church. As a result, give yourself three days to see all of Romney Marsh's churches.
The Romney Marsh Historic Churches Trust, founded in 1982, is an invaluable source of information.
Where to stay

Cranbrook is about 30 minutes by car from Romney Marsh. The George Hotel, located above a good pub and restaurant, has a good view of St. Dunstan's Church (itself worth a visit).
Breakfast is included with rooms from £85 (about $114). Consider splurging for the Crimson Room with its splendidly carved four-poster bed that is literally fit for a queen, as Queen Elizabeth I stayed in the same room during a visit in 1573.
For something statelier, Eastwell Manor (also about 30 minutes away) is a 23-room, four-star hotel with grand architecture. There is even a ruined 14th century church on the other side of the estate. Rooms begin at £70 (about $93).
Dennis Lennox writes about travel, politics and religious affairs. He has been published in the Financial Times, Independent, The Detroit News, Toronto Sun and other publications. Follow
@dennislennox
on Twitter.