Spirit Baptism Is Not the Goal, It's the Gateway, Says Assemblies of God Leader; Insists 'This Generation Is Hungry' for Supernatural Power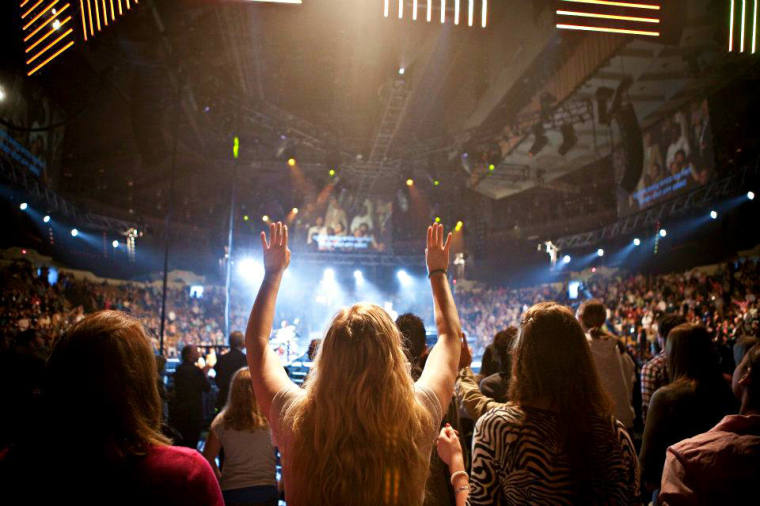 An annual Holy Spirit-centered interdenominational movement called Empowered21 was underway this week in Georgia and being hosted by an Assemblies of God leader who believes that young people are hungry for the supernatural, but have been seeking it in the wrong places.
Alton Garrison serves as the assistant general superintendent of The General Council of the Assemblies of God, a Pentecostal denomination that counts more than 66,000,000 adherents worldwide with about three million of them living in the United States, based on 2012 statistics. He, along with pastors Greg Surratt and Rich Wilkerson, are co-hosts of this year's Empowered21 U.S.A. Congress.
Empowermed21's stated purpose is to "unite the global Spirit-filled movement together intergenerationally for the purpose of seeking a fresh outpouring of the Holy Spirit in the 21st century." The movement's vision "is that every person on Earth would have an authentic encounter with Jesus Christ through the power and presence of the Holy Spirit by Pentecost 2033."
The Empowered21 U.S.A. Congress 2014 taking place at Griffin First Assembly in Griffin, Georgia, from June 5-7 concludes right before the holy day of Pentecost. The event, recorded in Acts 2 of the Bible, marks when the first Christians received the Holy Spirit and in turn, supernatural power to do things like speak in tongues, prophesy and raise people from the dead. Part of Empowered21's goal at its annual congress is "to celebrate the Holy Spirit, the significance of Pentecost and to pass on the importance of Spirit-empowerment to the next generation."
Garrison, in a recent interview with The Christian Post, spoke specifically on Empowered21's desire to keep Millennials engaged amid other aspects of the U.S.A. congress. The Assemblies of God leader also commented on his denomination's noted decline of Spirit baptisms and conversions, a trend possibly related to the megachurch boom.
Below is a transcript of CP's interview with Garrison. It has been edited for brevity.
CP: What is your role with Empowered21, and is the movement affiliated in any way with the Assemblies of God?
Garrison: I am an Assemblies of God assistant general superintendent with the national office here in Springfield (West Virginia), but with Empowered21, it is a multi-denominational or trans-denominational Pentecostal, or Spirit-empowered group. I co-chair with another gentleman (Greg Surratt) who is the president of another fellowship of churches called ARC (the Associated Related Churches). We co-chair what's called a U.S.A. cabinet (for Empowered21). There are different chapters around the world. Dr. Wilson and others started what became Empowered21 in 2010 at a giant rally. It's not affiliated with any one organization or denomination. I co-chair this chapter and there's a board that's comprised of Four Square, International Pentecostal Holiness, Pentecostal Church of God, Church of God ... all of these are denominations that are in the same kind of religious genre that we would be in.
CP: What is the purpose of Empowered21 and what are some of its goals for the 2014 gathering?
Garrison: The purpose of Empowered21 is to spread a Spirit-empowered message to the world, but particularly to engage the next generation. The purpose of our meeting in Griffin, Georgia, the three things that we have stated as our purpose is: number one, is to celebrate our appreciation of the Holy Spirit's ministry (we believe the Holy Spirit is part of the Godhead); secondly, to encourage ministers, churches to preach on the subject of the Holy Spirit on Pentecost Sunday. Biblically, 50 days after Jesus was resurrected, there was an event in the upper room called the Day of Pentecost. Pentecost was not just an event, it was a harvest, and that harvest was a grain harvest, but it was a Jewish feast day. We actually celebrate 2,000 years ago what happened in Jerusalem that was called the Day of Pentecost, so we ask people to just feature that. It would be like when you have Christmas or you have New Year's, you talk about what happened there in the history, you know. The third thing would be, as I said a moment ago, to engage the next generation, Millennials, younger people. In fact, we will have a session of Millennials and what we would call the more seasoned, the Boomers, which I am, and we are going to have an open dialogue and discussion.
CP: What do you mean when you say "Spirit-empowered" or "Spirit-empowerment?"
Garrison: We believe, like all evangelicals, in the inerrancy of Scripture and that Jesus was the Son of God and that he died for the sins of the world. We also believe that 50 days after he was resurrected from the dead, this event that happened in Jerusalem, the Day of Pentecost ... there were five occasions in the Book of Acts where they were filled or baptized with the Holy Spirit. In fact Acts 19:2 says, "Have you received the Holy Spirit since you believed?" So we believe that there is a separate, subsequent occasion, subsequent to salvation, where you can receive the special empowering ... it's a pouring-out, it's a filling.
We believe the Holy Spirit is very present in salvation, we don't doubt that. We're not saying that people that don't believe like we believe are not saved, that's not what we're saying at all. We just believe that this power that comes in a subsequent relationship — prayer, worship, it comes while you're in those kinds of moods — will help you with many activities of life. There are nine gifts of the Spirit, and we do not believe that those gifts ceased operation after the first century. We believe that they continue on. That's what makes us a little different. We are evangelical. All Pentecostals are evangelicals, but not all evangelicals are Pentecostal.
CP: What is the significance of Pentecost for all Christians? And how do you believe the Holy Spirit empowers Christians to carry out their calling in the world?
Garrison: Acts 1:8 says, "Ye shall receive power, after that the Holy Spirit has come upon you. And you shall be witnesses." Acts 2:4 says that when they were baptized (in the Spirit), they spoke in other languages.
Most people, when they hear the word 'Pentecostal,' they immediately go to the fact that, "Yes, you guys speak in tongues and we don't understand that" and, "That's weird or that's spooky or whatever." What we say is, "Yes, we do believe that when you are baptized (in the Spirit), that is the initial, physical evidence." It's initial because it's first. It's physical because you can hear it, and it involves you, your tongue, your body, your language. But it is evidence. But it is not the goal, it is the gateway, because Acts 1:8 gives us our marching orders. The Great Commission is in Matthew 28:16-20: "Go and make disciples of every nation." Acts 1:8 says, "But you shall receive power, after that the Holy Spirit comes upon you to be witnesses." So we believe that Jesus is instructing us not to attempt the Great Commission without this special power, called the baptism of the Holy Spirit.
We believe that's what this generation is hungry for. In fact, I spoke this morning (June 3) in chapel at the national headquarters (watch the video here). I spoke about this Spirit-empowered discipleship. Then I gave an illustration this morning, how young people are so preoccupied with the paranormal. You think about the Avengers movie. You think about everything from Thor to Spider Man, to Hulk to Ironman. All of these mythological characters that we know are mythological and yet we're preoccupied with them because they seem to provide this additional power, this additional benefit, this additional ability. There's a hunger there.
Even though they know that this is a myth, they still seem to be preoccupied with. They pay a lot of money to go to the movies, from the Twilight saga to Harry Potter... We're saying that's the hunger of this generation. We're saying that from a spiritual perspective, we believe that there is a power that can help you be more than you are, say more than you know and do more than you can do. To us, it's a very pragmatic path that we're on, empowering us to help evangelize the world.