St. Louis Cardinals vs. Boston Red Sox World Series For Dummies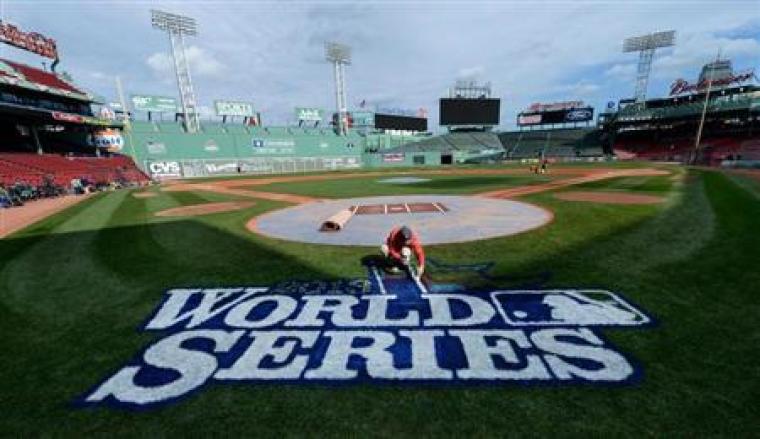 You think a strike only applies to bowling and a foul line applies to bad language. You can't understand why they call it the "World Series" when St. Louis and Boston are not countries (I don't understand that either). You can't understand why anyone could get so wrapped up in a game where they hit a little white ball with a stick.
Well, there's hope for you for tonight's Game One of the World Series (it's best-of-seven):
St. Louis Cardinals vs. Boston Red Sox World Series For Dummies
Yahoo! Sports reports that it's not that often that the two teams with the best records in the American League and National League are meeting in the World Series. The St. Louis Cardinals and the Boston Red Sox both won 97 games in the regular season. It's been 14 years since the top winners in each league have met in the series.
Another words, as Yahoo! Sports puts it, "There's no Cinderella this year. No San Francisco Giants looking to shock baseball. Just the top two teams, and two of the top MLB franchises historically, each looking to add another World Series to their trophy case."
(Cinderella team, BTW, refers to an un-favored team statistically, but often a fan favorite for those pulling for the underdog … if I have to explain underdog just forget it.)
SCHEDULE
Game 1: Wednesday at 8:07 p.m. ET in Boston (All games on Fox)
Game 2: Thursday at 8:07 p.m. ET in Boston
Game 3: Saturday at 8:07 p.m. ET in St. Louis
Game 4: Sunday at 8:15 p.m. ET in St. Louis
Game 5*: Monday at 8:07 p.m. ET in St. Louis
Game 6*: Wednesday, Oct. 30 at 8:07 p.m. ET in Boston
Game 7*: Thursday, Oct. 31 at 8:07 p.m. ET in Boston
PITCHING MATCHUPS
Pitchers, yes, that's right, those are the guys that hurl that little white ball in order to whiff (strike out) the batter. Here's who is scheduled to pitch for each team so far:
Game 1: Adam Wainwright (21-10, 2.82 ERA) vs. Jon Lester (17-9, 3.64 ERA)
Game 2: Michael Wacha (7-1, 2.21 ERA) vs. John Lackey (12-13, 3.49 ERA)
Game 3: TBA
Game 4: TBA
Game 5: TBA
Game 6: TBA
Game 7: TBA
PAST GAMES
The Red Sox and the Cardinals didn't play against each other this season or last season, according to Yahoo! Sports. "In fact, they haven't played a meaningful [game] since 2008, when they met in an interleague series at Fenway Park. The Cards won two of three in that series, though it featured only a few people you'll see in this World Series. Lots has changed since even then. Dustin Pedroia, Jacoby Ellsbury and Jon Lester played for the Red Sox then, while Yadier Molina is the lone Cardinal who played in that series. Chris Carpenter and Adam Wainwright were around then, but didn't play in the series."
LOVE FEST?
The Boston Globe's Dan Shaughnessy writes in his "The World Series needs some villians" piece:
The Sox appreciate the Cardinals and what it took for them to get here. The Cardinals are loving the Boston hospitality and are honored to have a chance to represent the National League against the venerable Red Sox. John Farrell has great regard for Mike Matheny and Matheny thinks Farrell is the Manager of the Year.
Boston loves St. Louis and St. Louis loves the Hub. Those of us who were in St. Louis for the Red Sox' clincher in 2004 will never forget the generosity of the St. Louis people. Busch Stadium security folks opened the gates in the late innings of Game 4 and invited non-ticketed Sox fans to join in the celebration and the breaking of the 86-year-old curse. Terry Francona later noted, "All the people in St. Louis look like they just showered. They are so nice and clean.''
Sorry, St. Louis, but most of us here in Boston would rather have the Dodgers in town right now. It would have been a hate-fest.
FIVE THINGS TO KNOW
AP sports writer Ben Walker writes that the Cardinals are trying to win their third championship in eight years. The Red Sox are aiming to take their third title in 10 seasons.
''Two historic franchises with a lot of history and a lot of success,'' St. Louis manager Mike Matheny said. ''We take a lot of pride in what has been able to kind of define the Cardinal way and how we go about our business.''
''But realizing, too, you give credit. You give credit where it's due, and this team in Boston has done some amazing things to make this happen this year and in the past,'' he said.
Here's the first two of five things to know about the match-up as Walker sees it:
FUNNY FENWAY: Baseball's oldest park opened in 1912, about a week after the Titanic sunk. It's full of quirky angles and odd dimensions, plus the 37-foot wall in left field, a.k.a. the Green Monster. To fans, it's a jewel. To the Red Sox, it's a beloved home. To visiting teams, well, it's tricky. Hits can take strange bounces at any time, and for clubs like the Cardinals, who haven't visited Boston since 2008, that could cost them the game in a hurry.
A HAIRY MATCHUP: Nasty or neat, most everyone in this Series seems to be growing a beard. The Red Sox sport the most serious ones, so much so that theirs have names - Mike Napoli's clump is called ''The Siesta.'' The Cardinals got into the spirit later in the season and definitely trail in this department. Maybe for good reason, too. ''I have a wife that doesn't enjoy it too much,'' outfielder Shane Robinson said.
Walker's full list here.
St. Louis vs. Boston in a World Series of Food
"The St. Louis line-up includes toasted ravioli, a specialty that's breaded, fried, and depending on your defense, one that won't make it to first base," writes Peter Gianotti. "Hitting second: St. Louis-style ribs. They're trimmed pork ribs and usually are a hit."
For Boston's case, he writes, "So, the winner in this series has to be Boston, with a steady if not flashy line-up. Leading off with New England clam chowder and fried clams, followed by Boston baked beans, fish-and-chips or baked scrod, steamed lobster and Boston cream pie." Read his full write-up here.