'Star Wars Battlefront' DLCs from January 2016 to Early 2017
'Star Wars Battlefront' DLCs from January 2016 to Early 2017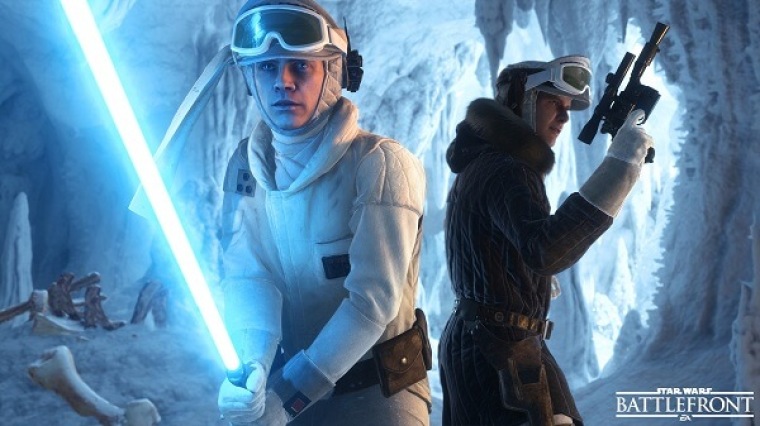 DICE has recently announced "Star Wars Battlefront" DLCs scheduled to release within the year and beyond. Fans can expect new content to come their way starting this month all the way through "early 2017."
In a post published in the game's official site, "Star Wars Battlefront" Senior Producer Sigurlina Ingvarsdottir detailed the upcoming DLCs and when fans should expect to have them. She said DICE has been listening to player feedback, from which the team has based the "calendar of new content and tuning changes" that's coming to the game this year.
"Star Wars Battlefront" DLC for January 2016
First up is the lineup of content for this month, which DICE has already made available to players. There's a new map, the promised special reward, and more.
Raider Camp is the new Tatooine Survival map that supports five multiplayer modes: Blast, Droid Run, Drop Zone, Hero Hunt, and Heroes vs. Villains.
As promised, the Special Reward is here. Characters Luke Skywalker and Han Solo have new Hoth-themed outfits. The special reward was unlocked by the community for completing last month's community mission.
Private Matches provide an easier way to play with friends.
Daily Challenges and Community Events have also been introduced. This provides an easier way for the community to earn credits and unlocks. More details will be announced "in the days ahead."
Overall balancing tweaks to weapons and multiplayer modes have also been rolled out.
"Star Wars Battlefront" DLC for February 2016
Next month, players should expect the following free content:
A new Survival mission on Hoth
A new Hoth map that supports Turning Point, Walker Assault, Supremacy, and Fighter Squadron
Turning Point mode will be available on all maps supporting Walker Assault and Supremacy as of the February update.
"Star Wars Battlefront" DLC for March 2016
In March, two new maps will be released to the "Star Wars Battlefront" community, including a new Endor map that supports Walker Assault, Supremacy, and Turning Point, as well as a new Tatooine Survival map. 
In addition, DICE has hinted at more updates coming that will largely be based on community feedback.
"Star Wars Battlefront" Season Pass
The Season Pass includes four DLCs that will give players new maps, modes, heroes, weapons, and more. Here they are:
"Star Wars Battlefront" Outer Rim promises battles set in the factories of Sullust and Jabba the Hutt's palace on Tatooine. This expansion pack is scheduled to arrive in March.
"Star Wars Battlefront" Bespin promises an "action-packed experience" in the Cloud City where players either become the hunter or the hunted. This DLC will arrive in the summer.
"Star Wars Battlefront" Death Star takes players to one of the franchise's most iconic settings for the first time. This will be available in the fall.
"Star Wars Battlefront" Expansion Pack 4 (working title) is set to release in "early 2017." DICE will share more details about it in the "coming months."
The "Star Wars Battlefront" Season Pass is available for the PS4, Xbox One, and Origin for PC. The DLCs can also be bought separately, if players prefer.