Starbucks Tip Jar Debate Goes to New York High Court
The Starbucks tip jar is coming under scrutiny this week as New York's top court is set to weigh in on the fierce debate and offer a ruling on the controversial practice of shift supervisors and assistant managers taking a cut from the tips.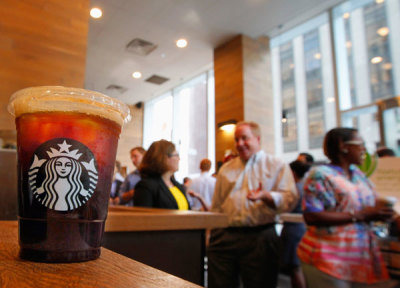 The Court of Appeal will look to interpret New York's labor law, and in particular its definition of an employer's "agent." Under legislation an "agent" is prohibited from sharing in tips collected.
The debate surrounds the different levels of employees at Starbucks franchises. Lower paid baristas serve customers and share tips on a weekly basis according to the number of hours they have each worked.
However, assistant managers are currently not entitled to share in the tips, but many want to, and are hoping that the ruling will exclude them from being "agents."
There are also shift supervisors, who are delegated various management responsibilities, but they also serve customers, and at the moment also share in tips. They also may or may not be adjudged to be "agents," with the definition set to determine whether or not they can continue receiving a portion of the weekly gathered tips.
The debate over who should be allowed to take part of the tips has divided employees at the huge chain of franchises, and hundreds in the New York area are now awaiting the court ruling this week.
However, Starbucks is not the only company that will be looking at the ruling nervously. It is believed that more than 40,000 New York businesses will be affected across the state. Those thousands of hospitality industry companies are said to be employing about a quarter of a million workers, who could be affected by the decision.
Starbucks has almost 18,000 outlets in 60 countries, and has 413 stores in New York state.
According to CBS News, Starbucks spokesman Zack Hutson has said the company's policy ensures baristas and shift leaders, who spend more than 90 percent of their time serving customers, share equally in the service tips.
Hutson has confirmed that this policy has been applied consistently across the United State, although not internationally, as the laws on tips vary from country to country.
Starbucks has explained that its assistant managers are not allowed to take tips because they are "rewarded with performance-based bonuses and other benefits not available to their subordinates."