State of Emergency Issued After Baltimore Erupts in Flames and Rioting; Pastor Jamal Bryant Rebukes Rioters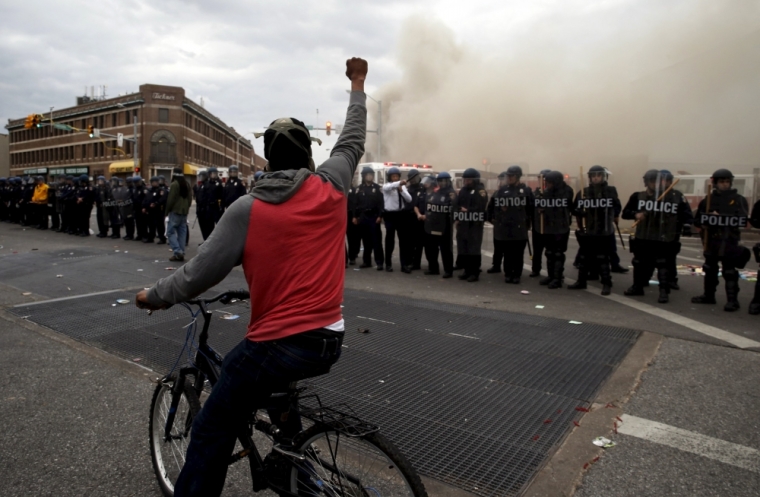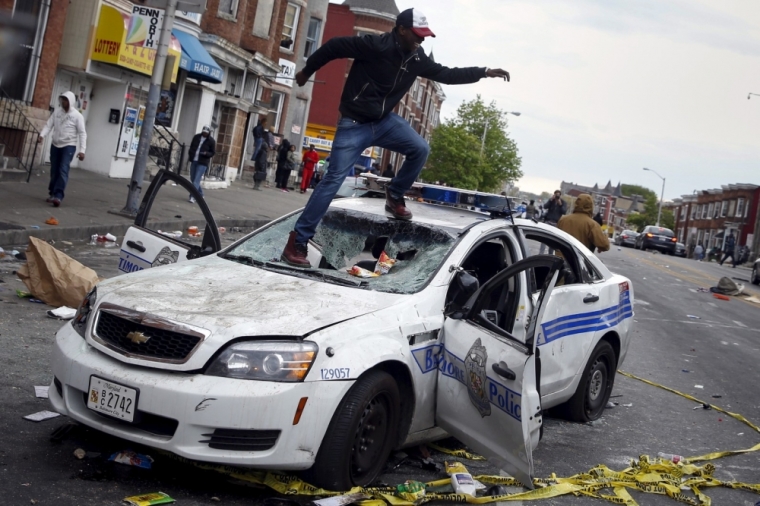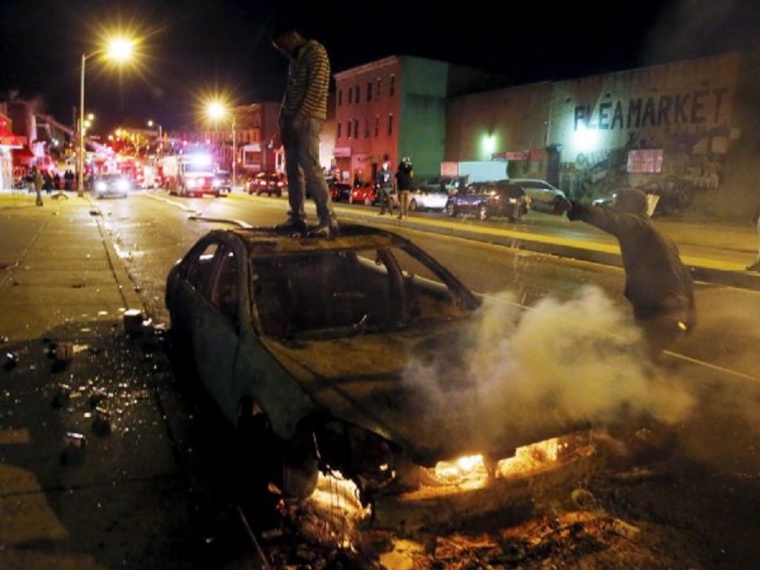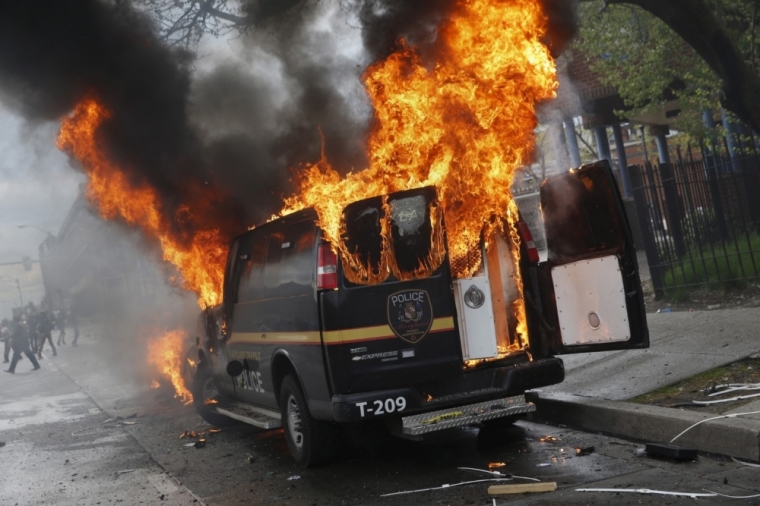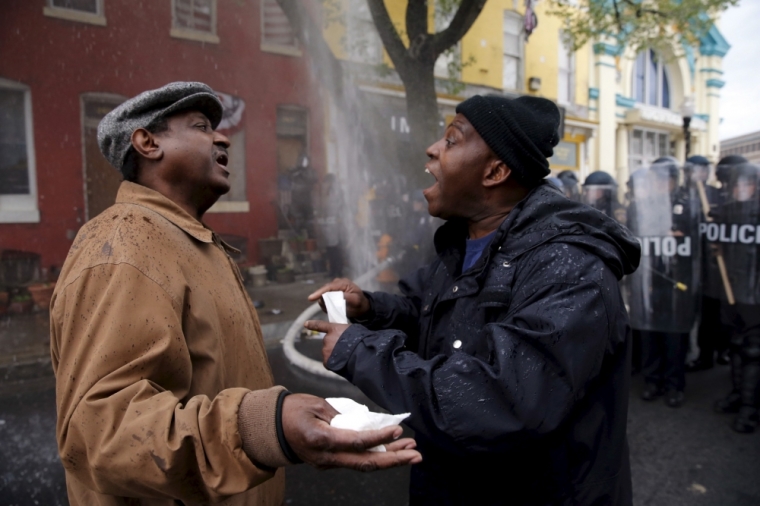 View Photos
Republican Maryland Gov. Larry Hogan declared a state of emergency in Baltimore City Monday night and activated the National Guard as pockets of West Baltimore erupted in flames and rioters looted and clashed with police shortly after the funeral of 25-year-old Freddie Gray who died on April 19, after suffering serious injury while in police custody.
"Today's looting and acts of violence in Baltimore will not be tolerated. In response, I have put the Maryland National Guard on alert so they can be in position to deploy rapidly as needed. I strongly condemn the actions of the offenders who are engaged in direct attacks against innocent civilians, businesses and law enforcement officers. There is a significant difference between protesting and violence and those committing these acts will be prosecuted under the fullest extent of the law," Hogan warned in a statement released Monday night.
"My thoughts and prayers go out to the men and women in uniform who are actively working to stem this violence and several who [have] been injured in the line of duty. These malicious attacks against law enforcement and local communities only betray the cause of peaceful citizens seeking answers and justice following the death of Freddie Gray," said Hogan.
At least 15 police officers have been injured so far in clashes with rock-throwing youth according to The New York Times.
Early Tuesday morning the Baltimore police announced on Twitter that: "A general curfew will be in effect in Baltimore City from 10 p.m. April 28 - 5 a.m. May 4 unless renewed or rescinded by order of the mayor."
Police also confirmed with the Baltimore Sun that shots were fired at an officer in the area of Virginia Avenue and Reisterstown Road in Northwest Baltimore at about 10 p.m. Monday but the officer was not hit and the suspect fled.
Looters, according to the Sun, first took to Mondawmin Mall and a Save-A-Lot and Rite Aid in Bolton Hill where they loaded up cars with stolen goods. Some 10 fire crews also had to be called in to battle a three-alarm fire at a large senior center under construction at Chester and Gay streets. It was being built by the Southern Baptist Church in Baltimore.
"I think the reason they burned it is the reason we needed it," pastor of the Southern Baptist Church, Donte Hickman, told CNN. He said it was supposed to offer low-income housing units for seniors. "We wanted to affect change in the human community."
Russell Moore, president of the Southern Baptist Convention's Ethics & Religious Liberty Commission, responded to the violent clashes in Baltimore and called on churches to be agents of peace and reconciliation.
"The witness of the church models for us that what we are told is normal isn't normal at all; violence and hatred are satanic, parasitic on a universe that God created for shalom. When our consciences are formed, together, around the Lord's Table, serving one another, worshipping with one another, we are transformed to see the sort of universe God has in mind. We then work for justice and for peace, together."
Baltimore City Mayor Stephanie Rawlings-Blake condemned the looting and general vandalism as "idiotic."
"It's idiotic to think that by destroying your city, you're going to make life better for anybody," she said in the Sun's report.
Pastor Jamal Bryant, who delivered Gray's eulogy, was forced to return to Gray's neighborhood after his funeral to appeal for calm. He also noted that he would send teams of men from his church, the Empowerment Temple, to help keep the peace, according to the Times.
"This is not what the family asked for, today of all days," said Bryant. "For us to come out of the burial and walk into this is absolutely inexcusable."
Gray died a week after sustaining a spinal cord injury while in police custody stemming from an incident on the morning of April 12. Police officers on bicycles reportedly chased and restrained him at the Gilmor Homes. Cellphone video of Gray's arrest shows him being dragged into a police van, seemingly limp and screaming in pain. In one copy posted on YouTube, a woman can be heard pleading with police officers saying his limp leg looked broken. He slipped into a coma and died after he was finally given medical attention.
Gray's family said 80 percent of his spinal cord was severed, and his larynx was crushed according to The New York Times.