Stephen Colbert Hosts Cardinal Dolan: Talks Atheists and Heaven, Pope's Gay Remarks
"The Colbert Report" host Stephen Colbert talked Pope Francis' remarks on homesexuals, as well as atheists and heaven, in an interview with New York Cardinal Timothy Dolan on Tuesday.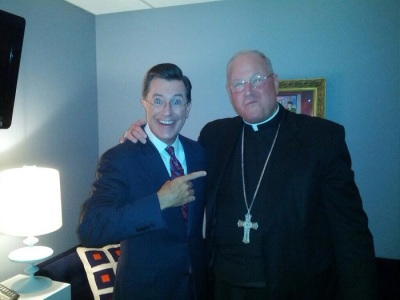 "Look you don't got to Mass to win heaven. You go to ask God for help to get you there. You go to Mass to thank him for being such a great God that he wants you to spend eternity with him. That's why you go to Mass. You don't go to win heaven because you can't earn it – it's a gift. He wants to give it to all of us," Dolan, who is also the president of the U.S. Conference of Catholic Bishops, shared with Colbert.
The comedian, a Catholic himself, had brought up Pope Francis' remarks in May, when the leader of the world's 1.2 billion Roman Catholics said that non-Catholics and atheists can do good and that God has redeemed everyone, causing a notable stir in the Catholic community.
"The Lord has redeemed all of us, all of us, with the Blood of Christ: all of us, not just Catholics. Everyone! 'Father, the atheists?' Even the atheists. Everyone! And this Blood makes us children of God of the first class!" Francis had said in a speech during Mass.
Colbert also focused on the much-talked about statement the Vatican leader had made in July on the topic of homosexuals, when Francis said: "If someone is gay and he searches for the Lord and has good will, who am I to judge?"
A number of Catholic commentators, such as former Senator and GOP presidential hopeful Rick Santorum, have said that the comments are being taken out of context by those suggesting that Francis is advocating for a change to the official Roman Catholic position that classifies homosexuality as a sin, and Colbert asked Dolan to expand on what the pope meant.
"We can never judge persons. We can judge actions. But we can't judge persons. Jesus told us that," Dolan offered. "So he's repeating the timeless teaching of the Bible that we can never judge another human being. I can't judge Bernie Madoff. I don't like what he did. I can judge the actions. But I couldn't judge his heart or soul."
Colbert then joked: "But I'm a pundit! If I don't judge someone I don't get a check."
Dolan added a joke of his own in the final question when Colbert asked which name he would choose if one day he was elected pope.
"Stephen," Dolan said after a long pause, to the delight of "The Colbert Report" audience.
The NY Cardinal also used the opportunity to talk about his new e-book, Praying in Rome: Reflections on the Conclave and Electing Pope Francis, which offers insight into the days surrounding the Conclave's election of Pope Francis earlier this year to succeed the retiring Pope Benedict XVI.
Dolan suggested that even though the Cardinals voted for Pope Francis, the decision had been made beforehand by the Holy Spirit.
"The first thing we do is pray, and we pray hard," he said of what happens when the Conclave doors close and the Cardinals begin their process of selecting a new Vatican leader. "They told us – look, the Holy Spirit has already chosen the new pope, you guys just need to figure out who it is."
Part 1 of "The Colbert Report" interview with Cardinal Dolan is below: