Stephen Colbert talks about his favorite Old Testament figures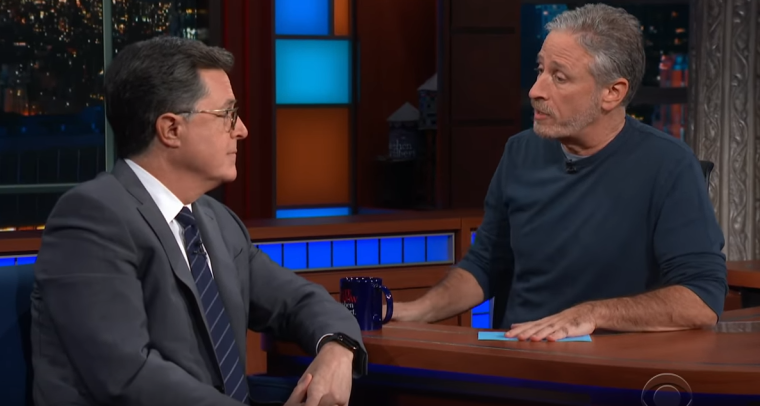 Liberal comedian Stephen Colbert recently explained who his favorite people in the Old Testament are, on a recent episode of CBS' "The Late Show."
Colbert was interviewed by Jon Stewart, who served as the main anchor of the long-running Comedy Central series "The Daily Show" while Colbert worked as a recurring on-screen personality.
When asked by Stewart about who his favorite character from the Old Testament was, Colbert initially said that it was Aaron, the brother of Moses.
"Aaron did so much and gets no credit. Moses gets all the ink, but Aaron actually led everybody because Moses had the stutter," said Colbert.
Stewart responded that he expected Colbert to say Isaac, jokingly pointing out that Isaac was almost sacrificed by Abraham, calling it "the foundation of Judaism: being rejected by your father."
Colbert then decided to change his answer to the question from Aaron to Job, noting that he respected how the Old Testament figure never cursed God.
"He does not curse God," Colbert explained. "He endures all even though his neighbors are saying 'curse God and die! What are you doing?'"
Colbert referenced the play "J.B." by Archibald MacLeish, which was a modern theatrical retelling of the Book of Job, which included the line "I heard upon his dry dung heap, That man cry out, who cannot sleep."
"And that is the gratitude you have to have in life no matter what dung heap you lie on," stated Colbert, getting an applause from the studio audience.
A Roman Catholic, Colbert talked earlier this month with the Rev. James Martin, a Jesuit priest and editor at America magazine, about how during his youth he identified as an atheist.
Colbert explained to Martin that while he had lost his faith due to personal tragedy, it was reignited when at age 22 he read the Sermon on the Mount.
"I stood on the street corner in the cold and read the sermon. And my life has never been the same," Colbert told Martin, noting that he was "absolutely, immediately lightened" by Christ's words.
During his hosting of the "Late Show," Colbert has been critical of both atheist celebrities like Ricky Gervais and conservative Christian leaders like megachurch pastor Robert Jeffress.
After Jeffress suggested last year that God gave President Donald Trump the authority to "take out" North Korean dictator Kim Jong Un, Colbert featured a skit where "God" suggested that he agreed with Jeffress.
"Oh yeah, I'm always on America's side when it comes to blowing stuff up," said the spoof version of God. When Colbert pointed out, "But that goes against your whole message of peace and forgiveness," the character replied that such ideas come from his "hippy" son Jesus.