Street preacher fights restraining order after citing Bible to condemn lesbian wedding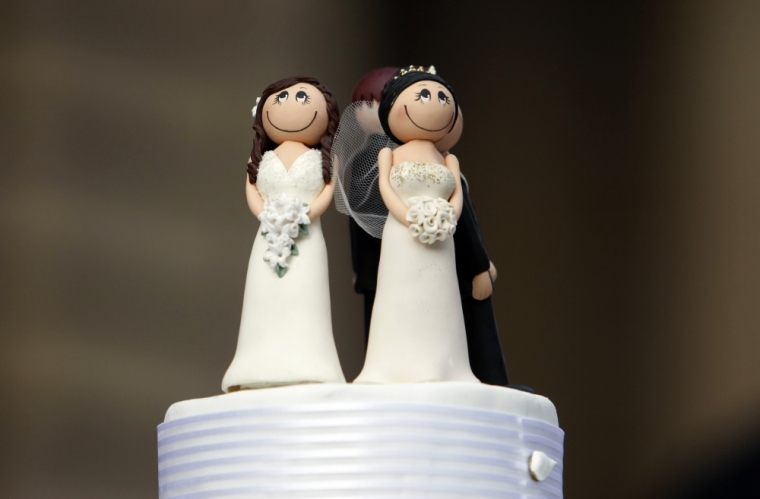 A street preacher faces the possibility of arrest if he protests the activities of an Oklahoma LGBT advocacy organization online or in person after being hit with a restraining order for posting about a lesbian couple's church wedding ceremony on Facebook. 
Attorneys with The Rutherford Institute, a Virginia-based nonprofit civil liberties group, are asking the Oklahoma Supreme Court to overturn a five-year restraining order against outspoken street preacher Rich Penkoski, who runs the online organization Warriors for Christ and protests drag shows nationwide. 
In 2022, Penkoski took to social media to voice what attorneys called his "moral and religious concerns" about a church in Bartlesville that supports same-sex marriage and a public drag show with children in attendance.
In one post, Penkoski shared the church's public photo of the same-sex wedding of Sheena Hayes and Morgan Lawrence-Hayes, the executive board president for Oklahomans for Equality – Bartlesville. In the post, Penkoski cited Bible verses he says show God's judgment of sin. Those verses include Romans 1:32, which states: "and although they know the ordinance of God, that those who practice such things are worthy of death, they not only do the same but also give hearty approval to those who practice them." 
Penkoski also cited Matthew 18:6, which states: "whoever causes one of these little ones who believe in me to stumble, it would be better for him to have a heavy millstone hung around his neck, and to be drowned in the depth of the sea." 
In seeking a restraining order, the couple claimed the posts were threatening and harassing. Penkoski denies claims the post threatened the couple. 
In another post, Penkoski criticized Disciples Christian Church's shared photos of children celebrating LGBT pride month in June. In a third post, Penkoski tried to refute what he contends was a false statement of one of the LGBT group leaders who told the city council that no adult-oriented entertainment, obscenity or sexually suggestive performances occurred at a pride event.
In response, Penkoski shared a video clip of the LGBT leader's statement to the city council along with video and photos of "a drag queen behaving in a sexually suggestive manner near children at the Pride event," according to Rutherford Institute. 
In February, Washington County District Court Judge Linda Thomas granted the couple a five-year protective order against Penkoski. The couple claimed they were harassed and targeted by Penkoski because of their sexual orientation and didn't feel safe in Bartlesville with Penkoski's rhetoric. 
Penkoski has argued that the couple — and, by extension, the LGBT political advocacy group they are affiliated with — is trying to silence him and prevent him from preaching and protesting their events. Judge Thomas ruled that while Penkoski has the right to preach, he doesn't have the right to single out the women repeatedly, according to The Examiner-Enterprise. 
Condemning the protective order as "vague and overly broad," Penkoski's attorneys say Penkoski could face arrest and up to a year in jail for engaging in any conduct that might cause his accusers to fear for their safety — including preaching or sharing Bible verses which are "critical of the church's or [LGBT] group's activities."
Attorneys also pointed to the lack of evidence of any actual threat made by Penkoski, which they say are "based solely on claims that [LGBT] leaders felt terrorized, harassed and fearful about how others might react to the Bible verses cited in the street preacher's social media posts."
"Religious individuals have a clear First Amendment right to publicly cite Bible verses that reflect their concerns about moral issues of the day without being accused of stalking, harassing or terrorizing those who are offended by the sentiments," said John W. Whitehead, constitutional attorney and president of The Rutherford Institute.
Because of the lack of proof that Penkoski sought to incite violence by citing the Bible, Whitehead says the court's order is a "foreshadowing of the government's efforts to insulate the populace from all things that might cause offense by criminalizing nonviolent First Amendment activities (speech, thought and actions) perceived as politically incorrect."
The Rutherford Institute maintains that despite "no evidence" that Penkoski interacted with the leaders of the LGBT group, the trial court imposed the five-year protective order "based upon claims that the [LGBT] leaders felt terrorized and harassed by Penkoski's three social media posts on religious and political issues."
Penkoski told The Christian Post despite the court order, he plans to continue his ministry.
"I will not ever stop preaching and I will continue to stand on God's standards for family and marriage," he said via email. "I will never stop defending children against the recruitment and grooming by LGBT activists."
"We are allowing God-haters and child groomers to tell us what we are allowed to say," he added. "We are allowing the same people to dictate what we should preach. We are so afraid as a culture to say anything that someone may not like."
An outspoken conservative Christian activist, Penkoski's Warriors for Christ organization regularly holds protests in opposition to Drag Queen Story Hour events across the country.
Warriors for Christ also regularly posts videos on YouTube and Facebook voicing biblical objections to homosexuality, transgender identity and abortion. 
Penkoski told CP that the Warriors for Christ YouTube page of over 560,000 followers used to net his ministry an income of somewhere around $600 per month before it was demonetized in August 2019.