Strengthening Pastoral Leaders Is Vital to Helping Christians Suffering in the Middle East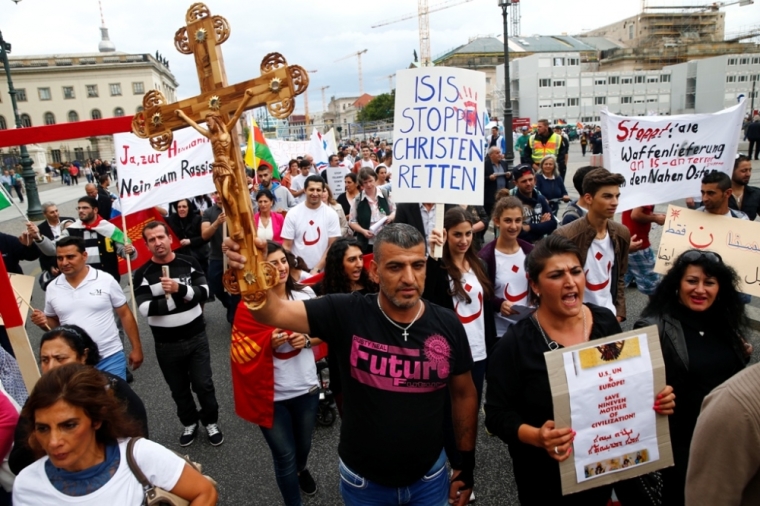 The founder of a global proclamation ministry who has trained thousands of church leaders in over 100 countries, has highlighted the importance of strengthening pastoral leaders in the Middle East as a means of helping suffering people, noting that ministries affect congregations, who then become a witness to their communities.
Ramesh Richard, the founder and president of RREACH (Ramesh Richard Evangelism and Church Health), told The Christian Post in an email interview Wednesday that in terms of the Christian faith, the Middle East is closest to Jesus Christ racially and geographically, but farthest from Him spiritually.
The theologian-evangelist, who serves as a professor of Global Theological Engagement and Pastoral Ministries at Dallas Theological Seminary, also serves as chair convener of the Global Proclamation Congress for Pastoral Trainers to be held in Bangkok in June 2016.
Richard shared his thoughts on a number of topics regarding the Middle East, noting that it is hard for Western people to fully grasp the complexity of the conflicts in the region, and listed five main causes Western Evangelical churches need to stand for.
An edited transcript of The Christian Post's interview with Richard's is below:
CP: What is your experience with the Middle East region? To which places are you traveling to right now, and how would you describe the situation you are seeing?
Richard: I would rather not disclose all the places where I am traveling right now. It is sufficient to say that my friends and brothers fall on several sides of national and social divides. I would describe the situation as intractable on a social and national scale, but hopeful from a theological reading of history, past, present and future.
CP: What do Western Christians or the Western people, in general, most misunderstand about the ongoing Middle East conflict?
Richard: I do not believe "Western people," especially those from younger cultures and countries, can really grasp the long-term intensity or complexity of the Middle Eastern conflict.
Further, more informed Christians realize that a transcendent monotheism undergirding the convictions of the dominant parties in these conflicts cannot be reconcilable unless and until there is acknowledgement of an earthly, personal arrival of God. Finally, the faith of the Bible invites all peoples to welcome the Lord Jesus as that personal arrival of God — in his first-coming as human Savior, and in his last arrival as the humanity's Judge, who brings evenhanded justice for Jews and Gentiles in the region for any to have rights of earthly possession and a blessing which extends forever.
As far as the general Western perception of the conflict, they have either given up, don't care, or wish for quick solutions in the Middle East. This is partly driven by a shorttermist approach to all problems.
CP: What is the role of Western Churches when it comes to responding to the Middle East crisis?
Richard: Evangelical Western churches have very few options to help substantively. I do see a five-fold grid in which they must operate. May I lay it out in the terms of what we are for, rather than what we are against, with a slightly extended comment on the final point?
1. Pro-God, and therefore His priorities, plans and purposes for the entire planet, especially in human salvation.
2. Pro-Messiah, the Lord Jesus Christ, for our ultimate commitment is to Him, with all other identities and commitments as relative, secondary and penultimate.
3. Pro-church/Christians, with primary responsibilities to do good in its fullest senses, especially to the "household of faith."
4. Pro-life, and against the dehumanization, brutalization, and marginalization of any people anywhere; and for doing good to all people (Gal. 6:10). This includes upholding principles of a biblical humanity fostered by supporting social-political structures which are more conducive to life, peace, dignity, godliness, freedom, etc.
5. Pro-world in the present, but for the past and the future of Israel and her neighbors. We wish and work for the very best of the whole world right now (including all its horrific hotspots) in Christ's name and spirit.
To go in Jesus' name and not in his spirit (or vice versa), is to abuse the Gospel. The entire region of the Near and Middle East, i.e., Israel and all her neighbors are in unbelief, even anti-Christian at the moment.
From the perspective of the past, we agree with the Lord Jesus, who said that salvation is from the Jews (John 4:22); with the Old Testament prophesies for an integrated, glorious priority for the region (Isaiah 19:18-25); and with the New Testament, which holds an earthly future for Israel despite their current unbelief (Romans 9-11).
Hence, we do not negate nor diminish the future of Israel nor as replaced or fulfilled by the Church now. And yet, her future priority is only for her original purpose of being a channel of global blessing, to be finally accomplished by the returning Messiah-King.
Even God does not blindly baptize all Israeli action as permissible, and especially if Israel does not dispense blessing to her neighbours. God's blessing does not mean lack of moral accountability to him. God brings judgment on Israel whenever neighbors threaten her existence, but does not abandon her without a future. That is, the Bible is pro-Israel (past and future), but not pro-Israeli (in the present). So must we be.
The Bible is pro-world, pro-life, pro-Christ, pro-Christians, pro-church. So will we be. The prayer for the peace of Jerusalem (Psalm 122:6) includes all her inhabitants first being made right with God by belief in the Messiah-Jesus; and for peace between themselves facilitated by the pursuit of justice and righteousness.
CP: In what ways can Western Christians respond or reach out to followers of Christ in the Middle East who are suffering right now?
Richard: Really, in the same way that believers and followers of Christ reach out to fellow believers anywhere in the face of extreme deprivation, social oppression, natural disasters and all. We do all the good we can for immediate needs of safety and security. And then structurally and systemically through socio-political processes as possible.
May I add that one of the most effective ways of helping the suffering is to strengthen the pastoral leaders who are on-site, long-term, more relevant, and often much less expensive. If we can strengthen them, their ministries overflow into their congregations who become a witness to their communities. Numerous stories of displaced refugees experiencing the love and truth of Christ have emerged through pastoral leaders serving them through church channels.
CP: How can Christian leaders proclaim God's message of peace and hope in a region where there are many conflicting ideologies, and some that are extremely violent and hostile toward Christianity?

Richard: On this trip, I found a magnanimous ministry perspective of local leaders that was both strategic and sacrificial.
One said, "We have been praying so long for this region to become softened to the Gospel. Just like God confused and brought down the hegemony of Communism with unprecedented opportunity for the Gospel, it is again happening in a region which was seen as impenetrable by the Gospel."
A steady and irreversible movement toward the Lord Jesus, rather than occasional conversions, anecdotally reported, has begun among those who belong to the majority convictions.
Another leader noted, in a supplemental comment, "We are born here, live here, and will die here. And if it means death so that the Gospel can be promoted, it is worth the sacrifice of our lives."
Presumably, Christian leaders are seizing the anxiety and distress among large numbers of participants and victims in the dominant worldview for the sake of the Gospel at great sacrifice. These are the current heroes of the faith.
CP: What do you see for the future of Christianity in the Middle East?
Richard: We obviously have biblical interests in the entire region, simply because all these countries of the Near East and the Middle East are within God's plan for the world — from the dawn of salvation to the consummation of His plans. In terms of the Christian faith, this is the region closest to the Lord Jesus, racially and geographically, but unfortunately farthest from Him spiritually. Organizationally, we have had the privilege of training pastors in the region over the last two decades from our conviction that pastoral health affects church health; and church health affects societal health.
More recently, we are involved in a decade-long human capital campaign to connect, unite and strengthen 100,000 pastors ministering in 200 countries by 2020. The 200 economically weaker countries include all the countries in the Middle Eastern region.
God willing, the 2016 Global Proclamation Congress for Pastoral Trainers will bring pastoral trainers from both the formal and nonformal sectors in the region. I would like a large and proportionate presence of this region at the event, to connect, unite and to strengthen them as they serve in hugely difficult environments.
There are about 15 formal programs and dozens of non-formal initiatives which can be helped right away. I wanted to visit the Middle Eastern region first to mobilize delegates to the GProCongress in the conviction that if we could get good representation from this hardest of all places, the rest of the world will be easier for recruitment in following the Middle Eastern example of commitment against all odds.
More information about the Global Proclamation Congress for Pastoral Trainers can be found on the official website.