Obama Pledges US Will Continue Aiding Iraq in War Against Islamic Militants, But Without Ground Troops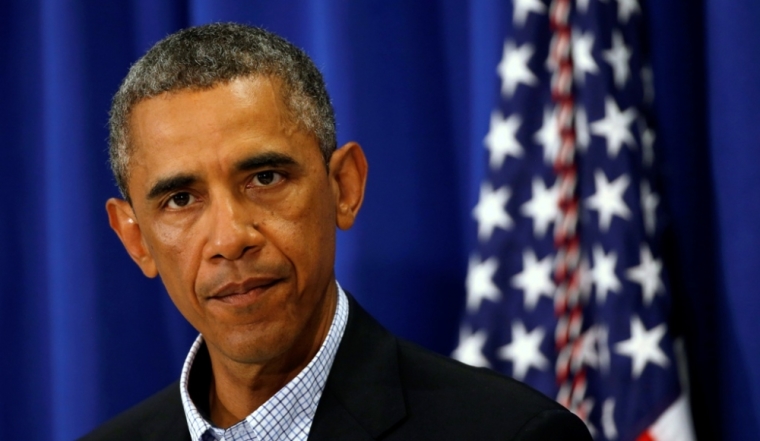 President Barack Obama has pledged that the United States will continue aiding Iraq in its war against Islamic State militants, but will not be deploying ground troops into the region.
Obama began his statement on Thursday by stating that many of the thousands of refugees that had been stranded on Mount Sinjar last week, hiding from Islamic militants, have now been rescued. He said that he "could not be prouder of the men and women of our military who carried out this humanitarian operation almost flawlessly."
He added, however, that "the situation remains dire for Iraqis subjected to ISIL's terror throughout the country, and this includes minorities like Yezidis and Iraqi Christians; it also includes Sunnis, Shia and Kurds."
Obama said that the U.S. government will be "working with our international partners to provide humanitarian assistance to those who are suffering in northern Iraq wherever we have capabilities," but announced that that will happen "without committing combat troops on the ground."
"We obviously feel a great urge to provide some humanitarian relief to the situation and I've been very encouraged by the interest of our international partners in helping on these kinds of efforts as well. We will continue air strikes to protect our people and facilities in Iraq. We have increased the delivery of military assistance to Iraqi and Kurdish forces fighting ISIL on the front lines."
Some Christian leaders had called on more assistance from Obama and the international community, detailing the atrocities committed by the militants who have taken large areas of Iraq and Syria, targeting Christians and forcing close to 1.2 million people to flee their homes.
Munir S. Kakish, chairman of the Council of Local Evangelical Churches in the Holy Land, told The Christian Post earlier this week that U.S. assistance in the form of airstrikes and arms to Kurdistan is "too late and not enough."
"Yes, they need to send more aid and stop IS both in Syria and Iraq. Stop them to the point of never again [carrying out] barbaric slayings of human beings. If they stop all those foreign groups, this means all the refugees that left can return to their homes. I feel very strongly that the West must move fast and with great power. Yet I feel it is late, but never too late to do the right thing," Kakish told CP.
He added in an information sheet that terrorist group, formerly known as ISIS, has made it its mission to wipe out the approximately 13 million Christians in the Middle East.
"The IS soldiers gun down Christians on sight, destroy churches, destroy crosses on churches, and line up Christians and soldiers from other groups and shoot them in mass graves," the sheet noted.
The U.N. has meanwhile declared the highest level of humanitarian emergency in Iraq at "Level 3 Emergency." U.N. special representative Nickolay Mladenov has said that this would "facilitate mobilization of additional resources in goods, funds and assets to ensure a more effective response to the humanitarian needs of populations affected by forced displacements."
The IS militants have been accused of gruesome acts such as beheading children and carrying out "barbaric" acts of sexual violence against women and teenage boys and girls belonging to Iraqi minorities.
"We are gravely concerned by continued reports of acts of violence, including sexual violence against women and teenage girls and boys belonging to Iraqi minorities," Mladenov and Zainab Hawa Bangura, the special representative of the Secretary-General on Sexual Violence in Conflict, said in a joint statement.
"Atrocious accounts of abduction and detention of Yazidi, Christian, as well as Turkomen and Shabak women, girls and boys, and reports of savage rapes, are reaching us in an alarming manner."
U.S. politicians such as South Carolina GOP Sen. Lindsey Graham have warned that the militant group could launch an attack on American soil, and urged the Obama administration to do more to counter the threat.
"Mr. President, be honest with the threat we face," Graham said in a Fox News interview last week. "They are coming."
In his statement on Thursday, Obama urged Iraqis to "come together" and turn the tide against the Islamic militants. He praised the formation of a new inclusive government under Prime Minister-designate Haider al-Abadi, following the resignation of Prime Minister Nouri Maliki.
"I had a chance to speak to Prime Minister-designate Abadi a few days ago, and he spoke about the need for the kind of inclusive government — a government that speaks to all the people of Iraq — that is needed right now," Obama said. "He still has a challenging task in putting a government together, but we are modestly hopeful that the Iraqi government situation is moving in the right direction."