US Sending Arms to Kurdistan; Airstrikes Against ISIS Are 'Too Late and Not Enough,' Christian Leader Says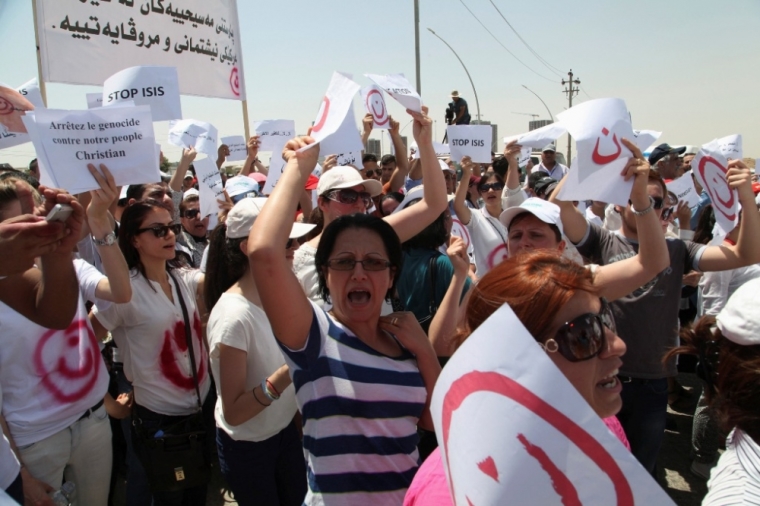 The United States is sending weapons to the autonomous Iraqi region of Kurdistan that is battling the forces of the Islamic State militants. A Christian leader in the Middle East says that although Christians there welcome the move they believe it is "too late and not enough."
"[President Barack] Obama needs to do more to slow down Islamic State and to stop [them] completely," Dr. Munir S. Kakish, chairman of the Council of Local Evangelical Churches in the Holy Land, told The Christian Post in an email on Tuesday.
"Yes, they need to send more aid and stop IS both in Syria and Iraq. Stop them to the point of never again [carrying out] barbaric slayings of human beings. If they stop all those foreign groups, this means all the refugees that left can return to their homes. I feel very strongly that the West must move fast and with great power. Yet I feel it is late, but never too late to do the right thing."
The Islamic extremist group has captured significant territory in both Iraq and Syria, targeting Christians and forcing hundreds of thousands to flee their homes.
Militants have also reportedly carried out shocking acts, such as beheading children, prompting other Christian leaders in the region to also ask for more help from the U.S.
"They are systematically beheading children, and mothers and fathers. The world hasn't seen an evil like this for a generation. There's actually a park in Mosul that they've actually beheaded children and put their heads on a stick," National spokesman for Iraqi Christians and Chaldean-American businessman Mark Arabo told CNN last week.
"And they have them in the park. This is crimes against humanity. The whole world should come together. This is much broader than a community or faith. This is crimes against humanity and they are doing the most horrendous, the most heartbreaking things you can think of."
Fox News noted on Monday that the U.S. is supplying Kurdish forces with weapons in their fight against the Sunni militants, representing a reversal of American policy which had previously allowed only for selling arms directly to the Iraqi government.
State Department spokeswoman Marie Harf said in a statement that "the Kurds need additional arms and we're providing those."
The U.S. has also launched limited airstrikes at terrorist installations in northern Iraq to defend American personnel. Close to 20,000 minority Yazidis fleeing ISIS were rescued in the region, but tens of thousands of others remained stranded on mountains.
Kakish sent CP an information sheet about ISIS, noting that the terrorist group has made it its mission to wipe out the approximately 13 million Christians in the Middle East.
"The goal of ISIS is to establish a Moslem Caliphate and their self-proclaimed leader is Abu Bakr al-Baghdadi who announced the formation of the caliphate on June 29th 2014. The caliphate currently includes vast areas of Iraq and Syria but its expansion would include Iraq, Iran, Syria, Lebanon, Jordan, Palestine, Israel, and Saudi Arabia," the information sheet states.
"The IS soldiers gun down Christians on sight, destroy churches, destroy crosses on churches, and line up Christians and soldiers from other groups and shoot them in mass graves."
The sheet also recalls how the militants took control of the town of Mosul in July and gave Christians the choice to convert to Islam, pay a fine, or be killed, driving out followers of Christ by the thousands and effectively eliminating Christian presence from the town.
Obama's response to the Islamic State has been much discussed in American politics, with South Carolina GOP Sen. Lindsey Graham urging the Obama administration to do more to counter the militant group.
"Mr. President, be honest with the threat we face," Graham said in a Fox News interview on Sunday. "They are coming."
The Republican senator, a member of the Senate Armed Services Committee, added the militants pose a "direct threat to our homeland."
Sen. John McCain (R-Arizona) warned that ISIS is "metastasizing throughout region" and growing in numbers.
"Their goal, as they've stated openly time after time, is the destruction of United States of America," McCain pointed out.
Obama has stated that the U.S. is pursuing a broader strategy in Iraq, and that it is focused on protecting American citizens in the country, including diplomats, civilians and military.
"If these terrorists threaten our facilities or our personnel, we will take action to protect our people," the president explained on Saturday.
"More broadly, the United Nations in Iraq is working urgently to help respond to the needs of those Iraqis fleeing from areas under threat. The U.N. Security Council has called on the international community to do everything it can to provide food, water and shelter. And in my calls with allies and partners around the world, I'll continue to urge them to join us in this humanitarian effort."