Yazidis Seen Storming Aid Helicopters at Mount Sinjar in Iraq in Dramatic Videos
Iraq's Religious Minorities Persecuted by Radical Sunni Islamist Terrorist Group ISIS
United States and Iraqi forces have been delivering much needed aid to members of the Yazidi community in northern Iraq, and video footage of the scene at Mount Sinjar, where they have been hiding from rampaging ISIS militants, show them desperately storming helicopters to make an escape.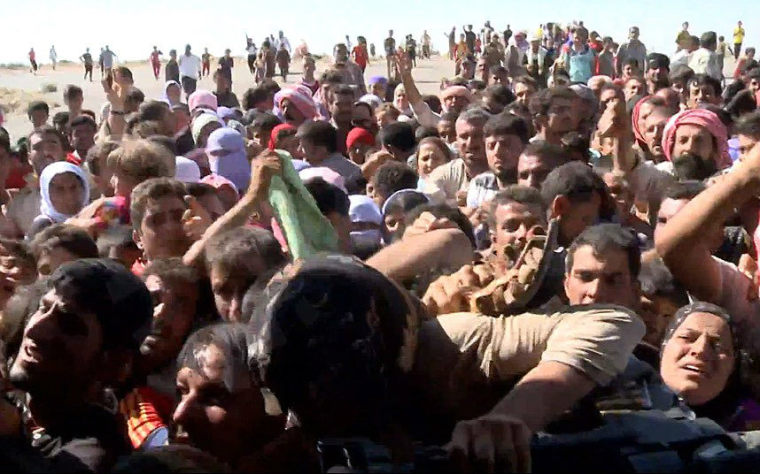 A video produced by news outlet Rudaw shows Iraqi forces transporting food and water to Yazidis, members of a local religious sect, who have taken refuge at Mount Sinjar (or Mount Shingal) to escape the murderous rampage of the Islamic State of Iraq and Syria (or the Islamic State). ISIS has been wiping out residents who do not subscribe to the terrorist group's particular extremist brand of Sunni Islamic beliefs.
Watch the video in the player below:
Additional dramatic video footage of military forces delivering aid to Yazidi refugees was captured by Channel 4 News. In the video, people are seen scrambling to climb aboard a helicopter at the same time soldiers work to push aid through the vessel's door.
Watch in the video player below:
Since the weekend operations, an estimated 20,000 Yazidis have been rescued in northern Iraq while countless others have been left behind, The Christian Post previously reported. On Sunday, U.S. forces also continued air strikes on ISIS militants, with American warplanes and drones destroying vehicles used by the Islamic State.
ISIS has been giving ultimatums to Christians, Muslims and other religious minorities to convert or leave the country, and in some cases to pay a fine — but residents have found conversion and money useless against the bloodthirsty militants.
Political and religious leaders have used words like "genocide" and "holocaust" to describe the Islamic State's slaughter of Iraq's religious minorities.
Read more coverage on the Iraq crisis: