Thousands of Assyrian Americans Rally for Persecuted Christians of Iraq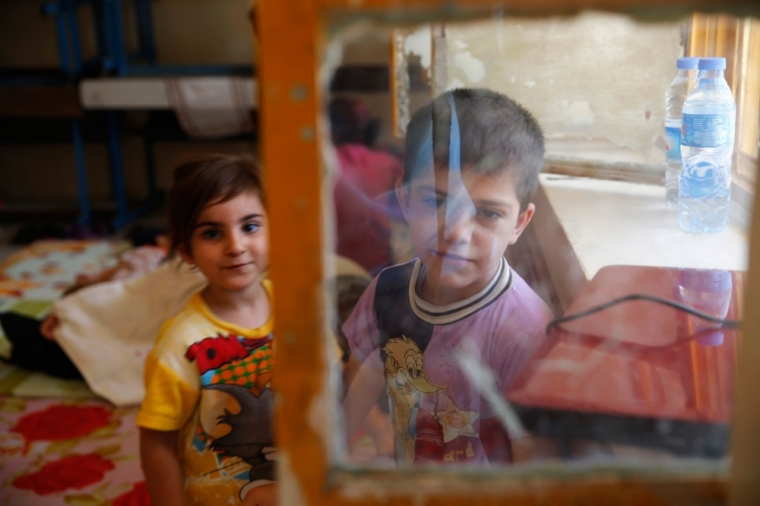 Assyrian Americans came out in large numbers in Michigan on Sunday, following similar demonstrations in Illinois and California earlier, to raise awareness about the persecution of Christians in Iraq's Nineveh Plain by ISIS militants. A report suggests nearly 200,000 displaced Assyrians from the region are in "desperate need."
About 2,500 Assyrians rallied on Sunday in Detroit, home to nearly 120,000 Assyrians, according to AINA.
The demonstrators held red wooden crosses and wore T-shirts saying, "Stop killing Iraqi Christians." They also carried signs and chanted slogans.
About 4,000 Assyrians in Chicago, Illinois, and more than 1,000 in San Francisco, California, held similar demonstrations on Friday, the day after the United States began to attack the Islamist militant group, the ISIS, also known as the Islamic State, in northern Iraq.
The Nineveh Plain is the largest area in Iraq with a majority Assyrian Christian population. "A silent genocide" is happening there, CBS Chicago quoted Atorina Zomaya, an Assyrian American, as saying.
The ISIS, an al-Qaeda offshoot which had been aiming at forming an Islamic emirate in the Levant region through "jihad," has asked minorities to flee, convert to Islam, or be killed.
"The horrific killings of the Assyrian Genocide occurred many decades ago, but tragically, today the Assyrian community in Iraq faces very familiar dangers," Rep. Jan Schakowsky, from Illinois's nineth congressional district, said in a statement. "I have heard from many of my constituents deeply concerned about their family members and friends who are being targeted because of their Christian faith. They are living in daily danger or surviving in refugee camps, and we must act to protect them."
Schakowsky is a cosponsor of H.Con. Res. 110 and of H.Res. 683, both of which make it a priority to protect Christians and other religious minorities in Iraq and create safe havens for them. "I am pleased that H.Res. 683 passed Congress last week, which shows the high priority that Congress places on protecting religious freedom and human rights," he added.
Nearly 200,000 Assyrians from the Nineveh Plain have fled to the Dohuk, Arbil and Sulaymaniyah areas, walking miles in extreme heat, after the capture of several Assyrian towns and villages by the ISIS.
They are sleeping in churches, abandoned buildings, hostels, open fields and parks amid a shortage of food, water and other basic necessities, AINA reports. "Very little" relief is reaching the refugees, the news agency adds, although most of the Assyrians who fled have reached their destinations.
Lebanon's Maronite Patriarch Beshara Rai also called Sunday for an intervention by the international community.
"We renew the patriarchate's call to the Arab League, the United Nations, the Security Council and the International Criminal Court to put a stop to ISIS' attacks and those of other fundamentalist organizations against the Christians of Mosul and the villages of Ninevah in dear Iraq, and allow the return of those Christians to their homes and properties with dignity, securing for them a decent life in their home countries with all the rights of citizens," he said.
Mark Arabo, national spokesman for Iraqi Christians and Chaldean-American businessman, said last week that the "evil" being carried out by ISIS militants now includes shocking beheadings of children.
"They are systematically beheading children, and mothers and fathers. The world hasn't seen an evil like this for a generation. There's actually a park in Mosul that they've actually beheaded children and put their heads on a stick," Arabo told CNN.
"And they have them in the park. This is crimes against humanity. The whole world should come together. This is much broader than a community or faith. This is crimes against humanity and they are doing the most horrendous, the most heart-breaking things you can think of," he added.
Hundreds of women from the Yazidi minority were also abducted last week, and 50,000 other Yazidis, who were earlier forced to flee their homes, remained trapped in Sinjar mountains with little food and water. Most of the Yazidi women taken captive are below the age of 35 and are being held in schools in the city of Mosul.
Yazidis are viewed by the ISIS as "devil worshipers."
ISIS militants have killed at least 500 Yazidis, burying some victims alive in the mass grave found in northern Iraq, France24 quoted Iraq's Human Rights Minister Mohammed Shia al-Sudani as saying Sunday.