Students for Life Launch Truck Tour Filled With 328,348 Socks for Babies Aborted at Planned Parenthood
Students for Life Launch Truck Tour Filled With 328,348 Socks for Babies Aborted at Planned Parenthood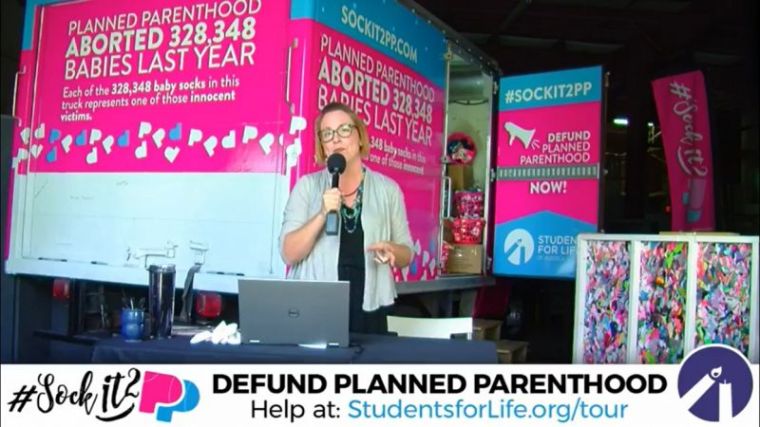 An American pro-life student group is launching a national truck tour filled with 328,348 baby socks, representing the annual number of babies aborted by Planned Parenthood, in a bid to expose the violence of abortion.
The Students for Life of America website explains that the truck tour begins in Washington, D.C. on Tuesday, and is set to visit dozens of states and more than 90 college campuses in the fall.
"Planned Parenthood has lied to the American public, committed fraud with taxpayer dollars, and has been proven to sell the body parts of baby's they abort for profit. Yet, Congress continually fails to defund Planned Parenthood," said Kristan Hawkins, president of SFLA, in a press release, referring to the nation's largest abortion business.
"The pro-life generation is sick of being told to wait until another election season has passed. We are expecting Congress to uphold their promises and stop subsidizing America's largest abortion vendor."
SFLA said it wants to put pressure on Congressional leaders to end the more than $500 million in taxpayer dollars each year Planned Parenthood receives in funding.
Tina Whittington, executive vice president of SFLA, said in a video that the goal of collecting 328,348 baby socks was set last year, and has been achieved.
"We've decided it doesn't stop here, but we are taking this truck right here on tour," she said, pointing to the truck that will be carrying the socks.
"We're going to hit six cities in four days. We are gonna go to Pittsburgh, Columbus, Indianapolis, Charleston, Louisville, and Washington D.C."
Whittington said that the socks will be a "voice for the victims" of Planned Parenthood.
"We are going to sock it to Planned Parenthood, and we are going to see that they are defunded once and for all," she said.
SFLA has been urging awareness for pro-life issues for years on American college campuses, though it has faced challenges when it comes to recognition.
Back in January, Queens College of The City University of New York reversed its earlier decision to deny recognition to the Queens College Students for Life group, following threats of legal action.
Alliance Defending Freedom, which filed a suit on behalf of the student group, said at the time that Queens College refused to explain why it initially denied recognition for the group.
ADF senior counsel Casey Mattox told The Christian Post in an earlier interview that the Constitution protects free speech.
"We have represented hundreds of students whose rights have been violated on their campuses. Students for Life reached out to us to assist this student group prevented from meeting on their own campus," Mattox said at the time.
"[Queens College has] simply denied the group and refused requests to explain the decision. This is particularly troubling because Queens College bills itself as 'the most diverse campus in America,' but is excluding this pro-life student group from their campus."