Sudan Fears Muslims Will Be Led to Jesus, 'Declares War Against Christians': Pastor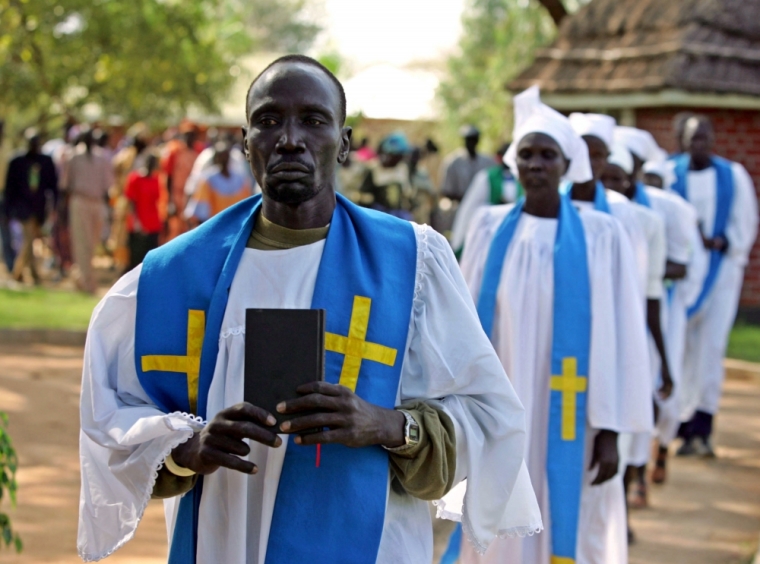 A Christian pastor in Sudan says the government has "declared war against Christians" because it's fearful Muslims will be led to Jesus Christ, which is the reason why pastors are being imprisoned and churches are being demolished in the Islamic nation.
Persecution watchdog group International Christian Conern's East Africa team interviewed two Christian pastors from South Sudan on behalf of The Christian Post, both of whom were previously imprisoned in Sudan for their faith, who spoke about the separation of the two countries in 2011.
"When South Sudan got independence in 2011 I moved with my family to Juba in 2012 so that I can establish myself there," Pastor Michael Yat told ICC in response to CP's questions.
"In 2014, I travelled back to Khartoum to take up a new assignment with the South Sudan Evangelical Presbyterian Church. Little did I know that Sudan had declared war against Christians. So, I was arrested the second day after preaching in a certain church in Khartoum. That is when I was put in jail that lasted me nine months."
Michael said the Sudanese government doesn't want Christians in the country, especially believers who can speak Arabic, "because they fear that they can easily reach out to the Muslims and win them to Christ."
He added, "They do not allow pastors to reach out to Muslims in Khartoum, Darfur and the Nuba mountains. These are strictly Muslim dominated areas."
Several pastors have been arrested in Sudan in recent months, often on trumped-up national security charges. Groups like the American Center for Law and Justice have started global petitions calling on the pastors' freedom, such as the ongoing campaign for the Rev. Hassan Abduraheem, who has been sentenced to 12 years in prison for his faith.
Just last week, four other Christians were arrested on the charges of destroying a sign indicating Muslim ownership of a school called the Evangelical School of Sudan.
While the Christians were released on bail, ICC noted that they are facing difficult challenges in reclaiming their school, with the Sudan Presbyterian Evangelical Church battling government takeover attempts.
The Khartoum government has also been ordering the demolition of dozens of churches, harassing church members and threatening foreign Christians with expulsion, ICC added, with state officials ordering the destruction of at least 25 church buildings earlier in February.
The government reportedly claimed that the churches located at in the Sharq al Neel (East Nile area) locality of Khartoum North were built on land zones intended for other uses, but Christian leaders pointed out that mosques in the same area have been spared the demolition order.
"This is not an isolated act but should be taken with wider perspective," the Rev. Yahia Abdelrahim Nalu, moderator of SPEC's Sudan Evangelical Synod, told Morning Star News, arguing that the move is part of a systematic crackdown on churches by the Islamist government.
Open Doors USA ranks Sudan as the fifth worst country in the world when it comes to Christian persecution, noting that it has almost always been ranked in the top 20 on its World Watch List since 1993.
Open Doors warns that the government's authoritarian rule has almost entirely curtailed freedom of expression, and has fueled ethnic and religious division, pitting Arabs against Ethnic Africans, and Muslims versus the minority Christians.
Pastor Peter Yein Reith, who was imprisoned in Sudan and released alongside Michael in 2015, reflected in his responses to CP's questions that ever since South Sudan's secession in 2011, Sudan has operated as an Islamic state, which has become "the genesis of escalated Christian persecution."
"The reason why persecution will continue growing in Sudan is because the little effort done by Christians is bearing fruit," Reath told ICC.
"The government of Sudan is using the court to intimidate Christians and international bodies that are trying to preach the Gospel either through churches and one on one witnessing or aiding of Christians who are suffering."
He revealed that the closure of several churches in Khartoum and West Sudan has left pastors "in a panic mode because any time they can be arrested and put in jail."
"We appreciate the effort that has been done by international bodies for justice and human rights and we know that the Lord will keep the Christians safe as they preach the Gospel of our Lord Jesus Christ," the pastor continued.
Michael and Reith were imprisoned for over six month in Sudan and faced the death penalty for espionage and other conspiracy charges, and the majority of that time they were barred from communicating with their families or attorney.
The Rev. William Devlin, an American pastor who was in Khartoum when the pastors were released, told CP at the time that Christians "prayed and fasted" for their freedom.
"My continued prayer for my friends and colleagues in the Sudanese government is that they will allow religious freedom to flourish and allow all Sudanese of all faiths to publicly express their faith and that Christians, a minority in Khartoum, would be allowed to freely worship without discrimination," Devlin said.