Suicide Bombing at Syria's Christian Massacre Memorial Kills 3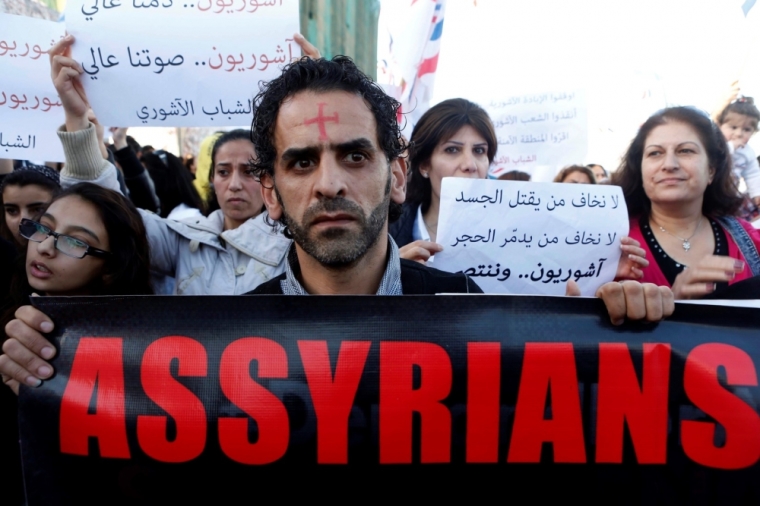 Three people were killed and several injured in northeast Syria after a suicide bomber believed to be from the Islamic State terror group attacked a religious ceremony by Assyrians to commemorate the massacre of Christians more than a century ago.
The suicide attacker detonated his explosive belt when he was stopped by local security forces while trying to enter the hall where people were gathered for the ceremony in the city of Qamishli on Sunday, according to AFP.
During the attack, Moran Mor Ignatius Aphrem II, the patriarch of the Syriac Orthodox Church, was holding the ceremony to commemorate the 101 anniversary of the Ottoman genocide against Armenians and Assyrians of Qamishli, MassiPost reported.
An AFP photographer, who attended the event, said he heard the blast and saw pieces of flesh lying next to damaged cars.
The three killed in the attack were members of Sotoro, a Christian militia based in Syria's northeast. Several civilians were said to be wounded. Patriarch Ignatius was apparently the intended target of the attack, according to reports.
Qamishli is populated mostly by Christians and Kurds, and has witnessed several suicide bombings, many of them by Islamic State, also known as IS, ISIS, ISIL or Daesh. The city is controlled by the Kurdish militia and pro-government fighters.
Two weeks ago, Germany recognized the Assyrian and Armenian genocide, which took place between 1915 and 1918, targeting the Christian subjects of the Ottoman Empire and killed 750,000 Assyrians, 1.5 million Armenians and 500,000 Pontic Greeks.
IS is an offshoot of al-Qaeda and wants to establish a caliphate in the Levant region and beyond. It has gained control over large swathes of territories in Syria and Iraq, and is seeking to expand its territory. Christians and other minorities are among its main targets.
However, in Iraq, IS has lost almost half of the territory that it once held since it swept across the country in June 2014.
In its English propaganda publication, the Sunni terror group last year sought to justify its barbarity, saying it is "Islamic" to capture and forcibly make "infidel" women sexual slaves.
"Before Shaytan [Satan] reveals his doubts to the weak-minded and weak hearted, one should remember that enslaving the families of the kuffar [infidels] and taking their women as concubines is a firmly established aspect of the Shari'ah that if one were to deny or mock, he would be denying or mocking the verses of the Qur'an and the narration of the Prophet … and thereby apostatizing from Islam," stated the IS' propaganda magazine "Dabiq."