Taliban Guns Down Over 120 People, Mostly Children, In Major Attack on Pakistani School
Taliban Guns Down Over 120 People, Mostly Children, In Major Attack on Pakistani School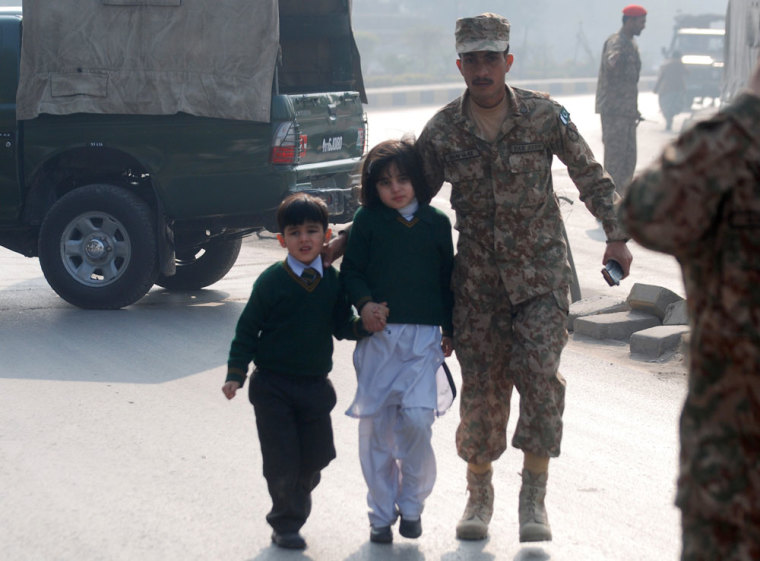 The Taliban has gunned down at least 126 people, mostly children, in a major attack on the Army Public School and Degree College in the northwest Pakistani city of Peshawar on Tuesday.
Reuters reported that another 122 people were injured in the deadly attack, which is still ongoing, and there are fears the death toll may continue to rise. It is unclear how many students and staff members are still trapped inside the school.
"It may rise," Bahramand Khan, director of information for the Chief Minister's Secretariat, said about the death toll. He confirmed that over 100 of the casualties are children, mostly between the ages of 12 and 16.
CNN added that the Pakistani military arrived on the scene and began exchanging gunfire with the militants, a battle which continued past 3 p.m. local time on Tuesday. The army reported that it has killed at least four attackers.
Two large blasts were also reported inside the school, believed to have been carried out by suicide bombers.
The Taliban has said that "300 to 400 people are under the custody of the suicide bombers," while army officials have claimed that most students and teachers have been evacuated.
Mohammed Khurrassani, a spokesman for the Pakistani Taliban, revealed that the attack is being carried out to avenge the killing of hundreds of tribesmen in military operations in the provinces of South Waziristan, North Waziristan and the Khyber Agency. The army has said these operations were aimed at eliminating the presence of militants from the areas.
There have been a number of high-casualty attacks in Pakistan this year, with a Taliban splinter-group claiming responsibility for the bombing of the Protestant All Saints Church of Pakistan in September, which killed 81 people – including choir members and children attending Sunday school.
The militants also characterized September's attack as revenge for American drone strikes on tribal areas of the country.
BBC News noted that thousands in Pakistan have lost their lives in recent years due to militant violence.
The Taliban remains a highly active group in the region despite Western attempts to dismantle the group. In November, a major suicide blast at a volleyball game in Afghanistan killed 57 people. The Taliban was also blamed for this attack, which occurred only days after American President Barack Obama announced that combat soldiers will remain in the country into 2015.
Mudassir Awan, a worker at the school in Peshawar, said that he saw six people scaling the walls of the school.
"We thought it must be the children playing some game," Awan saud. "But then we saw a lot of firearms with them.
"As soon as the firing started, we ran to our classrooms. They were entering every class and they were killing the children," he added.
Pakistani Prime Minister Nawaz Sharif, who arrived in Peshawar, described the attack as a "national tragedy," and said that he would be personally overseeing the offensive to push back the Islamic militants.