Tamar Braxton Says She's Grateful for Harsh Criticism From Bishop T.D. Jakes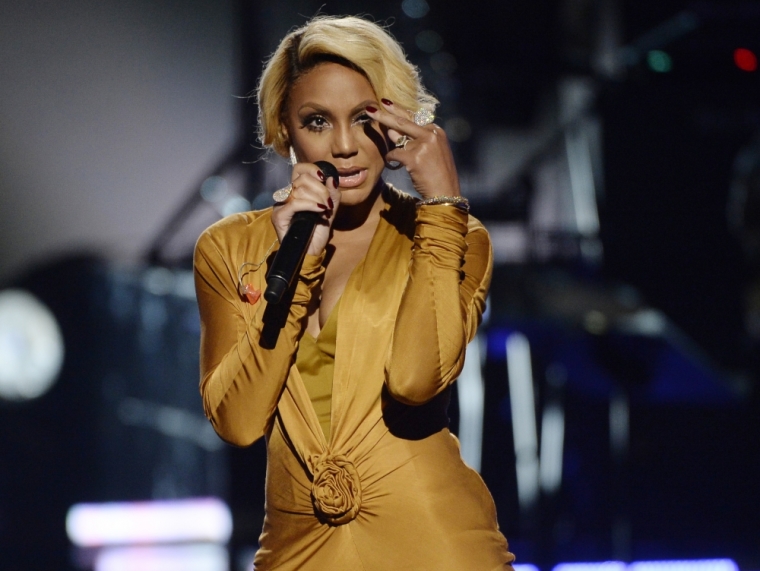 Tamar Braxton, the Christian singer who was scolded by Bishop T.D. Jakes along with her four sisters on WE tv's "Braxton Family Values," is singing the preacher's praises after enduring a few tough therapy sessions with him.
Bishop Jakes, the senior pastor of The Potter's House in Dallas, Texas, appeared on two episodes of the hit WE tv show where he chastised the five celebrity women for their constant bickering and the dissension that has grow between them.
"If you were my daughters, I would go ballistic," Jakes told sisters Tamar, Trina, Traci, Towanda and Toni on their show. "They'd have to cut the cameras off."
After receiving Jakes' harsh criticism, 38-year-old Tamar spoke about the experience during a radio interview with Power 105.1's Angie Martinez.
"Bishop T.D. Jakes came on and he gave us our life," she said in the interview with Power 105.1 DJ, Angie Martinez.
When host Martinez asked Tamar about the best advice she received from Jakes, the singer spoke about encouraging herself.
"He told me, 'Stop looking for people to clap for you. Clap for yourself,' meaning, be proud of yourself and be proud of your accomplishments," Braxton told Martinez on Monday.
"I don't know why I would feel like every time I come in the room everybody's supposed to be cheering, 'Go Tamar!' No, these are my own dreams and goals, and aspirations, so I should clap for me, because I set those goals for myself."
The advice came to Tamar in a one-on-one meeting with Jakes, where the singer spoke about her issues with her sister being career related.
"It's very difficult, because I'm alone. I don't have the support from my siblings and I really want that," Tamar told Jakes on "Braxton Family Values." " It's just very difficult to feel ostracized, and to feel when wonderful things happen you can't share it with your family."
Jakes gave Tamar a piece of advice about enjoying her career, regardless of the praise or criticism she receives.
"Since you've waited all your life to have this moment, isn't it important that you enjoy that moment without the nagging gnawing inner voice of criticism that says, 'this moment is tainted because somebody I love didn't clap for me,'"Jakes told her. "You cannot deny yourself of what you have worked hard to get and how God has blessed you, especially if you're sure in your heart that you've been fair."
The Braxton sisters grew up in the church raised by parents who worked in ministry. And Tamar previously spoke about her spiritual roots.
"Both of my parents at one time were pastors of their own churches and I learned a lot from that," she told Flaunt magazine. "But not until I was an adult did I understand it and know for myself."
In 2013, the Christian singer told Ebony magazine that God is the only reason for her success.
"I had to be really strong in my faith and I know if it wasn't for God, I would not be here," she said in the Ebony interview.
"Braxton Family Values" airs at 9 p.m. ET Thursdays on WE tv.