TD Jakes Says Americans Traumatized by Trump's Election; Protests Spread Nationwide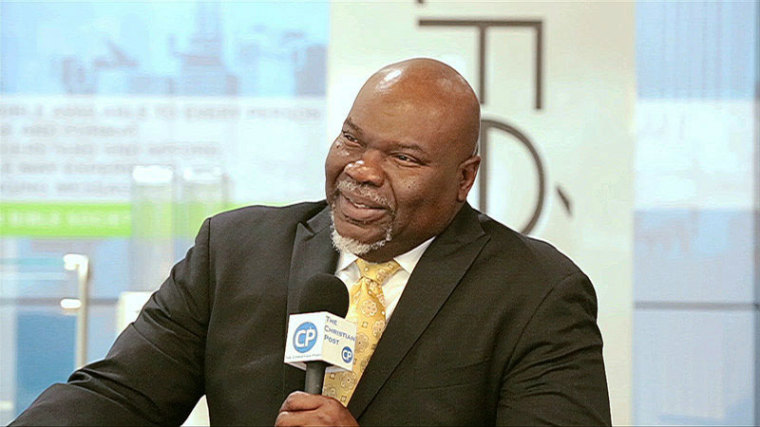 Following the victory of President-elect Donald Trump, Bishop T.D. Jakes, senior pastor of The Potter's House church in Dallas, Texas, attempted to give voice to the frustrations felt by many Americans who did not support Trump and what he represented during his campaign.
"Many, many people are dealing with the grief of an idea of a candidate in an America that seems to be passing away and suddenly so without the warning of the press leading us into a preparation period that this was going to happen," the pastor and talk show host said in an interview with MSNBC's Tamron Hall on Wednesday. 
"There is a certain amount of trauma that has been ingested by the American people."
Jakes said that Americans need a place to vent, to talk, to hear all sides, and to answer questions like: What does a Trump administration look like? How will Trump's presidency affect minorities and women? He explained that many questions are yet to be answered.
"There's so much that has yet to be processed," he said.
Some who are angered by Trump's election have staged days of protests in cities around the U.S., including New York City, Washington, D.C., Portland, Chicago, Los Angeles and Oakland where thousands of protesters, some violent, have committed assaults, hate crimes, and burned and defaced small businesses, costing well over $1 million in property damage. 
During an interview with CNN, a woman named Lily who marched during an anti-Trump protest in Los Angeles in opposition to his stance on illegal immigration and border security, seemed to advocate for violence and killing when she said people are going to have to die. 
"There will be casualties on both sides. There will be, because people have to die to make a change in this world," she told CNN. It's not known whether Lily also opposed the border fence built between California and Mexico during former president Bill Clinton's administration in 1993. 
While some protesters marched peacefully, others burned U.S. flags and carried paper mache figures of Trump being hanged. Many of the signs held by protesters read "Not my president" and "my body my choice," in reference to abortion. Some signs warned of a pending mass protest during Trump's inauguration at the Capitol in Washington, D.C. on Jan. 20, 2017. 
Jakes said that the nation's political system needs an overhaul. "America keeps thinking that if they hire a new chef, they're going to have a great dinner. ... The problem is not just the chef — the oven is broken. We have a system that is dysfunctional that has not heard the needs of average, ordinary people."
"And the disruptions will continue to occur, regardless of who is in the White House, until Congress, Senate — all branches of leadership — recognize that they're there to be a servant for the people, and the people are not there to serve their political agendas," Jakes asserted. 
In his victory speech early Wednesday morning, Trump said he would work to represent all Americans, including those who didn't vote for him. 
"As I've said from the beginning, ours was not a campaign but rather an incredible and great movement, made up of millions of hard-working men and women who love their country and want a better, brighter future for themselves and for their family," he said.
"It is a movement comprised of Americans from all races, religions, backgrounds, and beliefs, who want and expect our government to serve the people, and serve the people it will," Trump added.
Trump posted two tweets Thursday and Friday in response to the violent and peaceful protests, some of them organized by left-wing activist groups and anarchists. 
In his inital tweet, Trump said: "Just had a very open and successful presidential election. Now professional protesters, incited by the media, are protesting. Very unfair!"
On Friday, he seemed to seek solidarity with the non-violent protesters and unite the country, adding:  "Love the fact that the small groups of protesters last night have passion for our great country. We will all come together and be proud!"
President Obama, who said he wants to see a successful Trump administration and has directed his staff to assist in a smooth transition of power — like his predecessor former president George W. Bush did for him — has not issued a statement calling for the violent protests to end.