TD Jakes Weighs in on Obama Personalizing Trayvon Martin Case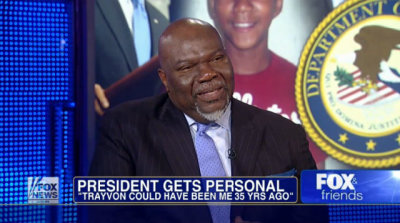 Bishop T.D. Jakes was asked to weigh in on Tuesday on whether he thought President Barack Obama's comments on Trayvon Martin after George Zimmerman's acquittal in the teen's shooting death were misdirected, considering the deadly violence plaguing his home city of Chicago.
President Obama spoke out last Friday on Trayvon Martin's killing, which occurred inside a gated community in Sanford, Fla., in February 2012, and expressed his condolences to the Martin family. He also affirmed his faith in the U.S. justice system after a jury found Zimmerman not guilty of manslaughter or second degree murder in the black youth's death. The president added, however, that it was important for everyone to consider the context of some of the discussions surrounding the case, in particular among African-Americans.
"You know, when Trayvon Martin was first shot I said that this could have been my son. Another way of saying that is Trayvon Martin could have been me 35 years ago. And when you think about why, in the African-American community at least, there's a lot of pain around what happened here, I think it's important to recognize that the African-American community is looking at this issue through a set of experiences and a history that doesn't go away," said Obama.
"Fox & Friends" co-anchor Gretchen Carlson, talking with The Potter's House pastor on Tuesday, asked Jakes, "Why is the president addressing this case and not the shootings in his hometown of Chicago?"
"Is he in a difficult situation here, did he do the right thing, did he do the wrong thing?" added Carlson of the president's remarks.
Jakes, one of a handful of Christian leaders who have served as spiritual advisers to the president, suggested that Americans might have been interested to hear Obama's take on such a high profile case.
"Every now and then cases come along that really capture the fascination of the entire nation. Trayvon Martin's case was that kind of case," said Jakes. "I just left Aurora, Colorado, where we did a memorial service. That was another situation. Though Trayvon's was less people, it captured the fascination of the nation. I think people are curious to hear what the president thinks in times like that."
Asked again if he thought President Obama's focus should be on the "mostly black on black crime" plaguing Chicago, the Dallas, Texas, megachurch pastor insisted that the president has spoken about the troubling number of murders that have occurred in Chicago — with the Chicago Police Department counting 217 such cases in July 14 report.
"There's an ongoing problem in Washington, D.C., in Los Angeles, it's all over the world," said Jakes. "It's an ongoing problem. I don't think he can become the police officer."
The minister suggested, instead, that the divisive Martin-Zimmerman case should be a catalyst for racial reconciliation in the country.
"This is a great opportunity for us to talk about race in this country and I think that it can be the impetus for change. If we begin to understand that we're not a monolithic society, that we are very, very diverse and there's a great need for us to develop ways to get along better, to become more cohesive and we can't do that if we don't talk about it," said Jakes, echoing what many Christian leaders and the president himself have suggested.
"There has been talk about should we convene a conversation on race," Obama said during his July 19 remarks. "I haven't seen that be particularly productive when politicians try to organize conversations. They end up being stilted and politicized, and folks are locked into the positions they already have."
"On the other hand, in families and churches and workplaces, there's the possibility that people are a little bit more honest, and at least you ask yourself your own questions about, am I wringing as much bias out of myself as I can? Am I judging people as much as I can, based on not the color of their skin, but the content of their character? That would, I think, be an appropriate exercise in the wake of this tragedy."
Bishop Jakes, who told his congregation the day after the jury delivered its verdict that he was "stunned, shocked, [and] speechless about the outcome of this trial," also spoke briefly during his "Fox & Friends" appearance about his upcoming talk show debuting in the fall on the BET network titled "T.D. Jakes: Mind, Body and Soul." Jakes' full interview can be viewed in the video below: