Teachers Can Carry Guns in Texas School; Is This the Solution to Newtown, Connecticut Shooting?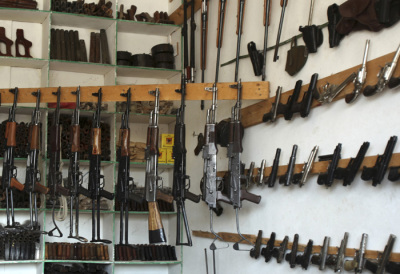 Teachers can carry guns to school in the small Texan town of Harrold. For the community's only school, the nearest sheriff is 30 minutes away, which has led the school board to vote to permit teachers to carry concealed weapons to school with them.
Superintendent David Thweatt has said, "We don't have money for a security guard, but this is a better solution. A shooter could take out a guard or officer with a visible, holstered weapon, but our teachers have master's degrees, are older and have had extensive training. And their guns are hidden. We can protect our children," according to Fox News.
Following last week's tragic Newtown, Connecticut shootings that saw 20 children and six adults killed by a lone shooter at Sandy Hook Elementary School, a debate has taken over the country about how best to counter the threat of gun attacks on schools.
Some have been promoting tighter gun laws as the solution. The shooter in the Sandy Hook massacre, Adam Lanza, used guns all fully licensed and legally held by his mother to go on his killing spree.
However, others have promoted the wider use to guns; that schools should not be seen as gun-free zones, but that armed security guards or armed teachers should be implemented nationwide.
Lawmakers in a growing number of states, including Oklahoma, Missouri, Minnesota, South Dakota and Oregon, have said they will allow discussions to take place on whether teachers should be allowed to be armed in schools.
At present in Texas, the law states that guns are banned in school unless the specific school has given written authority to the carrier.
The school in Harrold is in fact one of the pioneers of such an idea, and unanimously voted to implement the measure in 2007 that allowed school employees to carry concealed weapons. Under the implemented process a teacher or school administrator must first obtain a state concealed-weapons permit. Following that the individual must then be approved by the board based on his or her personality and reaction to a crisis, Superintendent David Thweatt has explained, according to Fox.
Other additional measures included in the Harrold School rules are that employees must take part in crisis intervention and hostage intervention training. Also, ammunition must be of the type that minimizes the risk of ricochets – similar to those used by air marshals on airplanes.
Meanwhile on Friday, numerous faith leaders gathered for a press conference on the issue of fire arms laws at the Washington National Cathedral where bell-ringing was held in remembrance of the Sandy Hook Elementary School shooting.
The bells of the DC Cathedral sounded at 9:30 a.m. on Friday, one week after the tragedy took place that resulted in 26 deaths, including 20 children. The news conference held involved an interfaith coalition of faith leaders who called for action against gun violence.
"There is hope because this tragedy will move us to action," said the Rev. Michael Livingston, former president of the National Council of Churches, in a statement Friday morning just outside the Cathedral.
The Right Rev. Mariann Edgar Budde, the Episcopal bishop of Washington, said a prayer at the event, which had a broad range of faith groups represented.
"We will never forget them, oh God, and we pledge to honor their memories by doing what we all know to be right," said Budde.
The group gathered there advocated for an assault weapons ban and for a stricter enforcement of background checks.