Ted Cruz to Meet 300 Evangelical Leaders in Texas on Monday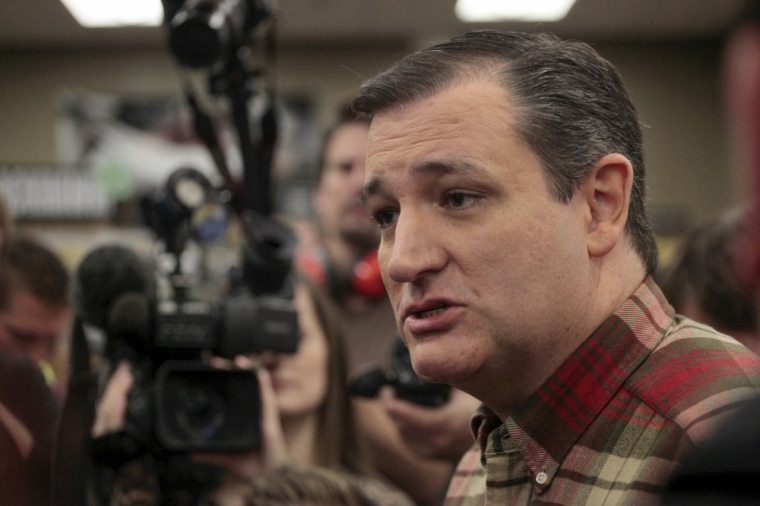 Texas senator and Republican presidential candidate Ted Cruz, who is preparing to position himself as a viable alternative to frontrunner Donald Trump, will meet about 300 pastors and faith leaders Monday at a ranch owned by conservative billionaire Farris Wilks near Dallas.
The meeting in Cisco, a tiny city about two hours west of Dallas, is being organized by Keep the Promise PAC, one of four main super PACs supporting Cruz, who is second to real estate magnate Trump nationally and is the frontrunner in the latest poll in Iowa, according to The Texas Tribune.
The meeting is "designed as an open dialogue with Sen. Cruz and an opportunity to listen to and learn from one another," Laura Barnett, a spokeswoman for Keep the Promise PAC, was quoted as saying.
Several influential conservative Christians have recently endorsed Cruz, including Dr. James Dobson, founder of Focus on the Family; Brian Brown of the National Organization for Marriage; and Bob Vander Plaats, head of the Iowa Family Leader organization.
"We still find there are many, many folks who still do not know he is a man of faith or his faith story," David Barton, who heads Keep the Promise PAC, was quoted as saying. "As that gets out, I expect there'll be even more consolidation."
"Ted Cruz made a significant investment in a ground game that looks to pastors to register and mobilize the pews," David Lane, an activist connecting candidates with clergy members, told The Washington Post earlier. "Neither Trump nor Carson nor Rubio have done that."
Cruz, and other GOP presidential candidates, including retired neurosurgeon Ben Carson, former Florida Gov. Jeb Bush, former business executive Carly Fiorina, former Pennsylvania Sen. Rick Santorum and former Arkansas Gov. Mike Huckabee, spoke at Prestonwood Baptist Church on the outskirts of Dallas in October.
Cruz, who declared that "religious liberty is under threat as never before in this country," was a crowd favorite at Prestonwood, according to Politico. He told the megachurch congregation he would "not surrender" on gay marriage.
Some say it makes sense to support Cruz for conservative causes.
"There is a real danger that conservatives will split the vote, allowing someone like Donald Trump to emerge from the crowded field, which would be disastrous," NOM president Brown said while endorsing Cruz, who, he added, "has run the best campaign thus far, racking up endorsements and financial resources and climbing in the polls. We believe he has the best chance of uniting conservatives and going on to win the nomination."
In an interview with EWTN News earlier this month, Cruz said he is convinced that 2016 is going to be a religious liberty election, and that he will push for legislation to protect people's rights against any possible discrimination or persecution from the federal government.
"I've hosted now two religious liberty rallies, one in Iowa, one in South Carolina, they both had 2,000-3,000 people come out," he said, adding that he believes the foundations of America are the free market principles and the constitutional liberties of free citizens to pursue life, liberty, and the pursuit of happiness, to pursue their natural God-given rights. "And those foundations are profoundly under assault."
Earlier this month, Hillary Clinton's campaign chairman John Podesta said at a private fundraising event in Berkeley, California, that Cruz is the likeliest nominee, followed by Trump, and then Rubio.