Ted Cruz Announces Presidential Bid on Twitter With an Appeal to 'a New Generation of Courageous Conservatives'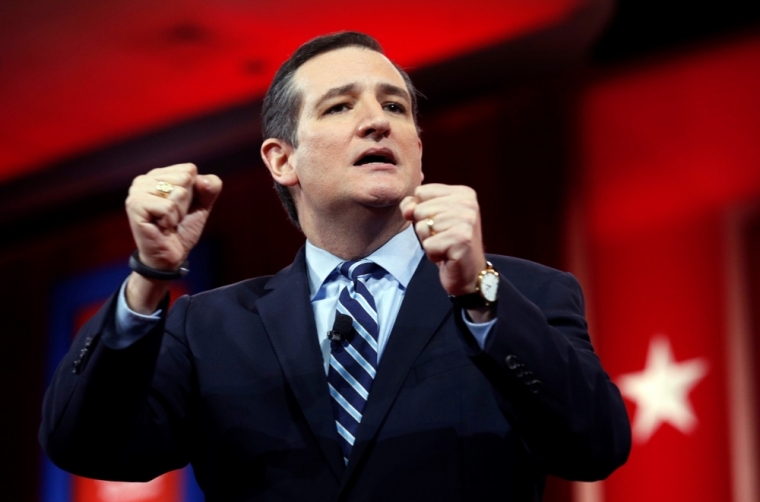 In a tweet posted just after midnight Monday, Senator Ted Cruz, R-Texas, 44, became the first presidential candidate to officially declare his bid for the White House in 2016 with a bold 30-second ad in which he called on "a new generation of courageous conservatives to make America great again."
"I'm running for President and I hope to earn your support!" Cruz tweeted with a link to the ad paid for by Cruz for President.
With images of a cornfield, New York City, a church and children in a classroom rolling in the background, Cruz declared his message to America in a 30-second nutshell.
"It's a time for truth, a time to rise to the challenge just as Americans have always done. I believe in America and her people and I believe we can stand up and restore our promise. It's going to take a new generation of courageous conservatives to make America great again and I'm ready to stand with you to lead the fight," he said.
Cruz now hopes to get a head start on a crowded field of possible Republican presidential contenders, which include former Gov. Jeb Bush of Florida and Gov. Scott Walker of Wisconsin.
"It's the shiny object principle. He wants to be first, get in the conversation, not show any doubt or hesitation," Dave Carney, a longtime Republican strategist, told The New York Times of Cruz's move. "There's an advantage to being first. He's now the only one running for president, instead of engaging in this Kabuki dance that the others are."
Cruz is expected to speak at 10 a.m. Monday at Liberty University's weekly Convocation in Lynchburg, Virginia. With more than 100,000 online students and nearly 14,000 in residence, Liberty University, led by president Jerry Falwell Jr., is the largest Evangelical Christian university in the world.
Falwell told the student-run newspaper, The Liberty Champion, that Cruz asked to speak at the school.
"I got the call last week," Falwell said of Cruz's request.
I'm running for President and I hope to earn your support! pic.twitter.com/0UTqaIoytP

— Ted Cruz (@tedcruz) March 23, 2015
Democratic Virginia Gov. Terry McAuliffe was originally scheduled to be the keynote speaker for Monday's Convocation but he deferred that plan to allow Cruz to have his day in the sun. When he was informed of Cruz's planned visit and given the opportunity to share the stage with the first-term senator from Texas or remain the only speaker, McAuliffe chose to reschedule instead.
"His folks decided that he had some important things that he wanted to say to Liberty students," Falwell told The Liberty Champion. "He wanted to come back when there wasn't so much else going on at Liberty."
Cruz, who is Southern Baptist and the son of a preacher, reportedly found his faith at the Clay Road Baptist Church in Houston, Texas, and Falwell said he is happy to have the presidential contender speaking at Liberty and expects others to follow suit as the election season heats up.
"We're honored that political candidates are now requesting to appear at Liberty," Falwell told the Champion.
"We never had that happen years ago — we had to invite them. I think it's a testament to what Liberty students have accomplished and what they are accomplishing."