Ted Cruz Says Chris Christie, Jeb Bush, Marco Rubio's Support for Drafting Women 'Immoral,' 'Nuts'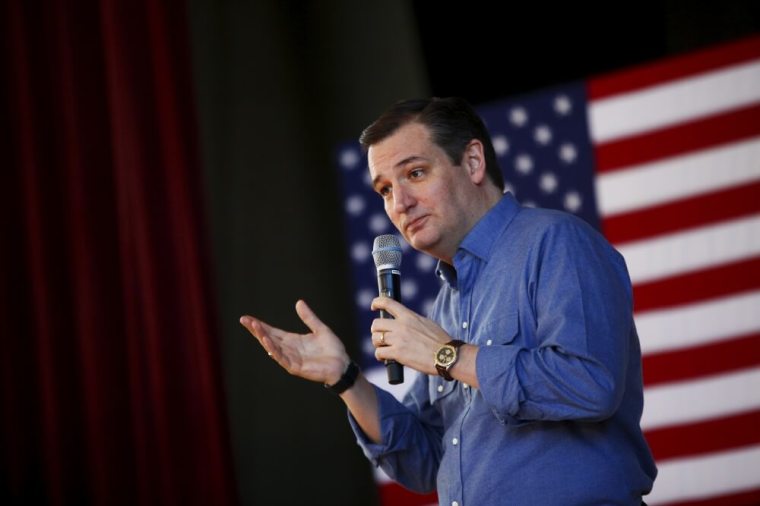 Republican presidential candidate Sen. Ted Cruz said that support by his presidential rivals for drafting women into military service would be both "nuts" and "immoral."
"As I was sitting there listening to that conversation, my reaction was, 'Are you guys nuts?' We have had enough with political correctness, especially in the military," Cruz said at a campaign stop in New Hampshire, according to the Boston Globe, referring to Marco Rubio, Jeb Bush and Chris Christie agreeing that they would support Selective Service registration for women.
"Political correctness is dangerous, and the idea that we would draft our daughters to forcibly bring them into the military and put them in close combat, I think is wrong," he added, also arguing that it would be "immoral."
Cruz said that his two daughters are "capable of doing anything their hearts desire," but said that the idea that the government would "forcibly put them in a foxhole with a 220-pound psychopath trying to kill them doesn't make any sense at all."
"It's one more sign of this politically correct world where we forget common sense," the GOP candidate added.
The Washington Post pointed out in an article on Sunday that the question of whether women should be drafted was prompted by the Pentagon's decision last year to clear women to serve in all combat roles.
It noted that the U.S. last instituted a draft ahead of the Vietnam War, and it hasn't been used since, with America using an all-volunteer army instead.
At the last Republican debate, Christie said that including women in the registry would be a matter of fairness, equal access and opportunity, and said that it would teach American girls about their abilities and obligations.
Rubio and Bush also agreed with the proposal, noting the need for a larger American military.
Bush, Christie and Rubio were unclear on whether they think women should allowed or required to register for selective service. The debate moderators didn't ask for clarification.
The official website of the Selective Service System explains that Congress would have to amend the SS law before women would be required to register. It adds that the 1981 Supreme Court decision of Rostker v. Goldberg found that requiring only men to register does not violate the due process clause of the Constitution.
The Department of Defense noted in December 2015 that Congress had a 30-day period to review the implications of the lifting of all gender-based restrictions on military service, but there was no decision made to require females to register at the time.
"Following a unanimous recommendation by the Joint Chiefs of Staff, Defense Secretary Leon E. Panetta announced, on January 24, 2013, the end of the direct ground combat exclusion rule for female service members. The service branches continue to move forward with a plan to eliminate all unnecessary gender-based barriers to service," the Select Service website explains.
It adds that if it is given "modest additional resources," however, the system would be capable of registering and drafting women, if that is made a requirement.